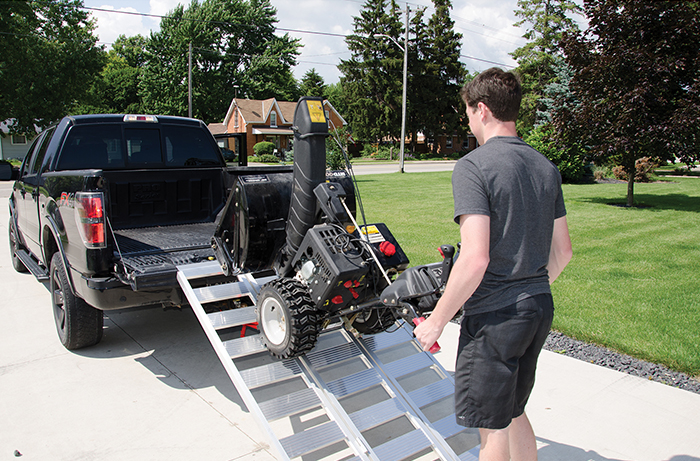 Choosing a Loading Ramp
Have you finally had it with lifting your dirt bikes into the truck? Or are you tired of driving the lawn mower all the way around your property just to avoid one curb? A loading ramp might seem like something you only need with a U-Haul, but in all reality, anyone with large machinery, recreational equipment, or livestock can benefit from owning one!
Different Types of Loading Ramps
Folding ramps are made of at least two panels that can be quickly maneuvered into the right position for loading. They also fold together for easy storage. These are available in bi-fold or tri-fold designs that bend vertically or horizontally.
Non-folding ramps come in one or multiple panels that don't bend. They can be either straight or curved/arched. If you will be loading heavy equipment like an ATV with low ground clearance, a curved or arched ramp will help prevent bottoming out.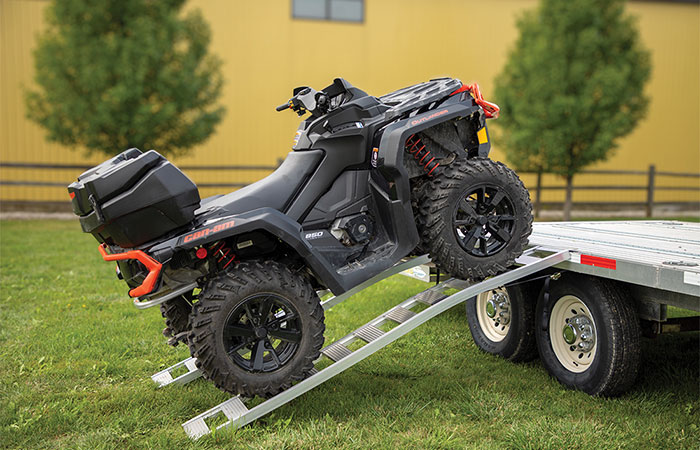 Curb ramps are small models that eliminate any issues of lifting something onto a curb. They are usually 3-5' long and are great for getting a lawn mower, heavy hand truck, or mobility scooter over a curb's edge.
Factors to Consider When Choosing a Loading Ramp
Purpose: The activities you'll use the ramp for will dictate the type you should purchase. A narrow ramp for loading feed with a hand truck is very different than a ramp that will hold an ATV. Ramps can be used for a variety of purposes including:
Transporting a recreational vehicle such as an ATV, UTV, snowmobile, motorcycle, dirt bike, etc.
Moving lawn mowers and other power equipment to project sites
Loading horses or livestock into trailers
Using a hand truck to load hay, feed, soil, tires, or other bulky items
What you're loading onto: Flatbeds and trailers are usually lower to the ground than pick-up trucks. If you're loading into a tall vehicle, it's safer to use a longer ramp.
Weight limit: There's no point in buying a loading ramp if it can't support whatever you're transporting! Make sure you check the loading capacity of the different options. If there's a chance your needs will grow in the future, it's best to go with a heavy-duty model.
Ramp size: The width and length of the loading ramp are just as important as its weight limitations. The ramp's length and weight capacity work together to ensure stability when loading, as even the most durable of ramps can break if it's too short and steep for the job. Make sure the ramp is also wide enough to fit your items and has a few inches on either side to prevent slippage.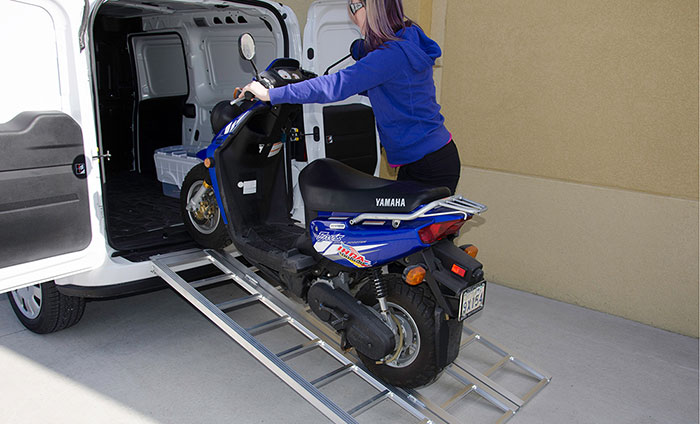 Material: Most loading ramps are made of either steel or aluminum. Steel ramps are very strong but can also be extremely heavy. All this weight can be difficult to maneuver into place. Aluminum is the lighter weight choice and particularly helpful for frequent loading.
Ramp surface: Always factor in the likelihood of slipping or tripping when using a ramp. Some ramps have a bumpy surface to prevent slipping, but it can become an added risk of tripping if the bumps are too big. Models with a flat, non-slip finish are very popular options and can be particularly useful in mixed weather conditions.
Stability on the ground and truck: Be sure to consider how the ramp will rest on the top and bottom. The plate end connects the ramp at the top to the trailer, truck, or curb and there are several styles including flat, hook/plate hybrid, or pin-on. The ramp foot must be stable on the ground and facilitate ease of loading. Popular options include stub, knife, and roller feet.
Check Back for More Easy Moving Solutions!
There are many loading ramp options for every type of gear, and we will continue to expand our collection to bring you the best choices. Sign up for email updates and we'll deliver them right to your inbox!
Last updated: 7/27/2022