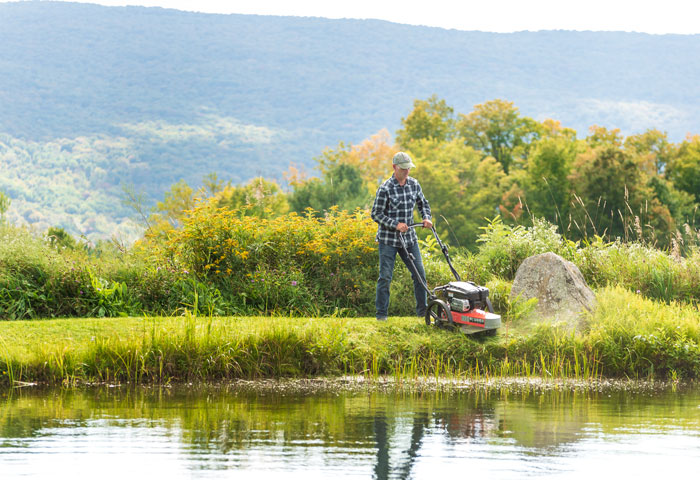 Choosing a DR Walk-Behind Trimmer Mower
Anyone who owns a string trimmer knows the feeling of total exhaustion after 30 minutes of use. Not to mention the upper body vibrations that seem to last for hours! Hand-held weed whackers are great for quick touch-ups and minor maintenance, but you won't win a battle against large amounts of thick grass without some major aches and pains.
These weed whacking struggles are what led DR Power Equipment to invent the original "trimmer on wheels" in the 1980s. Now called the DR Trimmer Mower, these machines transformed the industry by mounting the trimming mechanism on big wheels and increasing the engine power. If you're exhausted by trying to tame thick grass with a hand-held trimmer, it's time to invest in a Trimmer Mower!
String Trimmers vs. Trimmer Mowers
A string trimmer is the standard equipment for cutting tall grass in areas where you can't use a lawn mower. Frequently called a weed whacker, these hand-held systems usually lead to total operator exhaustion within a short amount of use.
A trimmer mower is an upgraded string trimmer that holds the entire system on rugged wheels. Also called a string mower, walk-behind string trimmer, or wheeled weed whacker, these machines decrease operator fatigue and provide significantly more power. String trimmers' engines or motors must be small enough to carry, but trimmer mowers' wheels enable much larger and more powerful options.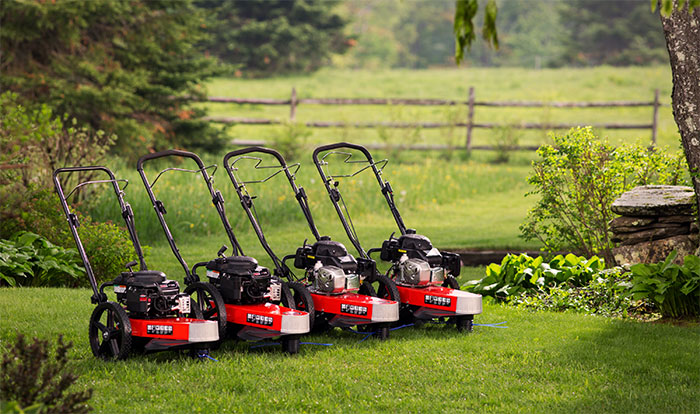 Even though trimmer mowers and bladed lawn mowers are designed similarly, trimmer mowers are much lighter weight and easier to maneuver. They are perfect for any hard-to-reach spot like under fences, along property lines, or up hills. Uneven ground would be challenging for a lawn mower but isn't a problem for high-wheeled trimmer mowers, especially models that are self-propelled.
All DR Trimmer Mowers function in a similar way and use the most powerful engines available on any consumer string mowing systems. But there are a few differences between models, so it can be tricky to decide which is best for you.
Key Differences between DR Trimmer Mower Models: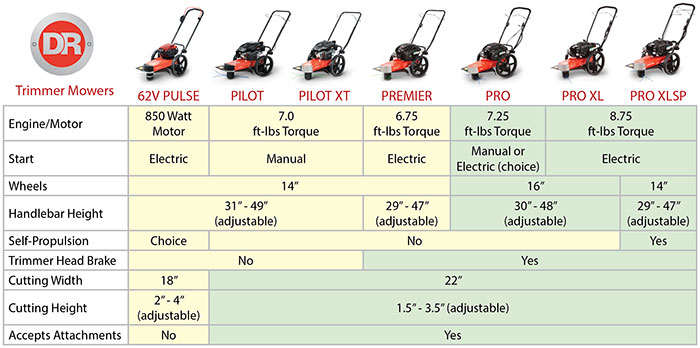 Let's Start with the PILOT Model
As DR's lightest model, the PILOT is ideal for moderate conditions. Weighing just 55 pounds, it's very easy to maneuver but doesn't lack for muscle. The offset frame design allows the PILOT to mow right up against fences, foundations, and other obstacles with precise control. And its low profile provides an easy reach underneath shrubs or fence stiles to clear out shorter growth.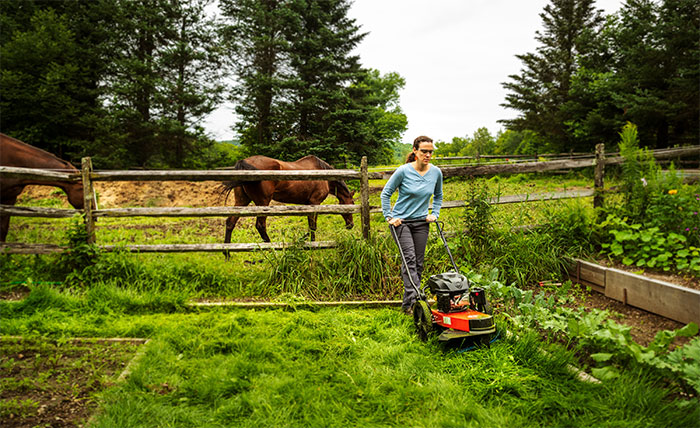 The PILOT is great for continuous trimming and mowing. But if you anticipate needing to stop frequently to reposition, transport, or step away for other tasks, consider the PREMIER, PRO, or PRO XL. These are equipped with a trimmer head brake that stops the trimmer head without shutting down the engine.
If you're battling some thick brush and saplings in addition to tall grass, all gas-powered models accept DR's optional Beaver Blade attachment. This replaces the cutting cord with a chainsaw-in-groove design that turns your Trimmer Mower into a lighter-weight Field and Brush Mower.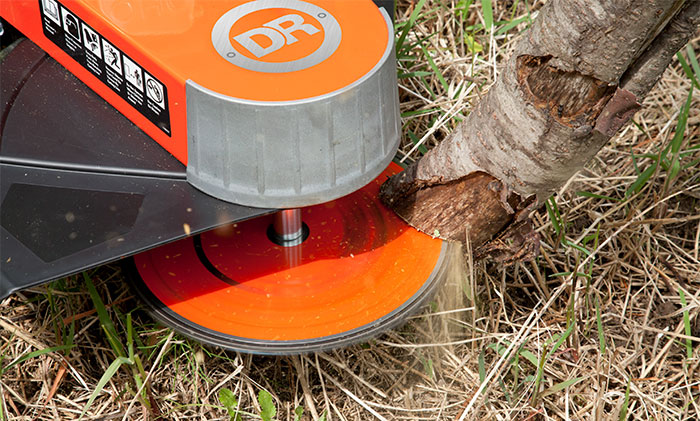 What's Different About the PILOT XT Model?
The PILOT XT model steps up from the PILOT with a reinforced frame and aluminum nose plate that provide extra protection against collisions with foundations, fences, and other obstacles. We recommend the PILOT or PILOT XT for uninterrupted mowing, as releasing the bail bar stops the engine.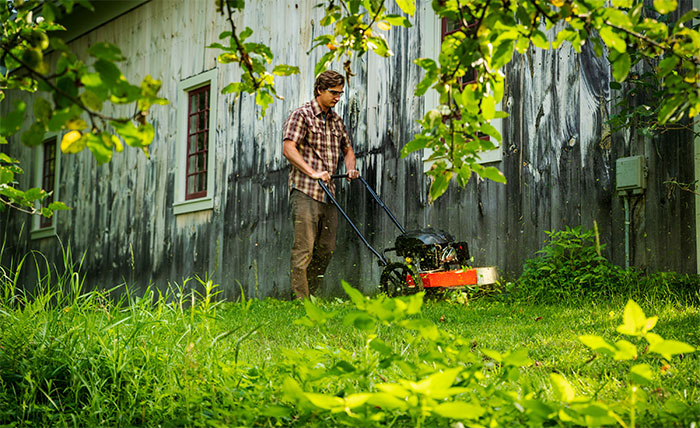 Step up to a More Full-Featured PREMIER
The PREMIER comes with the addition of a trimmer head brake that stops the head from spinning without shutting off the engine. The 6.75 series Briggs & Stratton engine with a cast iron sleeve provides tons of power and is available in manual or electric start. At just 57 pounds, the PREMIER is light enough to maneuver in tight quarters while packing in some serious muscle.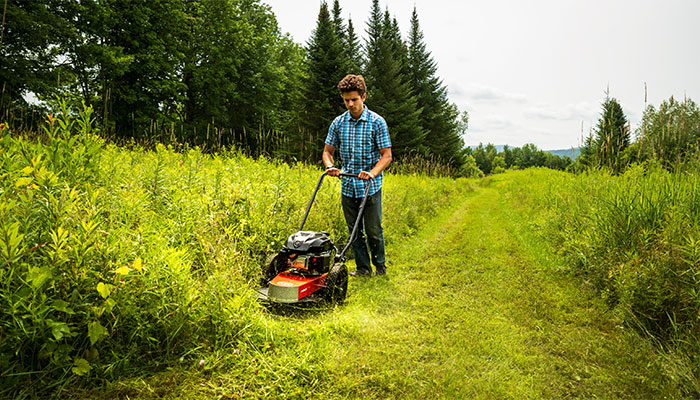 Upgrade to the PRO Model for More Power and Comfort
For heavier mowing, the PRO model features a premium 7.25 series Briggs & Stratton engine, available in either manual or electric start. The frame is mounted on high 16" wheels for easier maneuvering and more control. To minimize any vibrations while operating, the PRO also comes with ergonomic handlebars with thick padding.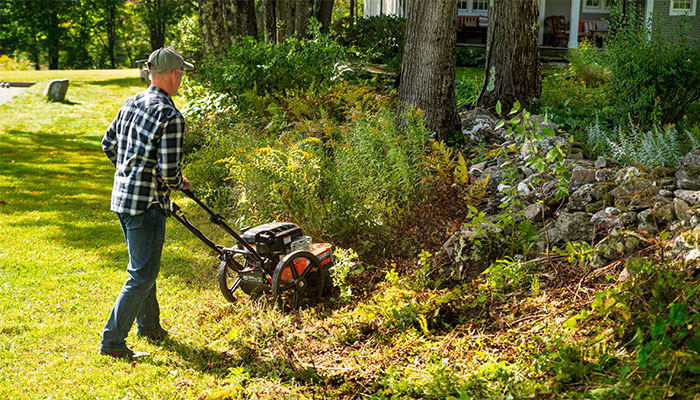 Get Top-of-the-Line Power with the PRO XL
The PRO XL model is DR's strongest walk-behind Trimmer Mower, with the muscle to easily take down waist-high grass and weeds. It features an 8.75 series Briggs & Stratton engine with overhead valve technology that comes with the convenience of electric-starting.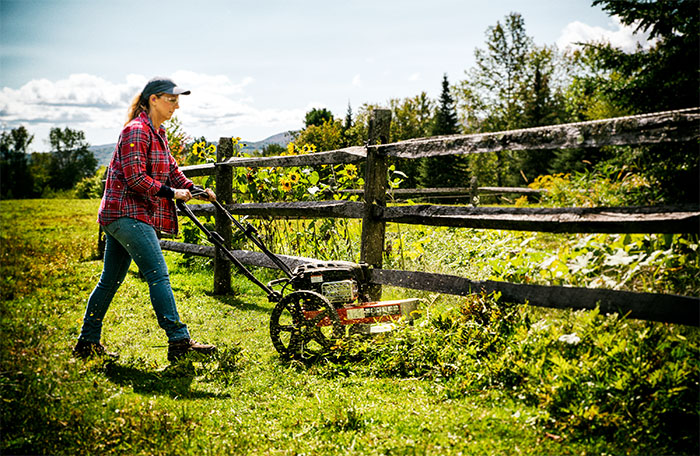 The PRO XL Self-Propelled model has the power needed to handle your toughest trimming projects. The self-propelled drive allows you to walk at your own comfortable pace while the DR matches the speed. You can mow up hills or over rough ground with maximum ease and comfort. It's also helpful for transporting the Trimmer Mower to your mowing site without straining your body.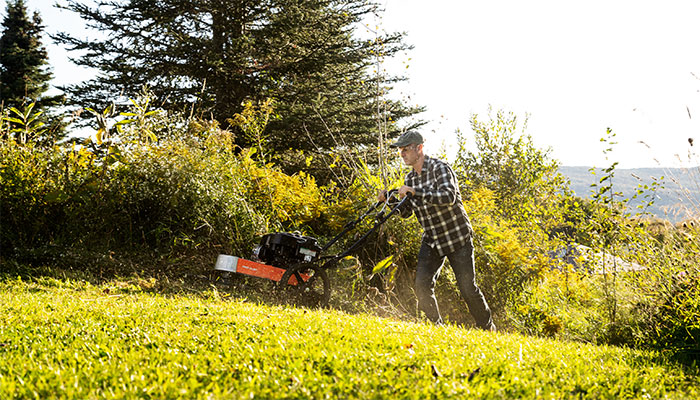 Introducing the First Battery-Powered Trimmer Mowers
DR Power Equipment invented the original gas-powered "trimmer on wheels" and they have since created the first battery-powered string mower. Their PULSE Trimmer Mowers can run for up to 30 minutes on a single charge or double that work time by adding an extra battery. DR's PULSE models use 850 watt brushless motors, which are very quiet and won't bother your neighbors!
The PULSE 62V models are powered by 62V lithium ion, 5.0 Ah batteries. DR offers both a lightweight push model at just 45 pounds (including the battery) or a larger self-propelled option weighing 58 pounds (including the battery). Both use a customized version of DR's Quick-Lock Trimmer Head for fast cord changes.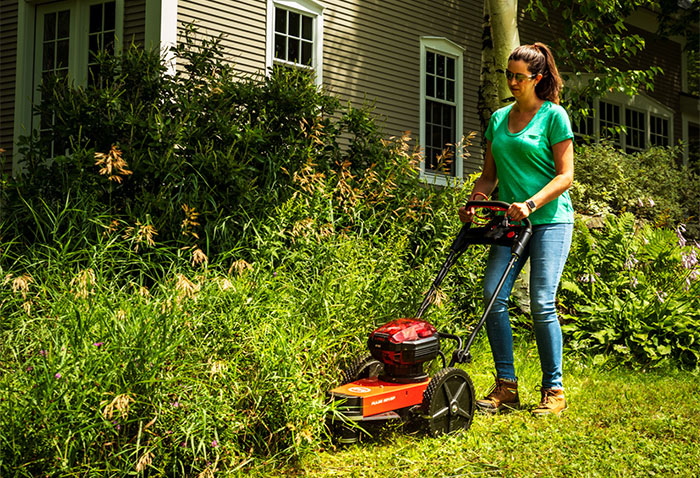 Check out the Full Line!
Looking for a tow-behind solution? We offer DR models for use with an ATV or a Tractor too. All DR Trimmer Mower models undergo frequent engineering changes so be sure to review the current lineup of models discussed here to make sure you have the most up to date infomation. And, while you're here, sign up for new product alerts and we will deliver them to your inbox!
Last updated: 7/11/2022