Buying Guide: Garage and Shop Storage Solutions
Are you at your wit's end about the chaos in your garage? Is this area just stressing you out instead of solving problems? If you can't even park your car inside the garage anymore, it's time to address this and take back your space!
Every garage and shop is unique, so there's no one-size-fits-all solution for tackling your clutter. Maybe you have dreams of turning your garage into a full workshop, or you might just need a hefty dose of hooks and racks to get your family's four-season sporting gear off the floor. Whatever your storage goals are, there are tons of organizing systems to help!
Different Types of Storage Solutions
Shelves solve a variety of storage issues. They get large tools and equipment off the ground or hold boxes, bins, and other smaller containers. Shelves can be placed high for storing objects not used often or lower for items you need easy access to. You can put shelves directly on walls (with the right supports) or use a paneling system to quickly attach to walls and ceilings.
Freestanding shelving units rest on legs rather than attach to a wall and are either fixed or adjustable size. Some units come with bins for easy storage while others are just shelves, and models on wheels are great for quickly moving objects around. Always keep weight limits in mind before picking a model because what you plan on storing will dictate the type of shelves you should get.
Cabinets are best for keeping items out of sight and out of mind. They make any shop or garage look clean and organized, and store just about anything. You can install cabinets onto your wall (with the proper supports) or purchase models that attach to wall paneling systems.
Bins and containers come in a variety of sizes and styles. They can be stackable or attach to wall paneling systems. These are ideal for storing smaller objects like screws, bolts, nails, keys, and other items that can easily get lost.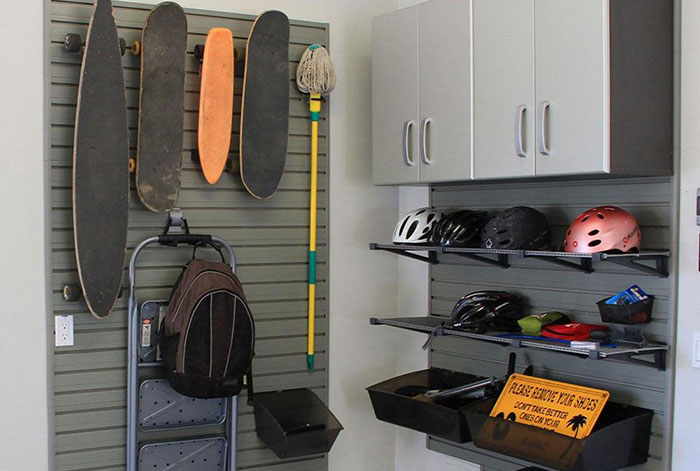 Hooks store almost anything from big to small. They help you easily elevate larger tools and recreational equipment, organize extension cords and hoses, or just hold coats and other outdoor gear. You can install hooks right onto your wall or use a paneling system.
Magnets quickly solve many organizing headaches, as most tools and junk lying around the garage are made of some type of metal. Install a magnetic strip and attach hand tools, containers with nails, or anything else with ease.
Recreational racks mount to the wall or ceiling and help free up huge amounts of space by elevating bulky objects. There are recreational racks for everything, including bicycles, skis, snowboards, kayaks, surfboards, and more.
Unified wall storage systems consist of a back panel that you can easily install any of the above options on. Slatwall systems, pegboard systems, and track systems are some of the top choices. Unified wall systems are popular because they're customizable, so you can update the pieces as your needs change.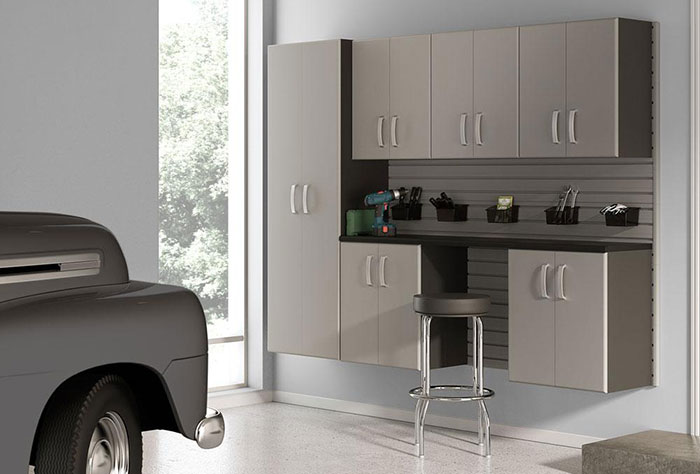 Pre-designed organization systems remove all headaches of designing your own storage areas. Just install a modular system and you're ready to go! Overhead garage storage systems are the best option if you need to really maximize your usable space.
How to Select the Right Storage System
Decide on the space's purpose
What are your goals for the garage or shop? Are you just looking for a clean and organized garage or do you dream of adding a workspace, home gym, game room, home office, craft studio, or some other upgrade? These all require very different types of organization systems, so it's best to determine your goals first.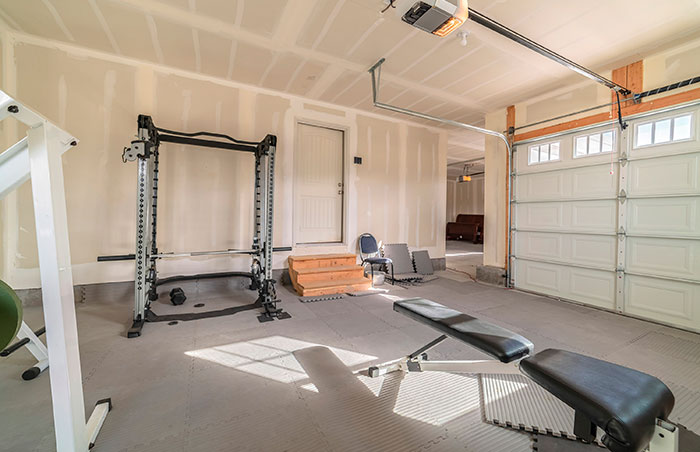 Think about any structural changes needed
Altering your garage or shop's set up might require some upgrades to lighting, electricity, or wall supports. If you're turning the garage into a full workspace, a bare bulb over your car bay won't suffice anymore. And don't forget about temperature control. Most people don't heat their garages like they heat their houses, so take this into consideration! A mounted heater is a great way to stay warm without taking up precious floorspace.
Keep most-used items within reach
When organizing any space, always prioritize the things you use most. Plan to put the least-used items on top shelves/storage containers to leave room for quickly accessing anything important on the lower shelves.
Add vertical storage
The best way to organize a garage or shop is to get as many items as possible off the ground. Bulky objects like yard tools, ladders, skis, and even bicycles can be stored on a wall or ceiling with paneling and hooks. Look for ways to add vertical storage when you're planning out the space.
Plan for seasonality
Do you live in an area where the weather changes daily, and need to have easy access to your constantly rotating seasonal gear? Take this into account when planning your storage solutions so you can add some grab-and-go features. Little improvements like keeping your snow shovel on a hook by the door instead of tucked in a corner behind your car make a huge difference in your everyday life!
The same thing matters if you need to plan for seasonal storage. You might be starting this organizing project in the summer when the patio furniture and grill are outside, but if those large items need to come back into the garage in a few months, don't forget to plan for this.