Choosing a DR Power Grader
If you have an unpaved driveway, you know the struggles of battling against Mother Nature. Rain, snow, and mud can wreak havoc on a gravel driveway. The go-to solution for many country driveway challenges is to hire a farmer or landscaper to truck in and spread new gravel. But this can become a big financial investment, especially if you need to grade multiple times a year.
Rather than depending on a hired service to maintain your driveway, you can simply hook up a grading attachment to dig up and reuse your existing materials. The DR Power Grader removes potholes and washboards with carbide-tipped grading teeth that loosen hard-packed gravel and level it with a scraper blade.
Save yourself the money and headache of waiting for a grading service to come. Invest in a power grader and take back your driveway instead!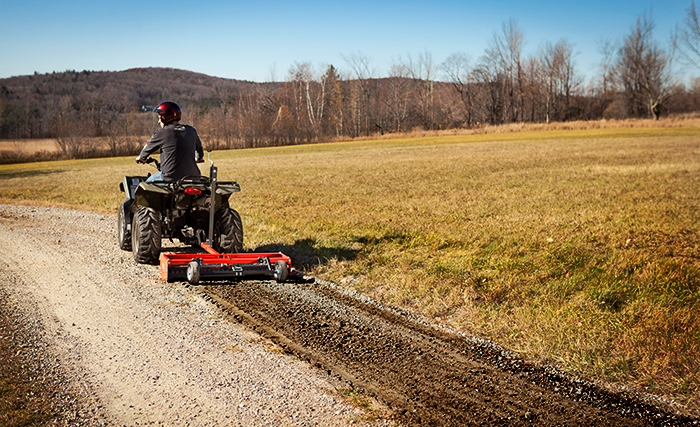 Differences Between DR Power Graders
The DR Power Graders are perfect for any unpaved driveways that develop potholes, washboards, divots, puddles, or mud. All DR Power Graders function in a similar way and use carbide-tipped steel grading teeth to quickly level rough areas. But there are a few variations between models.
To help you select a DR Power Grader, we've broken down the key differences: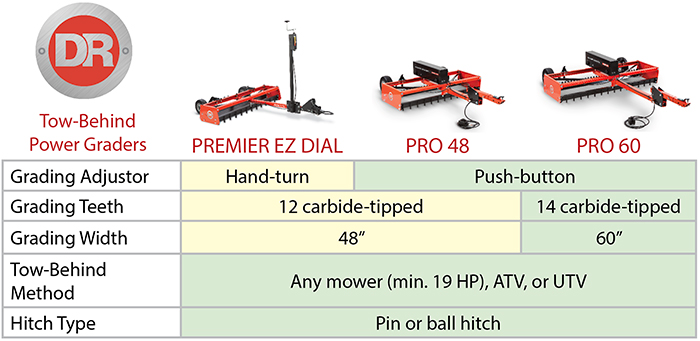 Starting with the PREMIER EZ DIAL
The DR PREMIER EZ DIAL features 12 scarifying carbide-tipped teeth that tear into the driveway's surface and quickly loosen materials. It grades a full 48" wide but has a compact design for those with limited storage space. This model utilizes an EZ Dial depth regulator, rather than a larger battery-powered actuator, to change the grading depth. With just a few simple turns of the adjustor, you can lower or raise the grader without leaving the driver's seat.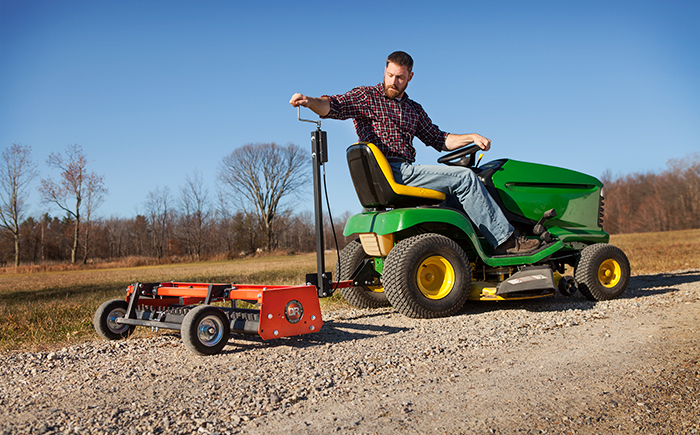 While the PREMIER EZ DIAL is DR's smallest model, it doesn't lack for strength or versatility. In addition to grading your driveway, it can be used to seed a flat lawn, smooth out horse paths, and maintain parking areas or kids' play spots. For tough grading needs, the top of the frame can support a pair of standard cinder blocks for added weight. It also includes both a ball hitch and pin hitch, so you can easily hook it up to a variety of mowers, ATV, or UTVs.
Stepping up to the PRO 48
The PRO 48 comes with all the muscle of the PREMIER EZ DIAL, but with the added convenience of push-button grading depth adjustments. A handy button controls a battery-powered actuator that raises and lowers the grading teeth while you drive.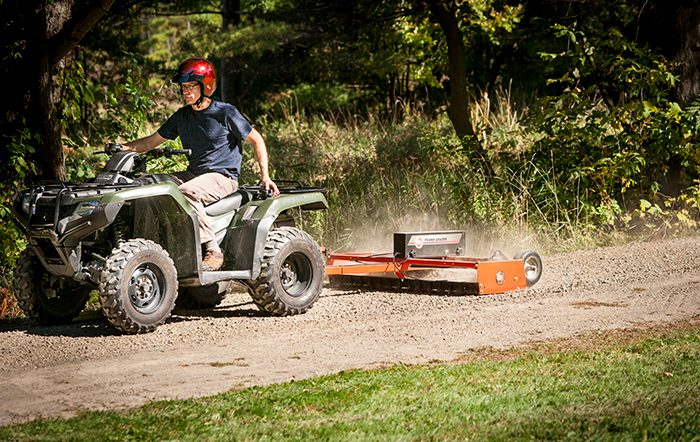 Beyond maneuvering various gravel depths, this allows you to drive right from your driveway onto your yard without needing to stop and lift the grader. Just push the button while driving!
Upgrading to the top-of-the-line PRO 60
The PRO 60 is DR's widest and fasted model. With 14 carbide-tipped teeth and a 60" wide grading width, this Power Grader is ideal for wide, rough driveways and other large grading areas. Be sure to measure the width of your driveway and select the best size for grading on each side of the center without taking the crown off.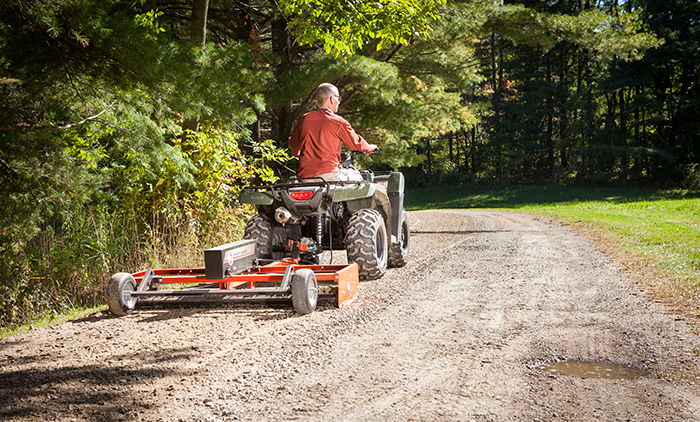 All DR Power Graders are beneficial and versatile tools that let you maintain your gravel driveway without depending on a landscaper. Reclaim your driveway today!