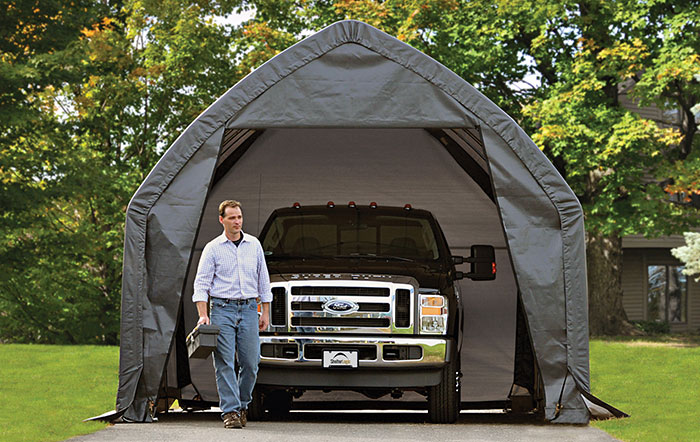 FAQ: Portable Outdoor Storage Units and Shelters
What does "portable" mean?
Portable outdoor structures simply mean that you can easily move the units around your property. These are usually made of a sturdy frame with weather-resistant fabric and could be anything from a small grill tent to a full garage.
It's common for modular/pre-built sheds to get roped into this "portable" category, but beyond the initial delivery of these units, they're not exactly the most movable products. Stick to fabric-based outdoor structures if you intend to change the unit's location or only use it seasonally.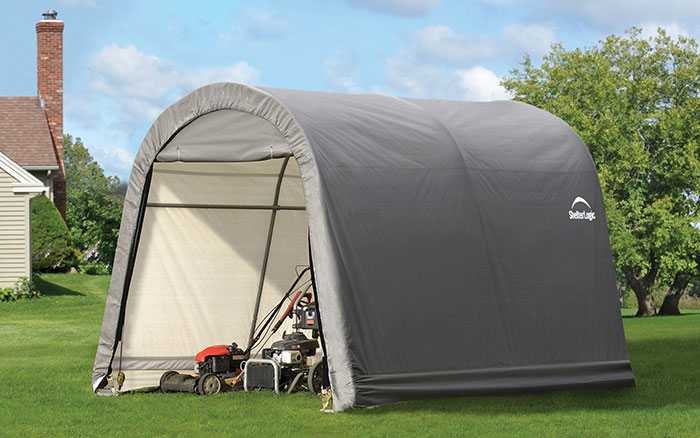 Non-portable outdoor structures range from storm shelters and garages to those fancy, pre-built sheds. They are usually made of rigid materials like plastic, metal, or wood and are either drilled into something or just too heavy to move easily. A non-portable outdoor structure is also referred to as a modular, prefabricated (prefab), stationary, or accessory dwelling unit (ADU).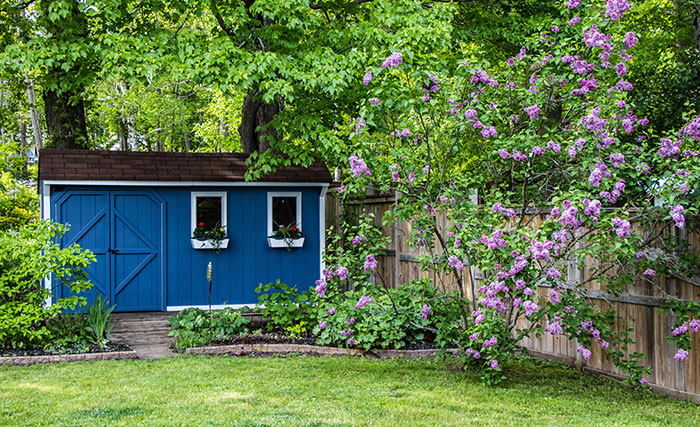 Having a separate, fairly permanent unit on your property has turned into a huge industry, with many "sheds" now featuring office space, electricity/plumbing, collapsible beds, and porches. The concept of a He-Shed or She-Shed has evolved into basically a micro-home and the price range is enormous.
What are the different types of portable outdoor structures?
Shade Structures: These provide shaded areas and can be either free-standing or attach to the side of your house. Popular types include canopies, pergolas, gazebos, pavilions, cabanas, patio covers, grill tents, and livestock run-in shelters, all of which come in many sizes and designs.
Garages: Carports/car canopies and enclosed garages are the two main types of portable garages and differ based on open vs. closed sides. There are many sizes available for parking your car, ATV, UTV, motorcycle, or bicycles.
Sheds: Portable sheds are similar in design to portable enclosed garages but are usually smaller. Fabric gardening sheds are perfect for storing soils or hand tools used with elevated raised beds/container gardens (where the location may change), or consider a fabric utility shed for protecting your larger machinery.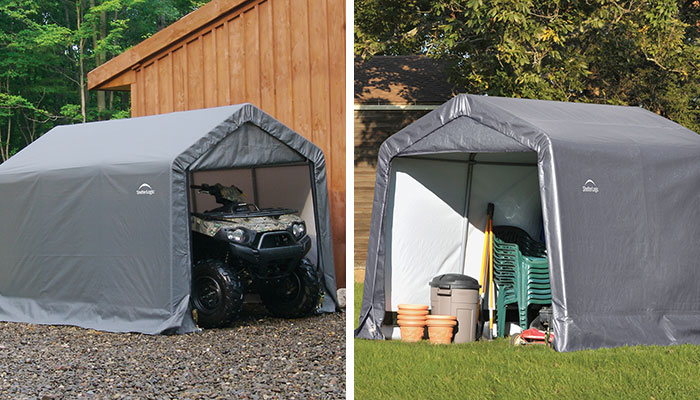 Greenhouses: Most portable greenhouses are designed very similarly and the key differences are found in the ventilation, UV protection, and temperature control features.
Storage Benches and Cabinets: These are more secretive storage solutions and include outdoor benches/couches with storage underneath or fancy covers to hide trash/recycling bins and other unsightly household products.
Which materials are the best for portable storage and shelters?
Your local weather will dictate the best materials for your portable storage unit or shelter. If it rains often or is really hot/cold, you'll need something durable enough to fight the elements. Most portable storage units and shelters are made of plastic, resin, wood, metal, or steel.
For the cover, aim for flexible plastics like polyethylene or a polyester fabric that are waterproof and have antifungal agents. Plastic and composite materials are popular because they're sturdy, easy to assemble, and don't require much cleaning. In hotter regions, use a material that's UV treated to block UVA and UVB rays, which is especially important for portable greenhouses.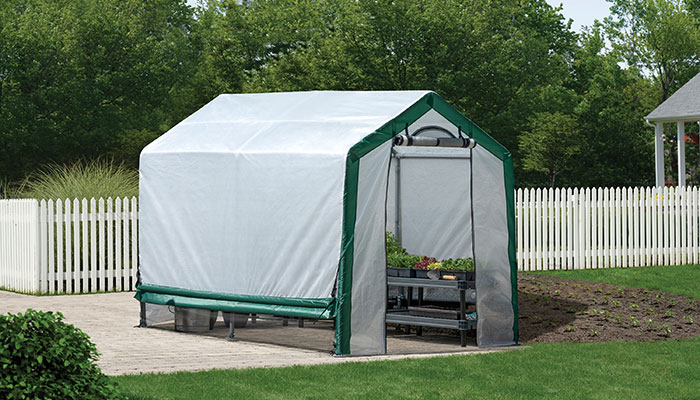 For the frame, steel or aluminum are going to be your best bet. They are both very strong, resistant against most natural elements, and don't require the ongoing maintenance that wood-based units need.
Do portable outdoor structures stand up against wind, rain, and snow?
This depends completely on the product's quality and your local weather system. Portable structures aren't engineered buildings, so they can't be wind or snow-load rated like stationary structures would be. But outdoor storage units and shelters made of element-resistant materials, like those we feature from ShelterLogic, are designed for all types of climates.
Anchoring the structure securely is critical in combating wind or snow. We also recommend removing accumulated snow off the roof with a soft broom or mop. Always remember that thermal expansion will cause the cover to expand or shrink throughout the year, so adjust the cover before it snows to keep it tight.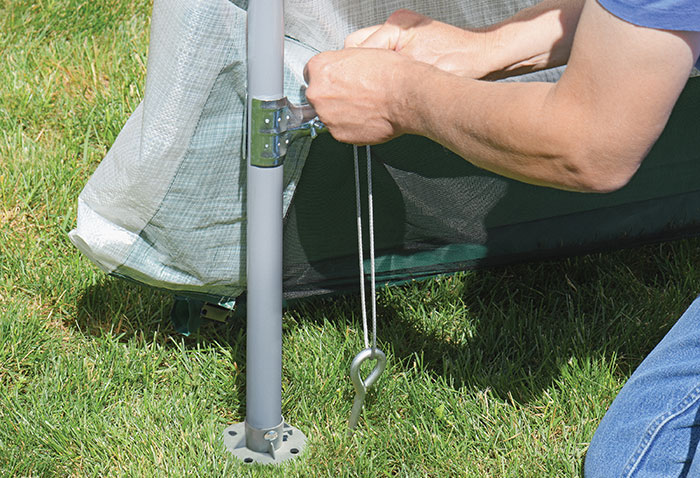 Don't forget – the best thing about portable structures is that you can easily move them. If extremely high winds or storms are predicted, the structure can always be dismantled and stored.
How long do portable outdoor structures last for?
This also depends on the overall quality of the storage unit or shelter and the climate in your region. Heavy snow will impact the frame and cover in different ways than the scorching sun will. It's crucial to weigh the pros and cons of the various material options and how each will stand up against your local weather.
Most portable outdoor shelters and storage units are considered "temporary" because they're not built to last forever. But that doesn't mean you'll need to replace yours every year. The options made of durable materials, like ShelterLogic's steel and polyethylene structures, should survive against all types of elements and last for at least 5-10 years.
What is the price difference between portable outdoor structures vs. non-portable?
Because there are so many options of portable and non-portable outdoor structures, it's tough to do an apples-to-apples comparison. As a quick reference, ShelterLogic's smallest Shed-in-a-Box® model is half the price of most plastic modular sheds of the same size. The difference grows exponentially as you compare bigger models, with ShelterLogic's largest model still costing less than a tiny plastic modular shed.
Check back for more!
There is almost a limitless supply of products that can help you store and organize your outdoor gear, and we will continue to expand our collection to bring you the best of them. Sign up for email updates and we will deliver them to your inbox!
Last updated: 6/24/2022