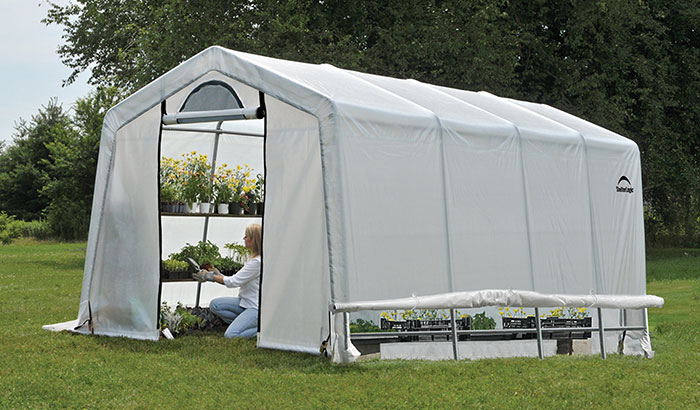 Choosing Portable Outdoor Storage Units and Shelters
There's nothing more coveted in every household than storage space. It's too easy to fill up your garage and be stuck leaving tools and toys outside. We all know this isn't good for the gear and it's even worse for your neighbors!
Investing in portable outdoor storage unit or shelter is the best thing you can do to protect your vehicles, landscaping equipment, household products, plants, and even yourself. With a simple shade and net structure, you can forget the days of battling sunburn, heat exhaustion, and bugs.
Whether you need to add gardening storage space or protect your brand-new motorcycle, there are tons of portable outdoor structures to help you. But with all these choices, the decision can be overwhelming. We've got you covered!
Differences Between Portable and Non-Portable Structures
Portable outdoor structures are units you can easily move around your property. Usually made of a sturdy frame with weather-resistant fabric, they could be anything from a small grill tent to a full portable boat garage.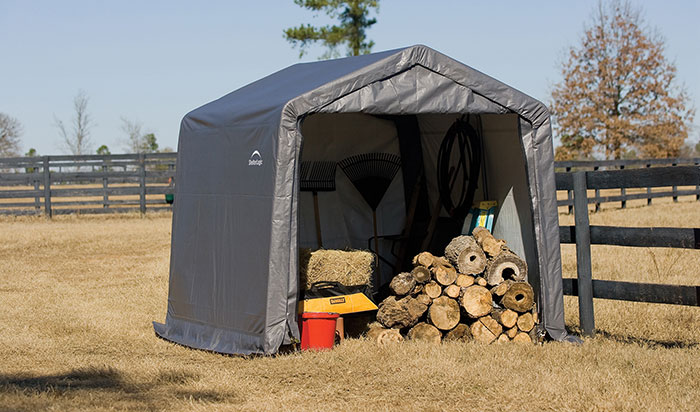 It's not uncommon to see pre-built or modular sheds get labeled as "portable" – but considering their weight, it's unlikely you'll ever want to move them. If you hope to change the unit's location or only use it seasonally, a fabric-based outdoor structure is your best bet.
Non-portable outdoor structures range from garages and gazebos to pre-built sheds. They are usually made of harder materials like plastic, wood, or metal and are either drilled down or are too heavy to move. A non-portable outdoor storage unit or shelter is also referred to as a stationary, modular, prefabricated (prefab), or accessory dwelling unit (ADU).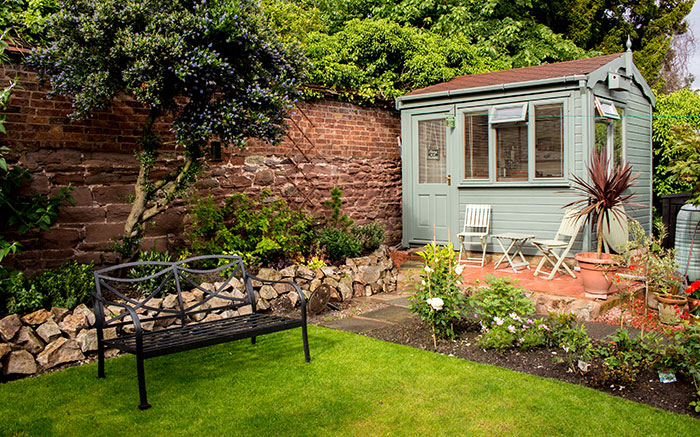 Having a semi-permanent, separate unit on your property has turned into a big industry, with many "sheds" now featuring porches, office space, electricity, and collapsible beds. The She-Shed or He-Shed concept has grown into almost micro-homes and the price range of these fancy sheds is huge.
Types of Portable Outdoor Structures
Shade Structures: These create shaded areas and can either attach to the side of your house or be free-standing. Popular types include canopies, gazebos, pergolas, cabanas, pavilions, patio covers, grill tents, and livestock run-in shelters, all of which come in many designs and sizes to suit different purposes.
Garages: Car canopies/carports and enclosed garages are the two main types and only differ based on open vs. closed sides. There are many sizes depending on what you're parking: car, boat, ATV, UTV, motorcycle, bicycles, and more!
Sheds: These are designed very similarly to portable enclosed garages but are smaller. A fabric gardening shed can store hand tools or soils when locations change throughout the season or try a larger utility shed to protect power equipment and other bulky items.
Arrow Metal Storage Sheds: For even sturdier storage needs, these metal sheds protect landscaping equipment, gardening supplies, or outdoor gear. They can also double as extra space for home workshops, art studios, florist shops, and more!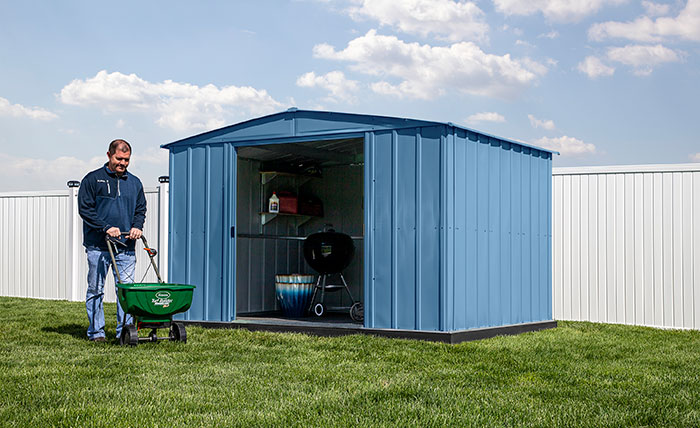 Greenhouses: Most portable greenhouses are very similar in design and the main differences are found in the ventilation, UV protection, and temperature control features.
Storage Benches and Cabinets: These are "hidden" storage solutions and include outdoor benches/couches with storage underneath or fancy covers to keep unsightly trash and recycling bins out of view.
Factors to Consider
Size: What are you hoping to store or cover? Boat storage requires significantly more space than lawn mower storage does. The same goes for canopies and shelters – make sure your table and chairs can fit in the gazebo before you fall in love with one particular design!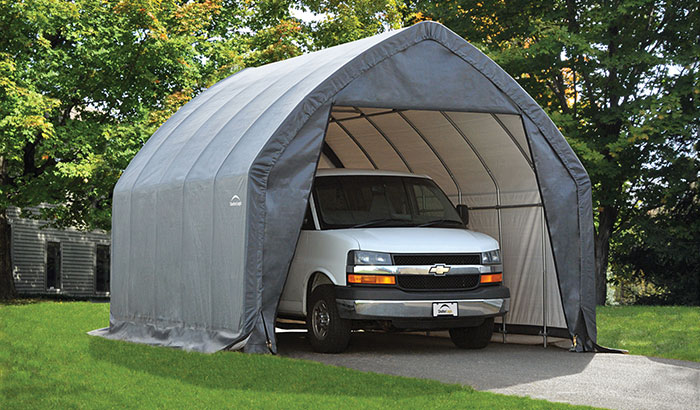 Material: Your local climate will dictate the best materials for your portable storage unit or shelter. Most portable outdoor structures are made of plastic, resin, wood, steel, or metal.
For the frame, steel or aluminum are great choices. They are durable, resistant against most natural elements (or can be treated), and don't need the level of maintenance that wood-based units require.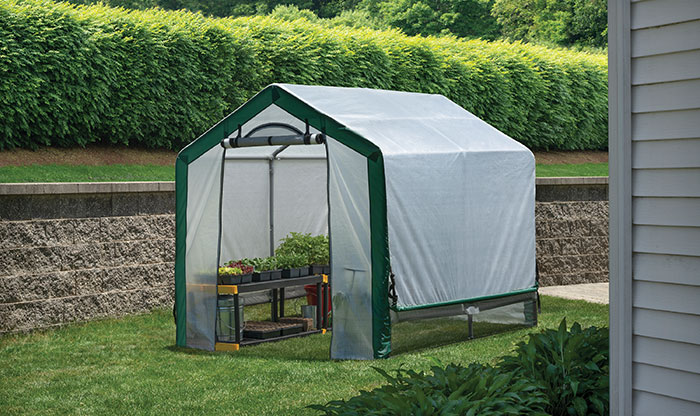 For the cover, look for flexible plastics like polyethylene or a polyester fabric that have antifungal agents and are waterproof. These materials are popular because they're sturdy, quick to assemble, and don't need much maintenance. If you live in a hot area, use a material that's UV treated.
Durability Against Wind, Rain, and Snow: Portable structures aren't engineered buildings, so they can't be wind or snow-load rated like stationary structures would be. The options made of element-resistant materials, like ShelterLogic's steel and polyethylene structures, should survive against all types of elements and last for many years.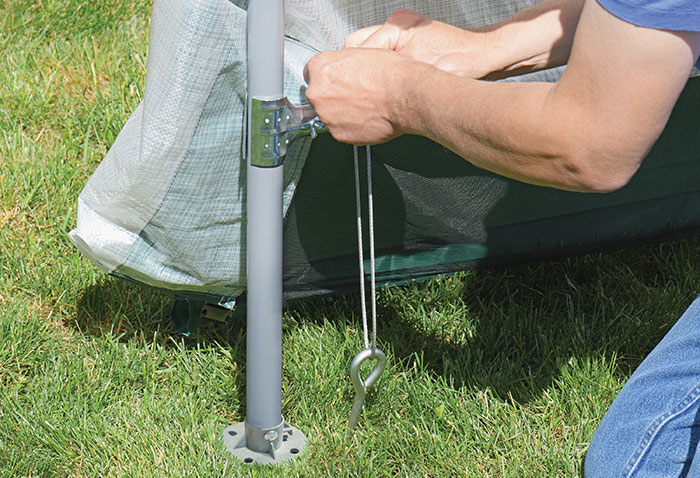 Price: There is a wide variety of costs depending on the size and purpose of the portable outdoor structure. A small canopy or shed will only cost $150-350, whereas an enclosed garage to store your boat could be upwards of $500-900. A large portable gazebo with removable screens might even set you back over $1,000…but it's money well spent to avoid sunburn and mosquitos!
Check back for more!
There is almost a limitless supply of products that can help you store and organize your outdoor gear, and we will continue to expand our collection to bring you the best of them. Sign up for email updates and we will deliver them to your inbox!
Last updated: 6/24/2022