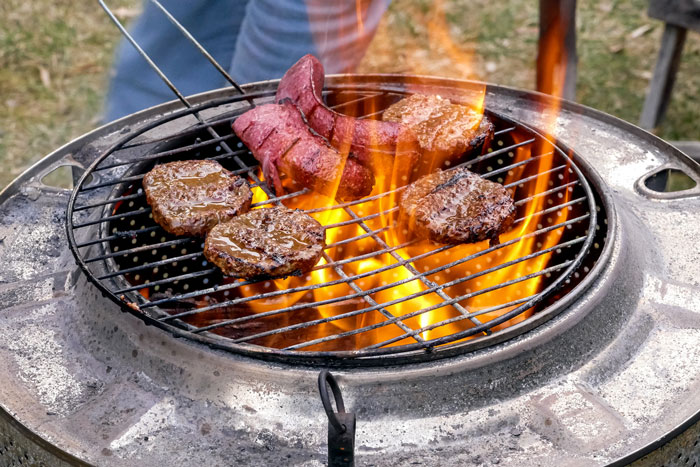 5 Super Easy Ideas for Cooking on a Fire Pit
For most people the perfect fire pit is primarily about warmth—both physical and atmospheric. There is something about gathering around dancing flames that relaxes everyone and makes it just fine to drift easily between conversation and one's own thoughts. No pressure, we're just lounging here.
But then, you've got to eat! And the ability to cook with your fire pit is a bonus that can extend your time together around the fire. While there are some fire pits designed with specific cooking features built in, most are simple grates with limited or no adjustability. So, the best rule of thumb when cooking on a fire pit is "keep it simple" and go with ideas that don't require precise heat control. Here are some easy and delicious things to try:
Zucchini Canoes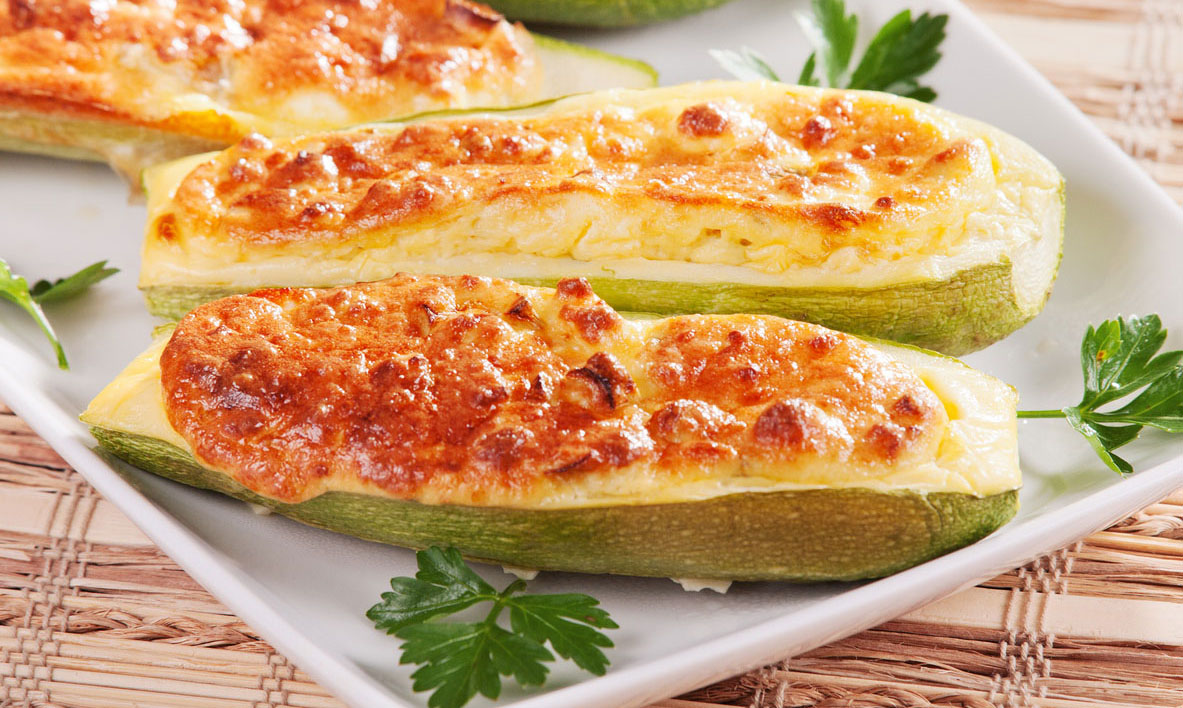 These are best with smaller (roughly 6 inch) zucchinis. They are a great side dish and fun enough to make kids love zucchini!
1. Cut Zucchinis in half the long way.
2. Use a spoon to scoop out the pulpy center and form a canoe-shaped vessel.
3. Brush the insides with olive oil, then salt and pepper to taste.
4. Place upside down on the grill (capsized canoe) and lightly char.
5. Right the canoe and fill it with crumbled bleu cheese. (OK, for kids it might need to be a different cheese. Almost any cheese works!)
6. Grill until cheese melts.
7. Remove (use tongs to avoid spilling—some cheeses, including bleu, liquify when they melt) and let cool for a few minutes before eating.
Quesadilla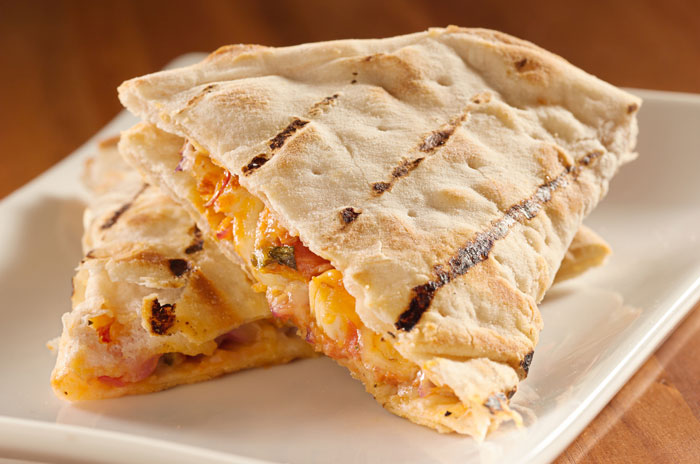 Virtually any quesadilla recipe can be premade in the kitchen then simply laid on the grill as individual portions. The tortilla will get appealing grill marks and acquire a delicious smoky flavor. To minimize leaking, don't cut them until after they are grilled. If you like a lot of juicy fillings you can put them on aluminum foil rather than directly on the grill. Easy peasy.
Kabobs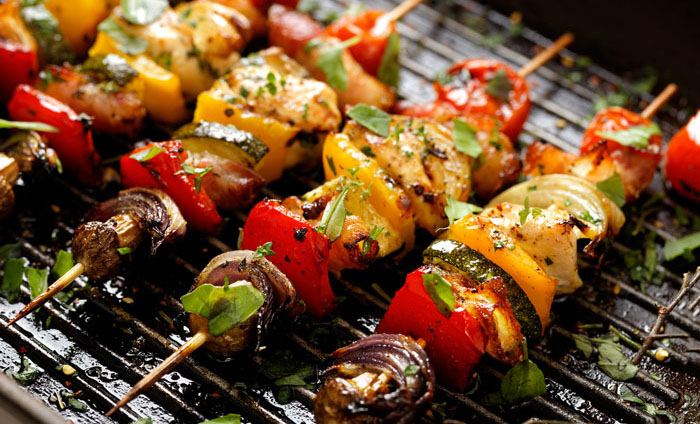 A great thing about kabobs is that they can be adapted to any diet, from the carnivorous to the vegan. The key is in timing the ingredients. Rather than putting a lot of diverse ingredients (which may have different cooking times) on one skewer, we recommend putting like ingredients together, or at least separating proteins and vegetables. Since a fire pit is much more likely to have a variety of cooking temperatures across its grill surface than a conventional cooking grill, this will give you greater control over each ingredient. Combine them on the plate when everything is done!
Grilled Peaches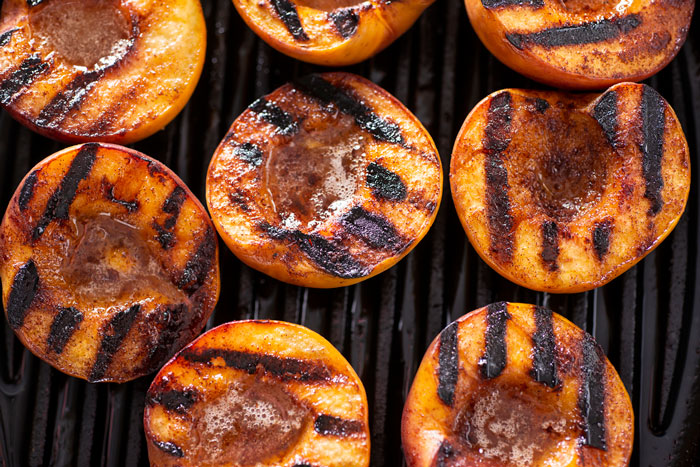 This tasty recipe is for 4 peaches. First prepare the topping: mash up a stick of butter with 2 tablespoons of sugar and 1 tablespoon of cinnamon. Next, cut the peaches in half and remove the pits. Place the peaches on the grill, face down, and cook for a few minutes. Turn them over and spoon a nice dollop of the topping into each peach pit hole. Cover loosely with foil and cook until the topping is absorbed. Best. Dessert. Ever.
S'mores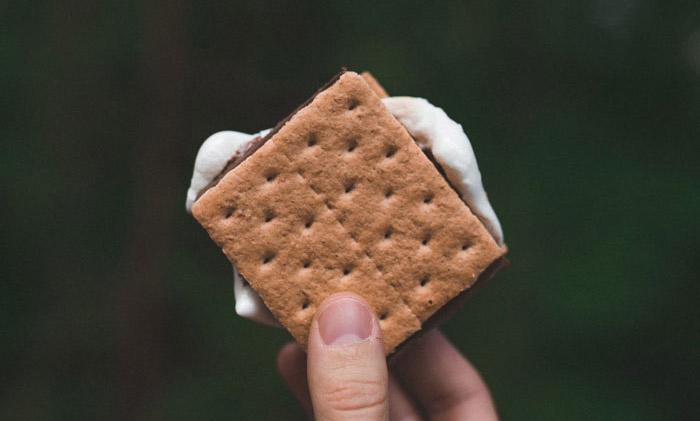 Yeah, we really didn't need to tell you about this one, did we? But a classic is a classic. The dessert for after your dessert! Marshmallows, stick, chocolate, graham crackers. You know the drill!
Got an Appetite for More?
We will continue to build our selection of fire pits and related products and articles for outdoor living. You can sign up for new product alerts by email, or just come back and visit us again!
Last updated: 7/1/2022