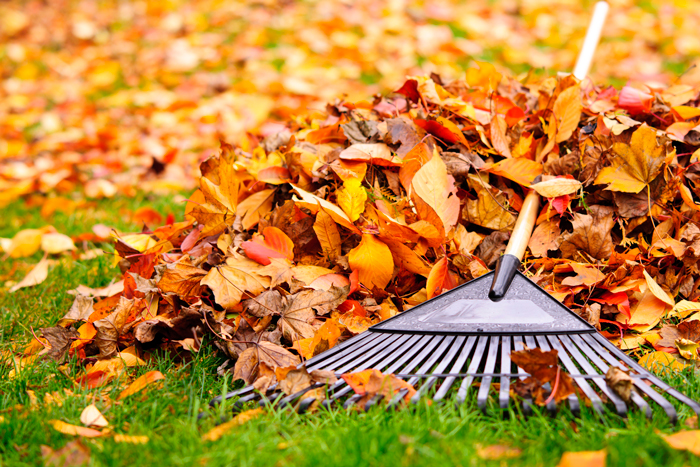 How To: Leaf Removal
Let's face it: getting leaves off your lawn is a headache. It always seems to take forever and is hardly a skill you can feel proud of. And sometimes, wind and rain will ruin your best efforts.
Depending on the size of your property and volume of leaves, you can clean up your lawn in a few different ways. The low-tech way of our ancestors – raking – sometimes is the best method for a small property. But at what point should you consider upgrading?
The Good Old-Fashioned Rake
On a small lawn, raking doesn't seem so bad. You might even – dare we say – enjoy it for the first few minutes. If you only have a little land with minimal foliage, using your trusty rake is probably the best bet.
Raking is the "easiest" method of lawn clean-up, since all you do is grab it and get to work. But it usually doesn't take long for the blisters to form and your back to start yelling at you, making you wonder…is there a better way of doing this?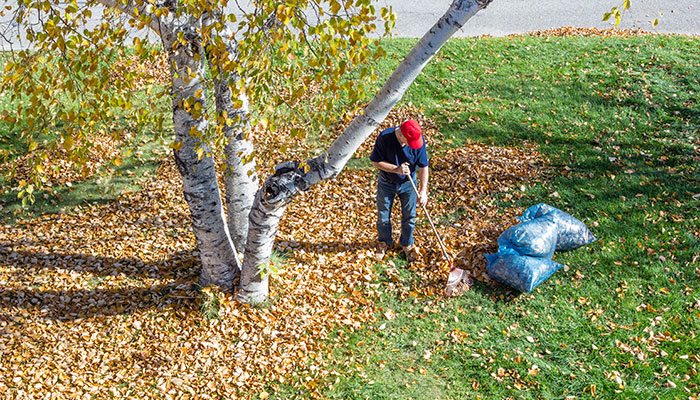 Stepping up to a Leaf Blower
Leaf blowers are one replacement for rakes, and they are very effective at herding your leaves into one spot without much effort. They're particularly helpful if you have a final destination to blow your leaves to, like a wooded area or ravine.
The main struggle with leaf blowers is the noise. Gas-powered blowers are loud and might bother your neighbors. Many prefer a lightweight, battery-powered leaf blower for less noise, plus the added eco-friendliness!
DR's new line of cordless electric leaf blowers makes lawn clean-up quick and quiet. Running for up to 45 minutes on a single charge, these blowers bring 45-98 mph of airflow through a hand-held unit weighing less than 9 pounds.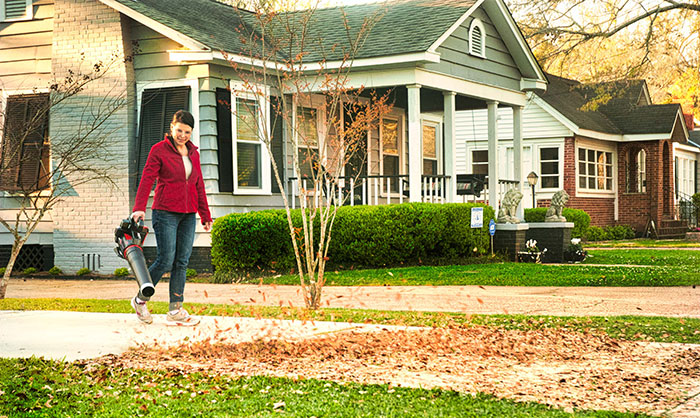 For heavier-duty leaf blowing, check out DR's wheeled blowers. These provide up to 200 mph of airflow and have rotatable air discharge nozzles to blow air from either side. DR's top-of-the-line blower offers self-propulsion for easy handling!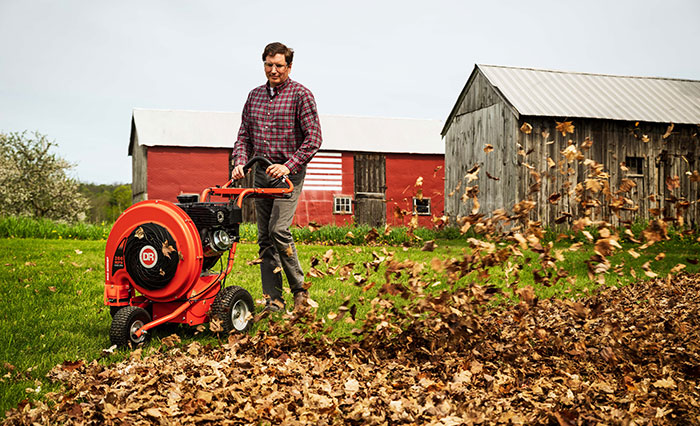 Leaf Blower Part 2: Getting the Leaves Off the Lawn!
Many people rake or blow their leaves into a big pile, then run them over repeatedly with their mower. This works fine to decrease the size of your leaf pile, but getting those mulched leaves off your lawn is another story. Time to grab the rake or blower again!
Your method of final leaf removal will depend on your end goal: do you want to save the mulched leaves for composting or dispose of them?
Disposing: rake/blow the leaves onto a tarp or into a bag
Composting: either rake/blow the leaves right to your compost pile or move them using a tarp or bag to empty in your compost area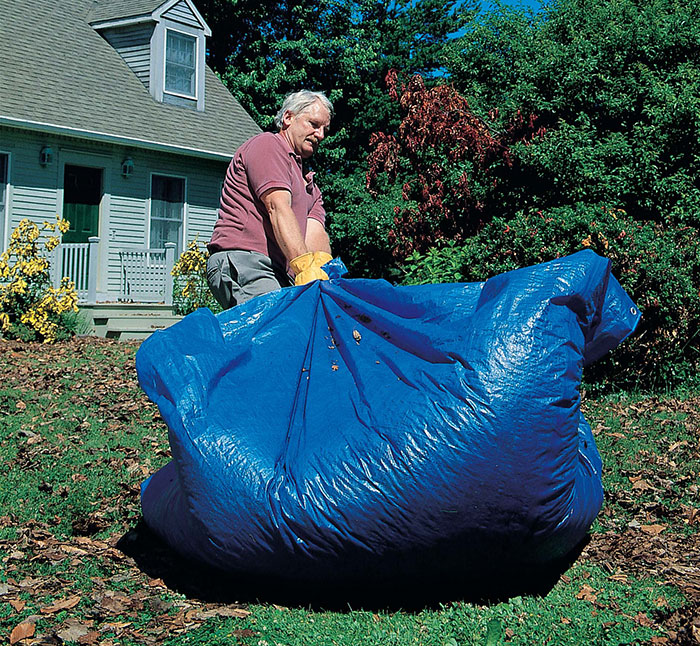 Is There an Easier Way?
Yes! If gathering the leaves isn't the end of your process, a leaf vacuum offers a huge advantage. Small property owners might be willing to bag up leaves, but if you have lots of trees and/or a sizable yard, spending hours stooped over isn't a great plan for your back. Which is why leaf vacuums have become so popular!
Upgrading to a Leaf Vacuum
A high-capacity leaf vacuum will do everything for you: suck up the leaves, shred the material to a fraction of its original size, and pack it into a collector for easy dumping. All that's left for you to do is drive to your dumping/composting spot and empty the collector.  
There are 2 types of leaf vacuums: walk-behind vacs and tow-behind vacs. If you don't have a riding lawn mower, skip below to learn more about walk-behind options. But if you're already using a riding mower, attach a leaf vacuum to inhale and mulch the leaves while mowing. Nothing beats knocking out 2 chores in the time of 1!
The DR tow-behind leaf vacuums feature the most powerful engines on any consumer leaf vacuuming system and their steel Shark Teeth™ impeller. Using a mower plus the vacuum shreds the leaves twice, which fills the collector slower and means fewer trips to your dump pile.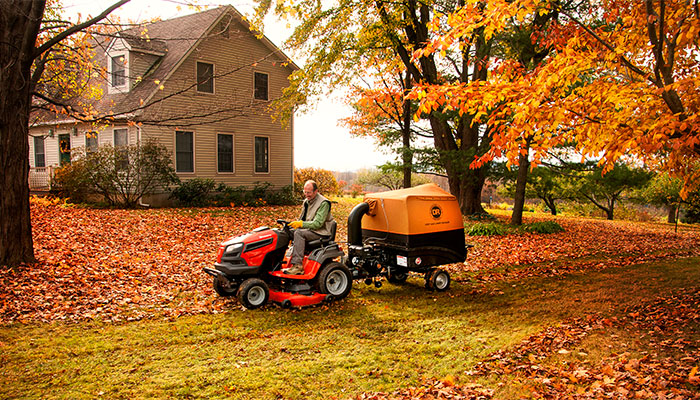 Unloading the collector couldn't be easier…just drive to your chosen spot, tilt the collector down or lift the collector's clamshell (depending on model), and dump up to 315 gallons at a time.
Don't Have a Riding Mower? Use a Walk-Behind Vacuum
If you don't own a riding mower but still want the benefits of a leaf vacuum, consider a walk-behind model. These self-contained systems inhale and mulch leaves, twigs, dead grass, and other debris similarly to tow-behind versions.
Just like the tow-behind models, the DR walk-behind vacuums feature the most powerful engines and steel Shark Teeth™ impellers. The combination of the engine power and impeller shreds the material, reducing it to 10% of its volume.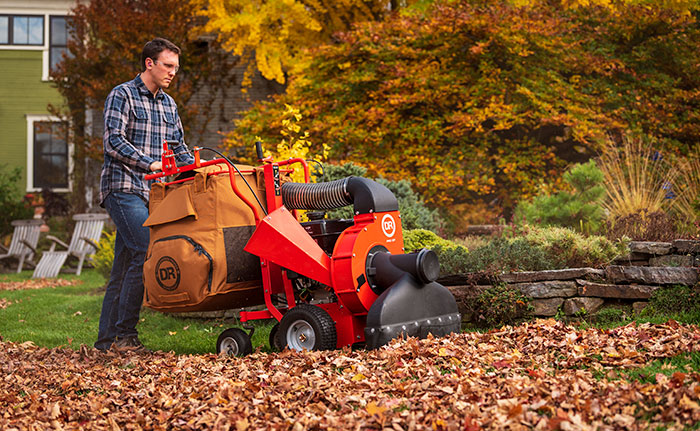 Unloading walk-behind vacuums is usually a pain, which is why all DR models feature side zippers with power-assisted discharge. Just head to your dumping area, unzip either side, and start the engine. The impeller will blow contents out quickly.
How to Choose?
Every property and owner is different, so weigh the important factors for your lawn and body. If you have a small property and love a good workout, raking might still be your preference. But if you already own a riding mower and are looking to save some time and energy, consider upgrading to a tow-behind vacuum.
Ultimately, there's no "wrong" way to get rid of your leaves…except not getting rid of them!
Personalized Advice from our Team of Experts
Need help choosing the best DR Leaf and Lawn product for your property? After you check our our full line of leaf vacuums and blowers, talk to a Country Home Products Call Center representative at 1-800-541-7954. They know this equipment inside and out, and are ready to help you decide! You can also take a moment now to sign up for email alerts and we will deliver news of new products and articles right to your inbox!.
Last updated: 8/30/2022