Choosing Floor Mats for a Mudroom, Garage, or Shop
Your home's entryway is the first impression guests have of your personal haven. There's nothing worse than a visitor slipping in your mudroom because the floor is soaking wet! Investing in durable floor mats is an often-overlooked part of making a home or workshop, but it's necessary to keep dirt, water, and grime from being tracked inside. Add to your home's curb appeal with a high-quality floor mat!
Different Types of Floor Mats
Entrance mats should be placed directly inside or outside all doorways in your house. These are durable, water-resistant options that remove muck before someone comes inside. Most are made of a raised square or line pattern that shoes can be scraped against to trap moisture and dirt. Entrance mats are the most popular and budget-friendly choices, and are available in a wide range of designs and materials.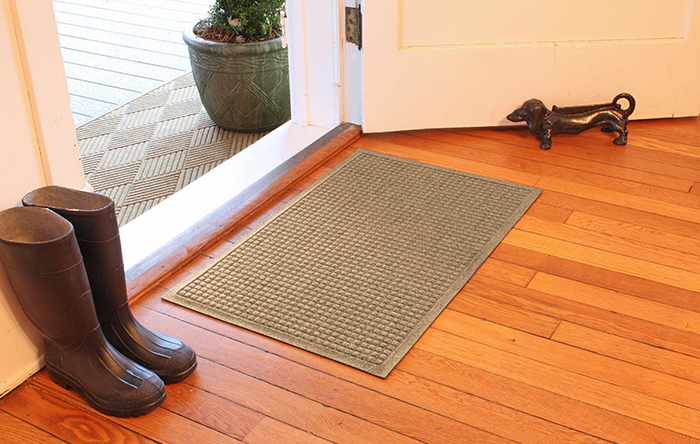 Wet weather mats absorb lots of water and prevent moisture from being tracked into your house. These heavy-duty mats are made of quick-dry materials and can hold upwards of 2 gallons of water, depending on size. Wet weather mats come in many designs and can be placed outside your front door or inside your mudroom. A very important quality of a mat is that it stays in place, so all-weather mats are designed with rubber backings and reinforced nubs to keep them from slipping.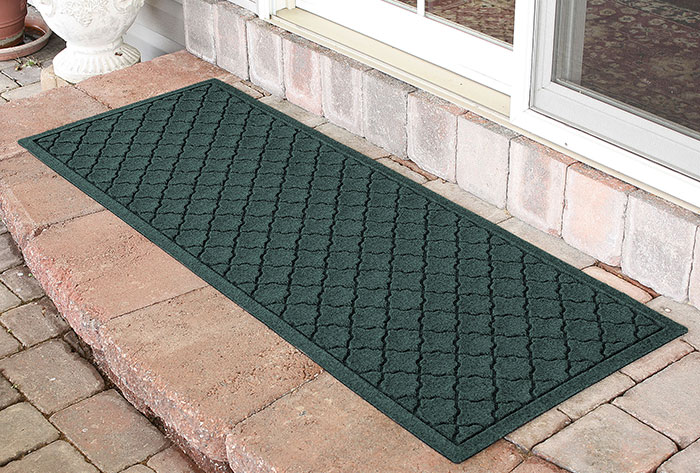 Decorative floor mats make any space feel warmer and more inviting. These are usually made of lightweight materials that aren't intended to soak up moisture or trap mud. Decorative entrance mats are best for covering the center of a mudroom or anywhere after a wet weather or entrance mat.
Factors to Consider Before Buying a Floor Mat
Potential locations: The most important step is deciding where the floor mat(s) will go. An outdoor mat must be extremely durable and hold up against the elements, and it serves mainly as a dirt and mud barrier between the outside and inside. An indoor mat is usually more focused on soaking up moisture and protecting mudroom or foyer floors. Depending on how many entrances your home has and any additional sheds or workspaces, you may need several mats!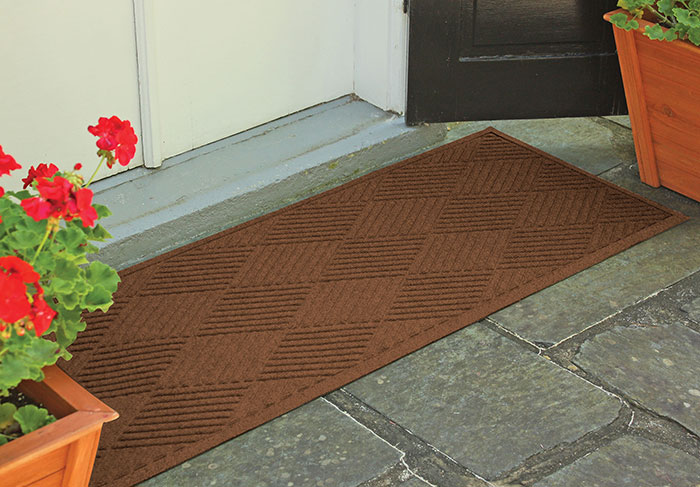 Amount and type of traffic: Mudroom and front door mats typically receive much more foot traffic than workshop or shed mats, which usually means they need to be very durable and water-resistant. But the type of foot traffic matters just as much as the amount. If you have a paved driveway and attached garage, your home's main entrance probably sees very little mud or moisture, while a shed that is used once a week might collect more mud than anywhere else. It all depends on how wet the foot traffic is!
Level of dirt/water collection: Every type of floor mat can hold a different amount of water, dirt, mud, and other outdoor debris, so it's crucial to check these specifications before buying. Most decorative mats won't absorb any water, which might not be a big deal until it rains and your child slips on the soggy rug. Most wet weather mats can hold between 1-2 gallons of water (depending on size) and their non-slip backing will keep everything in place.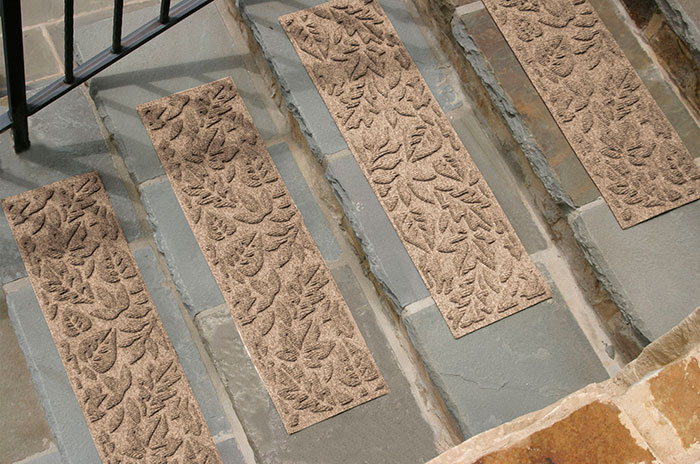 Design and color: A floor mat is often one of the first things someone sees when they enter your home. It helps set a tone for the space and should be practical as well as aesthetically-pleasing. Some people want heavy-duty mats to blend in with the rest of their décor, while others prefer a statement piece that welcomes visitors with a bold color or pattern. There are no wrong choices when it comes to picking your favorite design and color – just make sure the material fits your mud and moisture needs!
Eco-friendliness: There are opportunities in every corner of our homes to make them more eco-friendly, and floor mats are no different. Many entrance mats are constructed from "green" materials that not only reduce harmful raw material production, but are also less likely to end up in the landfill 3 years after buying. Most eco-friendly floor mats will last for at least 10 years and can hold up against the toughest mud, dirt, and moisture levels.
There's a huge variety in floor mats, so it's best to consider your specific needs and goals for how they can make your life easier. Whether it's reducing the amount of time you spend cleaning up mud or just protecting your floors against water damage, there's a durable mat for you!