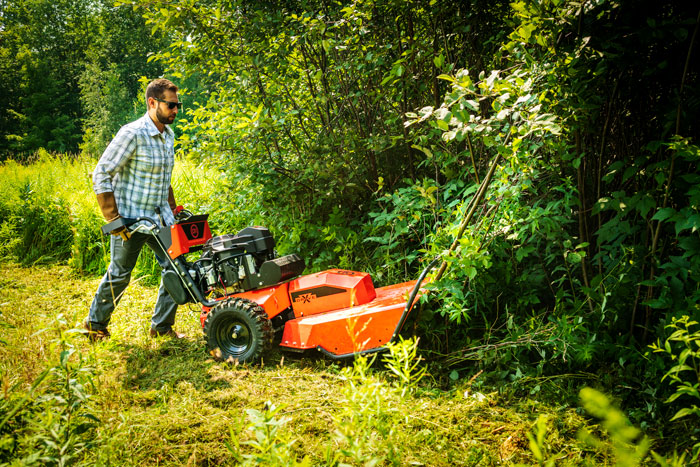 Choosing a DR Walk-Behind Field and Brush Mower
Are you getting tired of seeing those annoying saplings take over your lawn? Or feel like half your property isn't usable because it's covered in thick, tall field grass? It's time to reclaim your lawn and invest in a brush mower!
The DR Field and Brush Mower has been the #1 selling walk-behind brush mower for over 30 years. Whether you're clearing thick field grass, cutting high weeds, or chewing through tough saplings, the DR is designed to tear it all up.
All DR Field and Brush Mowers are self-propelled and can manage any type of terrain. They easily roll over obstacles, through mud, up hills, and across side slopes. No other mower matches the maneuverability and traction of the DR.
The DR models function very similarly and use the most powerful engines available. But there are a few differences between models, so it can be tricky to figure out which is best for your property.
Here are the Key Differences Between DR Field and Brush Mower Models: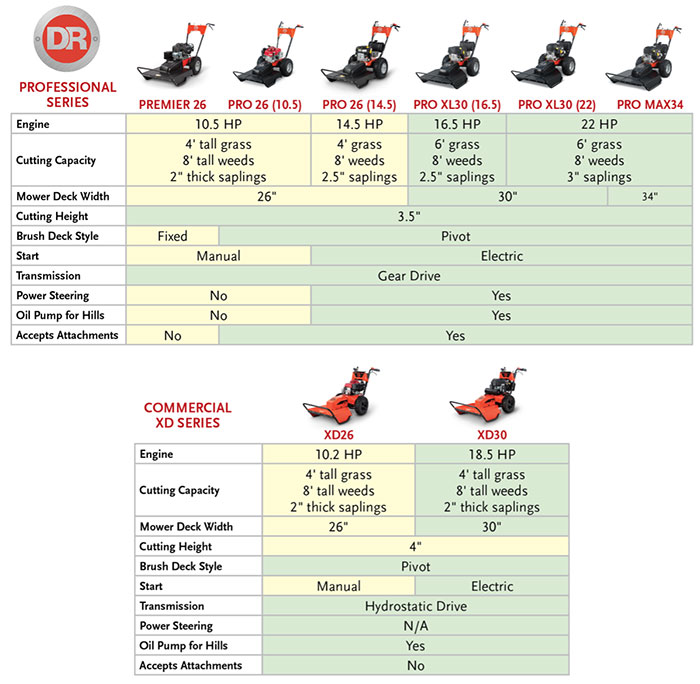 Let's Start with the PREMIER 26
The PREMIER is DR's lightest and most maneuverable Field and Brush Mower. This model was designed exclusively as a mower (it doesn't accept DR's optional attachments), which means less weight in the frame and easy handling.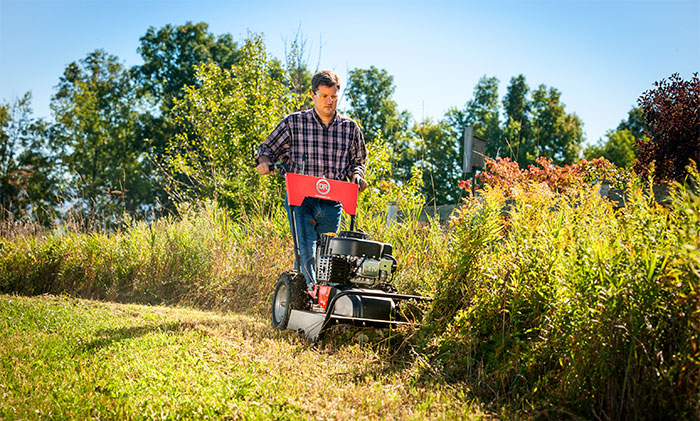 Featuring a 26" cutting width and a gear-driven transmission, the PREMIER has everything you need to clear out overgrown brush, including saplings up to 2" thick. The lugged tires track reliably over all kinds of uneven terrain and operator controls are within arm's reach.
Why Upgrade to the PRO 26 (10.5 HP)?
Lightweight but rugged, the PRO 26 10.5 HP model uses the same powerful 10.5 HP Briggs and Stratton OHV engine as the PREMIER, but on the more versatile design of DR's higher horsepower mowers.
The 10.5 PRO 26 has the exact same frame, wheels, drive train, clutch, handlebars, controls, and spindle as DR's larger walk-behinds. It also features a pivoting mower deck rather than the PREMIER's fixed deck, which follows the contours of rough terrain and minimizes scalping.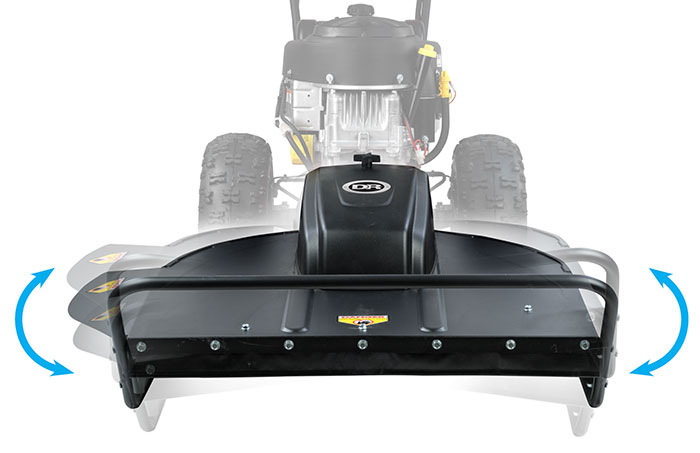 This is the most budget-friendly model that also accepts all the optional attachments, making the DR a four-season workhorse. Add a lawn deck, grader/snow blade, snow thrower, or chipper and own five machines in one!

What's Different About the PRO 26 (14.5 HP)?
DR offers two PRO 26 models and the main difference is in engine horsepower. This model provides 40% more power with a 14.5 HP Briggs and Stratton engine and is electric-starting for ease of use.
Power Steering makes the 14.5 PRO 26 incredibly nimble. Each wheel has an independent disc brake – operated by a hand lever – that lets you turn on a dime. Just squeeze the brake on one side and the mower will pivot around that wheel.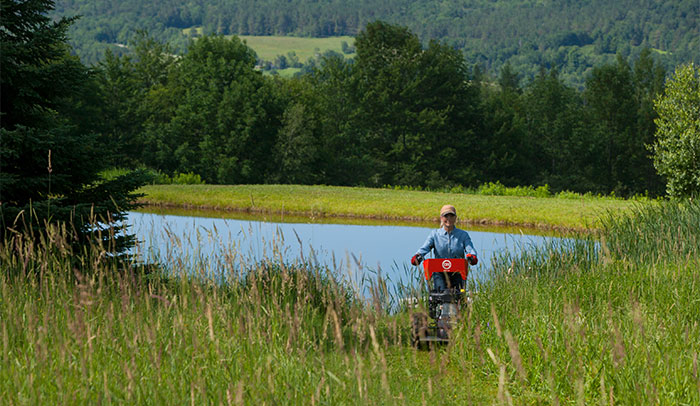 The 14.5 PRO 26 is a great choice for hilly properties because it includes a full-pressure oil pump. You can mow on slopes of up to 20° and feel confident about getting plenty of lubrication to all parts of the engine.
Step Up to a Wider Cut with the PRO XL30 (16.5 HP)
If you have larger areas to mow – or just want to get the job done faster – move up to DR's PRO XL30 16.5 HP model. This Briggs and Stratton engine brings you into the Professional Series, so it will easily handle the extra torque load over the long haul.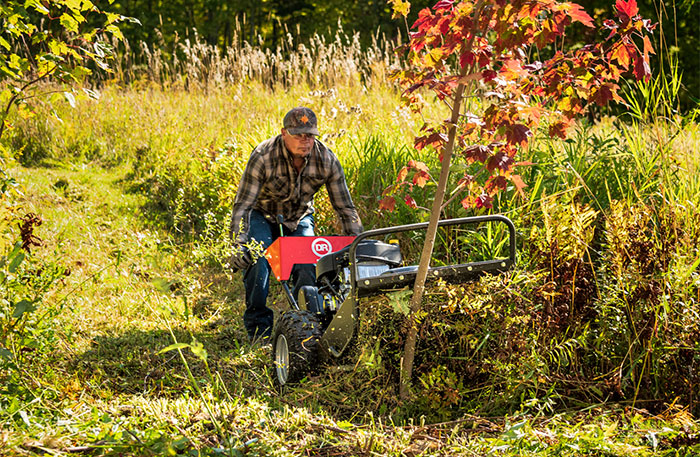 A wider, 30" deck cuts mowing time by about 15% over the DR PRO models. Between the extra engine power and larger mowing deck, the 16.5 PRO XL30 handles taller grass and thicker saplings so you can cover more ground.
Get Twin-cylinder Power with the PRO XL30 (22 HP)
DR's bigger PRO XL model features a 22 HP twin-cylinder Briggs and Stratton engine that provides the muscle you need to take down saplings up to 3" thick. If you have wide areas to mow with lots of uneven terrain and dense brush, the 22 HP PRO XL30 is for you.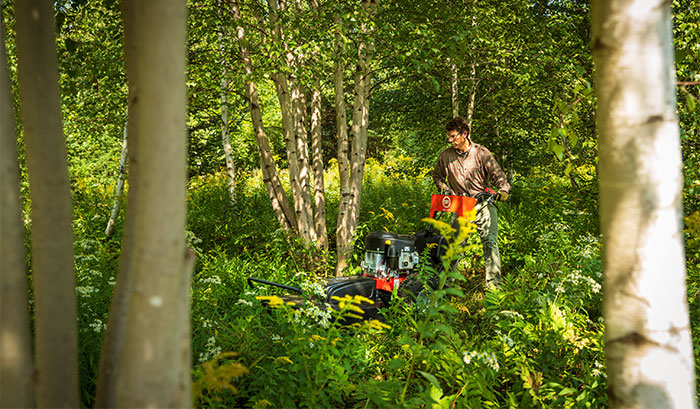 The PRO MAX34 Features the Widest Cut
The PRO MAX34 is DR's top-of-the-line Professional Series model and uses the widest mowing deck (34") DR has ever offered on a walk-behind brush mower. The extra width puts the machine's cut path well outside of its wheelbase, allowing you to easily mow right up next to fences, buildings, trees, and other obstacles.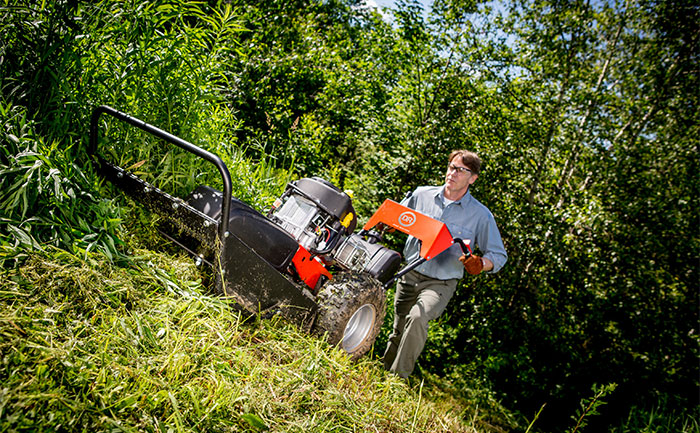 Introducing the Commercial XD Series
DR's latest Commercial XD Series was built for the demands of commercial use: frequent and long runtimes, daily transport, and ease of maintenance.
The XD Series features hydrostatic drive, so you only need to squeeze the hand lever to move forward or push the thumb lever to go backwards. In addition to the fully variable speed control, two independent hydrostatic wheel drives provide a zero-degree turning radius and virtually effortless maneuverability.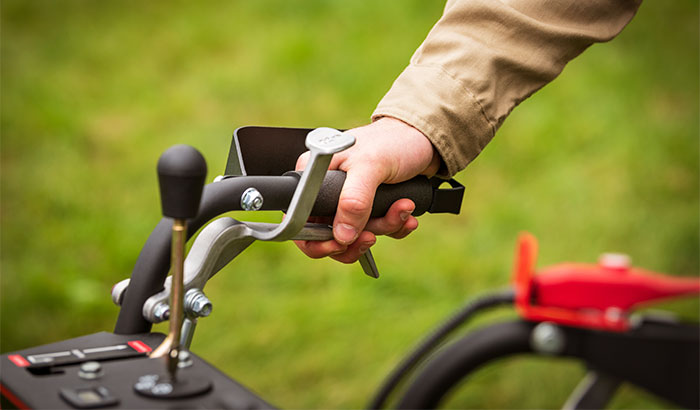 The XD26 model cuts 26" wide and features a 10.2 HP Honda engine that is a proven workhorse. The hydrostatic wheel drives ensure ease of handling without fatigue and built-in hand guards protect you while mowing brush.
Upgrade to the top-tier XD30 model for an 18.5 HP Kawasaki electric-starting engine and 30" wide mowing deck. A full pressure oil pump brings smooth operation to slopes up to 20º. If you need to bust through deep brush on uneven terrain without wrestling the machine, the XD30 is calling your name.
Consider Tow-Behind Options
We have focused here on the DR self-propelled, walk-behind mowers. But if you have a suitable tow vehicle, there are other options: DR Tow-Behind Field and Brush Mowers (for ATV or UTV) and Tarter Rotary Cutters (PTO Attachments). We have more product coming too so take a moment to sign up for new product alerts and we will deliver them to your inbox!
Last updated: 7/14/2022