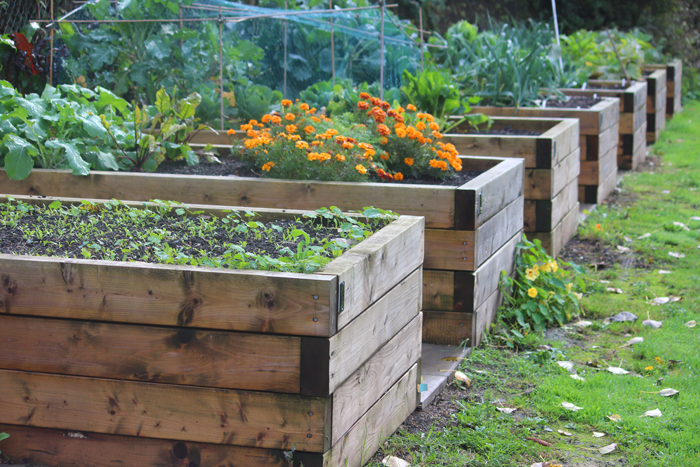 FAQ: Elevated Raised Beds
What are the differences between a raised bed and an elevated raised bed?
An elevated raised bed is a deep planter box that stands up. Unlike a traditional raised bed, it's tall enough that you won't have to bend or kneel to garden. Elevated raised beds are ergonomic and accessible for everyone.
Using an elevated raised bed is a hybrid gardening technique: half container gardening and half raised bed gardening. Traditional raised beds don't have a bottom and are usually very large, while containers always have bases to hold the soil and are smaller. Elevated raised beds combine the best of both.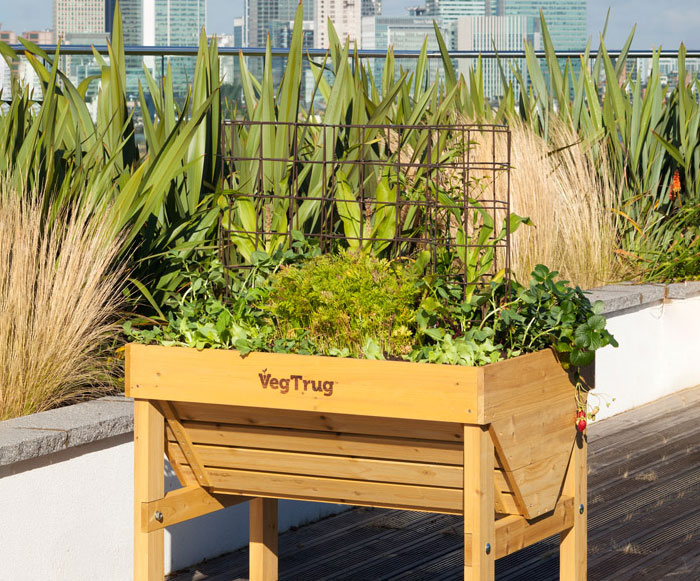 Some benefits of elevated raised bed gardening include:
No weeds or fungal diseases
No pests in the ground to nibble roots
No rabbits helping themselves to your lettuce
No issues with fast-draining sandy soil or water-logged clay soil
No need to leave your deck, patio, or balcony to garden
The best part: no aching backs, sore necks, or creaking knees!
Which traits are important on an elevated raised bed?
The key aspect is the material it's made from. Cedar wood is the traditional raised bed material because it's naturally rot-resistant. Metal, powder-coated steel, and heavy gauge plastic are also popular.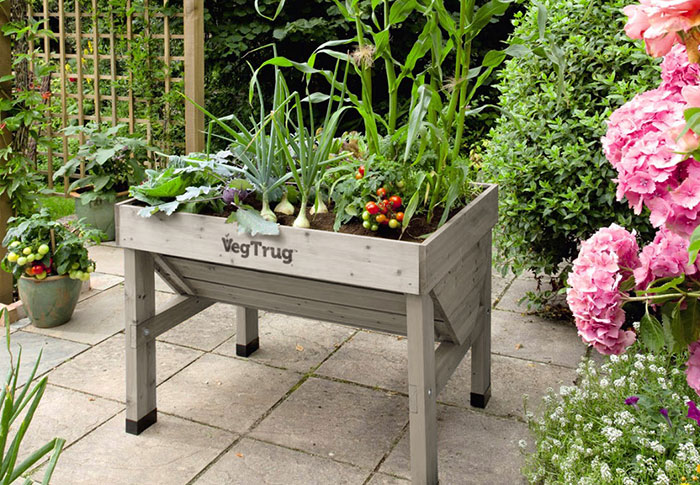 Proper drainage is also crucial because roots will rot if water doesn't drain from the soil. Make sure your elevated raised bed comes with drainage holes or don't forget to grab your drill before filling it!
Don't underestimate the weight of an elevated raised bed. If it stands on legs, it needs to be strong enough to support the weight of moist soil plus mature plants loaded with fruits. This could potentially be several hundred pounds.
Which plants grow best in an elevated raised bed?
Elevated raised beds restrict the roots of plants, so buy a deep planter if you want to grow large plants like tomatoes, eggplants, or sunflowers. Here are some of the plants we recommend for elevated raised beds:
Compact veggies like Thumbelina carrots, Tumbling Tom tomatoes, Fairy Tale eggplants, or Mohawk Patio peppers
An herbal paradise of basil, rosemary, creeping thyme, and parsley
Small-statured berries like Strawberry Shortcake raspberries, Top Hat blueberries, and strawberries
Annual flowers with trailing varieties to spill over the bed's edge
Small evergreens to make a privacy screen
Fairy gardens and miniature plants for curious hands and eyes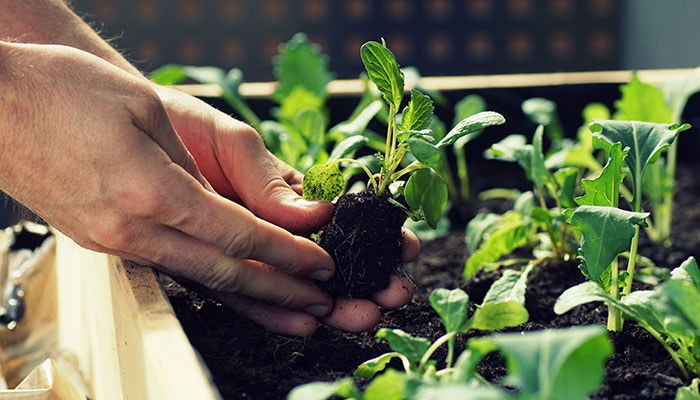 What type of soil is best for an elevated raised bed?
Elevated planters are sturdy, but they aren't built to hold clay-based garden soil. Fill them instead with a mixture of compost and potting soil. Combine 2/3 potting soil with 1/3 compost and throw in a couple handfuls of organic granular fertilizer. If you're growing succulents, use coarse builder's sand instead of compost.
Where is the ideal spot to put my raised bed?
Most plants need at least 6-8 hours of sun. It's best to put your elevated raised bed in a spot with full sun access. Some plants love shade, like ferns, hydrangeas, or primrose, so pick a less sunny area for these. Put your raised bed near a hose or rain barrel and close to the kitchen door!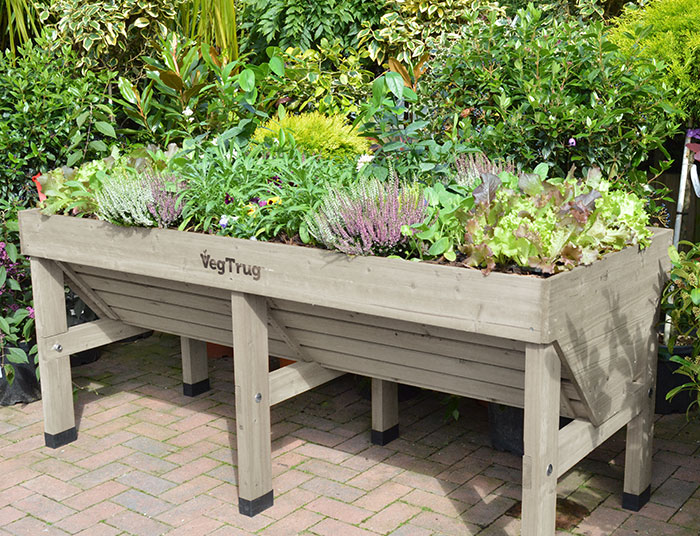 Will I need to change the soil each year?
One of the best parts of elevated raised bed gardening is you can reuse the soil. However, it's beneficial to add new compost at the beginning of each season and turn the soil to keep it active.
Should I empty the raised bed during winter?
No! Just add an elevated raised bed cover or frame to protect your garden from wind, snow, and other seasonal elements. Keep the cover on until you're ready to plant in the spring.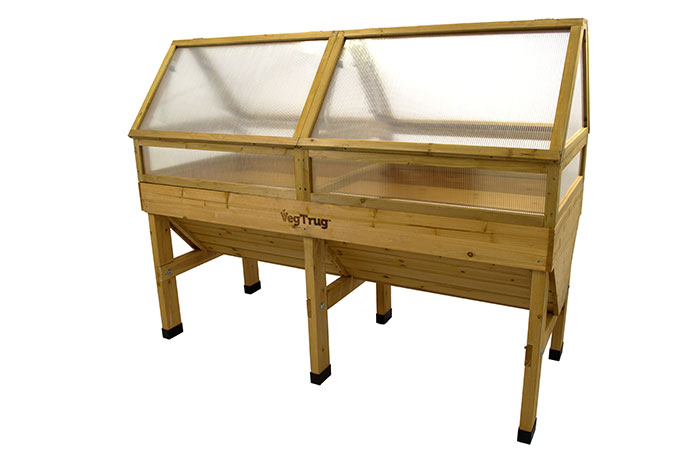 Which are the best elevated raised bed accessories?
Successful elevated gardening requires more than just the raised bed, so be sure to check out our line of raised bed accessories. To protect your investment, we recommend adding at least a cover/frame and self-watering kit. Don't forget to order any standard gardening tools you're missing, including gardening gloves, pruners, potting trowels, and more! We will continue to expand our assortment of gardening tools and articles—for raised beds and every other corner of your country property—so be sure to check back with us soon! Take a moment to sign up for email updates, we will deliver news of our latest additions right to your inbox!
Last update: 8/24/2022