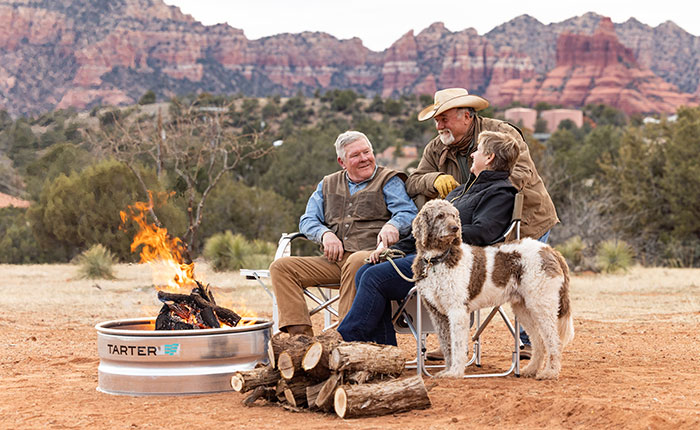 Choosing a Fire Pit
There's something particularly peaceful about gathering with loved ones around an outdoor fire. When good conversation and beverages start flowing, you know memories are being made. Adding a fire pit is an easy way to bring some life to any area. Whether you want to spruce up the deck or have safe campfires during RV trips, there's a fire pit for you!
Different Types of Fire Pits
Free-standing fire pit: Resting above the ground on legs or other elevated supports, free-standing fire pits are ideal for multipurpose use. They can be either open-flame or enclosed with a spark screen for additional protection. Free-standing fire pits are quick to install and easy to move around your property. They are available in many designs to fit your home's aesthetic.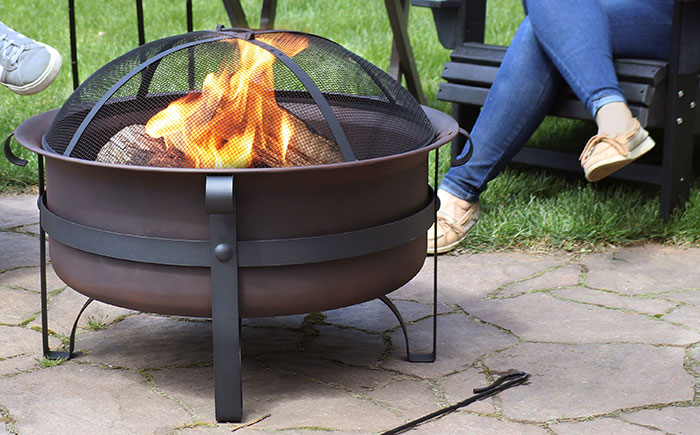 Fire ring: Create a campfire experience using a safer, contained method! A simple and portable solution, fire rings or rims can be inserted into the ground or placed right on a solid surface. They are perfect for DIY fire pits with decorative stones or other elements. Fire rings come with or without a bottom, so make sure you factor in any additional materials needed to prevent the fire from spreading.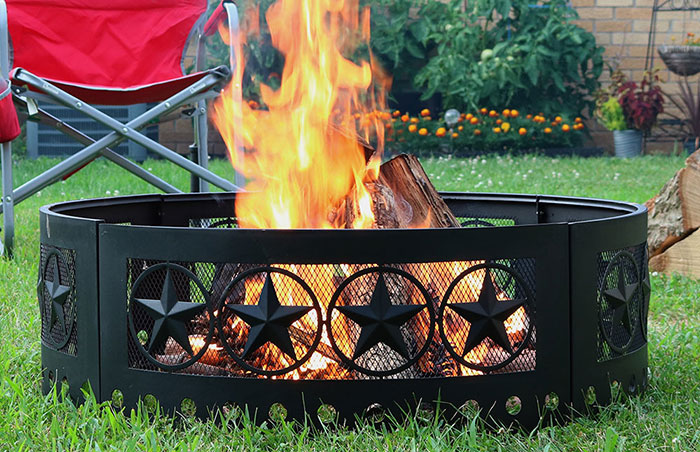 Fire pit grill: Not all fire pits are safe for cooking or roasting marshmallows. Wood-burning fire pits are the best options, and many even come with swiveling cooking grates for easy use. All you have to do is load up your food, and when it's done cooking, just turn the grate away from the fire to let it cool.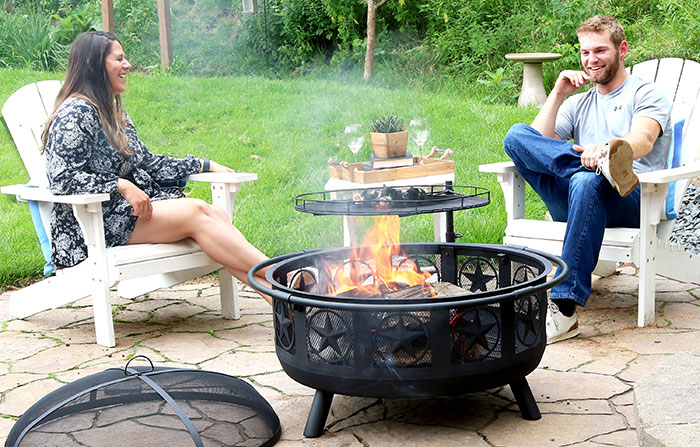 Chiminea: Originally created during ancient times as outdoor ovens, chimineas are now popular backyard fireplaces. These free-standing fire pits direct smoke away from anyone nearby while providing lots of heat. Chimineas burn for longer than traditional fire pits and are protected against wind, making them a great option when you want hours of heat without constant maintenance.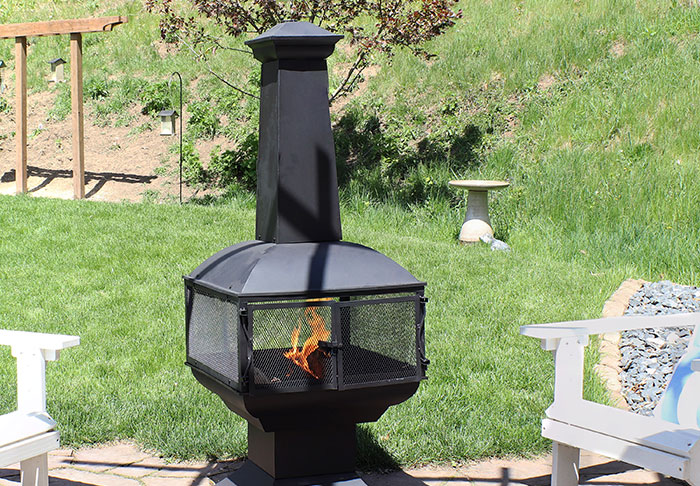 Factors to Consider Before Buying a Fire Pit
Fuel source and food safety: There are five main fire pit fuel sources and it's important to understand the differences before grilling over them:
Wood-burning fire pits bring the rustic charm of a traditional campfire. They are usually the most budget-friendly options and safest for cooking. Wood-burning fire pits produce larger and hotter fires than gas or propane, making them perfect for winter bonfires and barbecues. These require some effort to keep firewood dry and clean up ash after each use.

Charcoal fire pits are similar to wood-burning models but without most of the maintenance. The majority of charcoal fire pits are safe for cooking, but carefully check your options to make sure they're designed for food.

Gas fire pits are a very convenient choice given how easy they are to ignite and require no cleaning up. But most need professional installation to hook up a gas line and can't be easily relocated. Some gas fire pits are safe for cooking while more decorative options aren't designed for food – dripping oils can cause big safety risks. Carefully check the options you're considering to make sure they're food-safe!

Propane fire pits offer similar conveniences as gas fire pits and are much more portable. They can be set up almost anywhere and hooked up to a standard propane tank. Just like gas options, some propane fire pits are safe for food and others aren't. Even if you only want to cook quick s'mores, it's crucial to ensure the fire pit is designed for this.

Biofuel fire pits use byproducts from harvesting mass-produced commodities to fuel the fire. Ethanol and bio ethanol are the two main types of fuel available and can be purchased in cans. Both are particulate-free and more environmentally friendly than other fuel sources. Most biofuel fire pits are safe for cooking, but make sure the models you're considering are designed for food.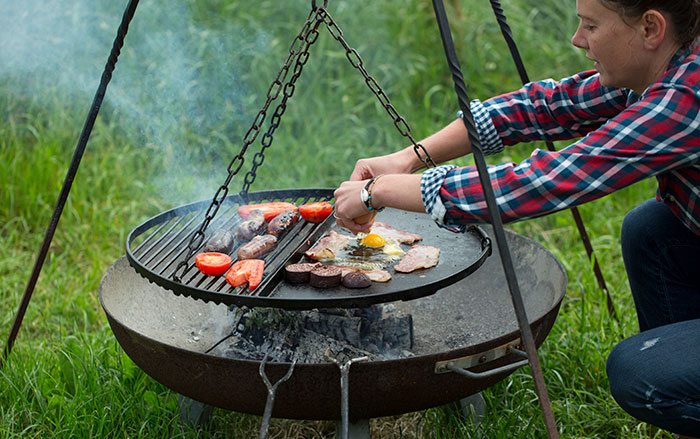 Material: A fire pit's durability is based almost entirely on the material it's made from. Look for fire pits constructed from stainless steel, cast aluminum, copper, faux stone, or Glass Fiber Reinforced Concrete (GFRC), which are generally regarded as the strongest options. These are resistant to rust and extreme weather conditions, and both stainless steel and cast aluminum are lightweight options for extra portability.
Location: There are various safety risks that come with picking a spot for your fire pit, depending on the model you choose. You can put a fire pit almost anywhere if the proper precautions have been taken. It's smart to use a barrier like pavers, steel heat shields, fire pit pads, or even some sand in between the fire pit and ground, and fire pits on wooden decks require even more preparation. Check out our guide to preparing your fire pit location for additional information.
Design: If your fire pit will be used mostly during RV trips, you probably don't care much about how it looks. But if you're planning on installing it on the patio, you'll want to pick a fire pit design that matches your outdoor furniture and other décor. Think about how your fire pit can transform an area and narrow down your options based on preferred aesthetic.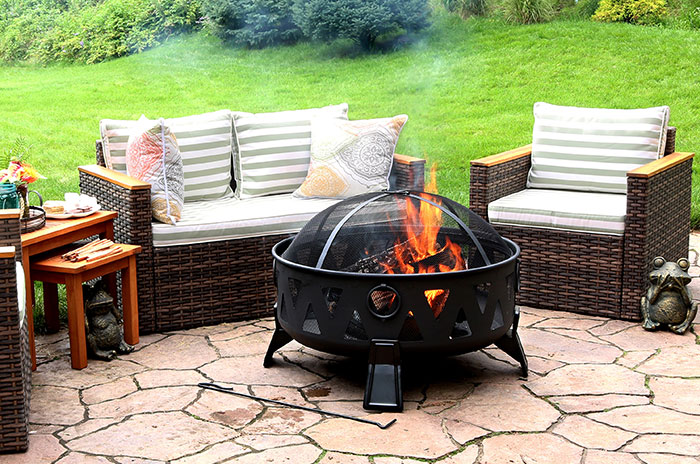 Level of portability: Some fire pits are designed for easy set-up and relocation, like most wood-burning fire pits and rings. If you dream of grilling and making s'mores during your next camping trip, consider a model you can take on the road. But as we covered above, always remember that each model has different safety needs based on the location where it's used. Do your research and don't assume the campground has land ready for fires!
Key Fire Pit Accessories
Don't forget to add the most important item: a way to protect the fire pit! A fire pit cover is the best method to block the elements and keep your cozy nook in great condition for years to come. You can also consider adding a portable storage unit for seasonal use if you live in an area that gets heavy snow.
There are lots of other accessories that make a fire pit even more enjoyable. If yours doesn't come with a grilling platform, add a cooking grate for fun outdoor meals. Keep seasoned firewood dry and within easy reach with a durable firewood rack and include a firewood rack cover if it's going in an open area. You can also make your own firewood cover with a tarp and bungees .
Fire Pit Alternatives
If you have lots of yard materials and need a safe way to dispose of them, a burn cage could be a helpful solution. Be sure to check with your local authorities on which items you're allowed to burn as every community has different regulations.
Check Back for More!
There are countless ways to enhance any area with a fire pit, and we will continue to expand our collection to bring you the best solutions. Sign up for email updates and we will deliver them to your inbox!
Last updated: 7/1/2022