Choosing a Hand-Held vs. Walk-Behind Leaf Blower
Let's admit the obvious: raking is total drudgery. It always takes longer than it should and isn't exactly a skill to brag about. There's a better way to get rid of leaves and maybe you've been fighting it every fall. It's time to spare your back some pain and upgrade to a leaf blower!
If you have a final destination to blow leaves to and don't need the benefits of a full leaf vacuum system, the DR Leaf Blowers are for you. These powerful blowers will help you clean your property quickly, with hardly any manual labor.
Beyond speeding up your normal leaf clean-up process, the DR blowers can be used year-round to remove windblown debris around pools, decks, or anywhere else in your landscaping.
All DR blowers use top-of-the-line engines, motors, and impellers, and offer ergonomic features for operator comfort. But there are a few differences between models, so it can be tricky to figure out which is best for your property.
To help you decide on a DR Leaf Blower, we've broken down the key differences: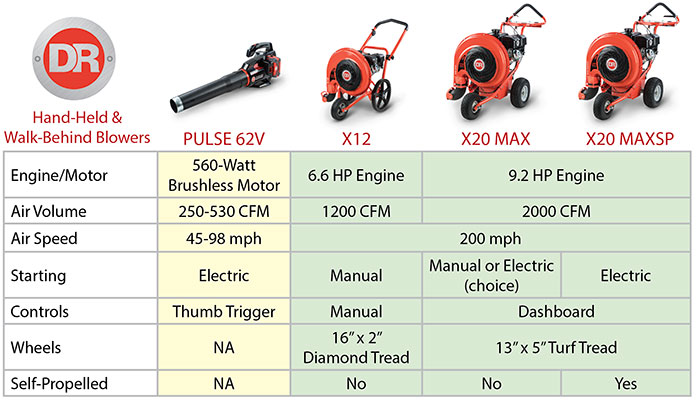 Starting with a lightweight, battery-powered blower
Perfect for small properties and/or landscaped areas, the DR PULSE 62-Volt Blower makes yard clean-up quick and quiet. This cordless electric blower brings gale force airflow (up to 98 mph) and moves 250-530 cubic feet of air per minute (CFM). At just 8.8 pounds, the PULSE is so light that you can use it with 1 hand.
This blower features a variable speed trigger with a Turbo Boost for surges of maximum airflow, as well as Cruise Control to lock in air speed and give you greater freedom of operation.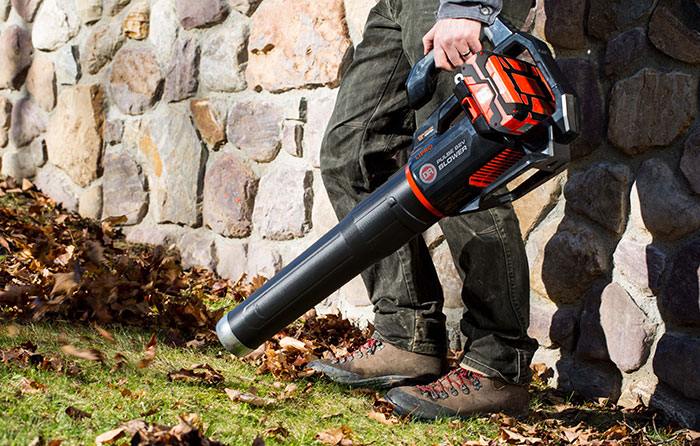 The main struggle with leaf blowers is the noise. Gas-powered blowers are very loud and might bother your neighbors. Many prefer a battery-powered leaf blower for less noise, plus the eco-friendly benefits. The DR PULSE is quiet enough to work any time of day without disturbing your neighbors!
The PULSE uses a 2.5 Ah battery with LiPRO™ technology and runs for 45 minutes on a single charge. The charger powers the 2.5 Ah battery in an hour and can be used on any other DR battery-powered yard tool.
The PULSE is best for cleaning off hard surfaces or relatively small areas of land. Moving a pile of leaves with any hand-held blower will be slow work, so if you already have a walk-behind blower or leaf vacuum, the PULSE is the perfect companion to clear edges or landscaped areas.
Should you consider a walk-behind blower?
If you have a large property and/or heavy foliage, a walk-behind leaf blower is going to give you the extra muscle needed to clear your whole lawn. The DR X12 Leaf Blower is DR's most budget-friendly model but packs in more power than any handheld or backpack blower. The 6.6 HP DR engine turns an all-steel impeller, generating 1200 CFM airflow with 200 mph velocity.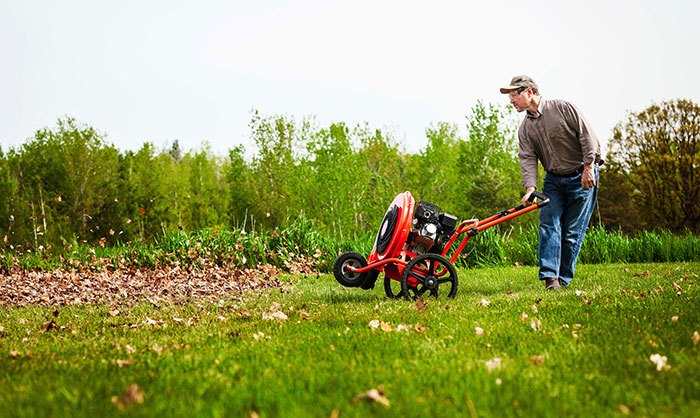 DR Leaf Blowers are the only non-commercial models with 180º adjustable air nozzles, allowing you to blow from either side of the machine or in between. Airflow can also be vertically adjusted in a 35º range to control how far materials are blown.
The X12 was designed with operator comfort in mind. The ergonomic handlebar is covered with thick foam padding for a comfortable grip and the height is adjustable without tools. At just 107 pounds, it's similar in weight to most lawn mowers but the high 16" wheels make it much easier to maneuver.
Upgrading to the X20 MAX Blower
The DR X20 MAX features all the benefits of the X12 model plus commercial-grade air volume of 2000 CFM. With a 9.2 HP DR engine turning the steel impeller, this model brings up to 5 times the power you'd get from handheld or backpack blowers.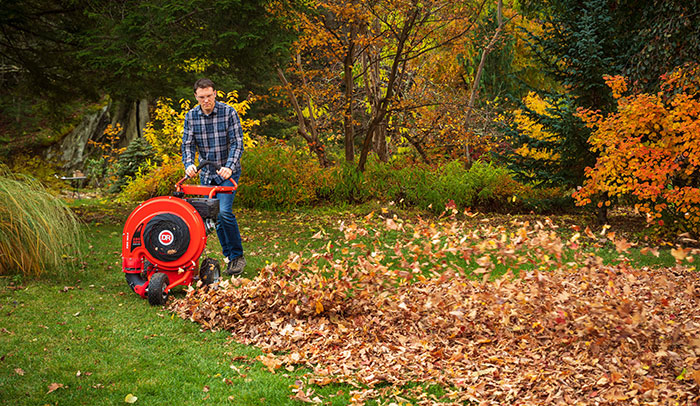 This model also adds a dashboard that gives you remote control operation of the fully adjustable airflow. Make 180º lateral or 50º vertical airflow adjustments right from the operator's position.
Does self-propelled matter for your property?
The key difference between the X20 MAX and X20 MAXSP models is the self-propulsion. The DR X20 MAXSP takes all the premium features of the X20 MAX model and adds a variable speed drive, so you don't have to break a sweat!
Cleaning your entire lawn requires heavy-duty machinery, so DR's top-tier blowers are not lightweight. If you plan on blowing leaves on any slopes or just want some additional support, the X20 MAXSP model will give you the extra muscle needed.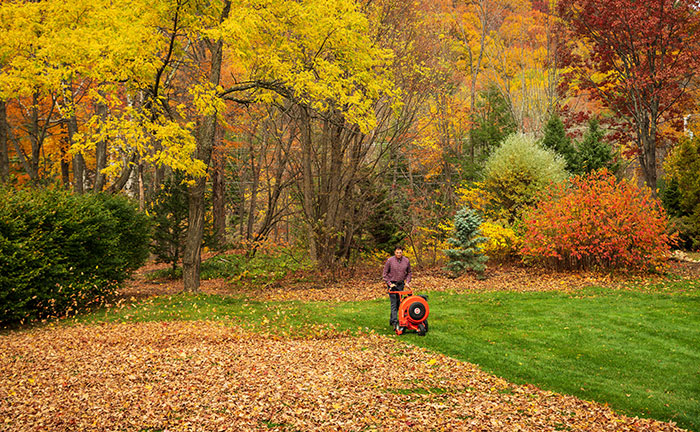 This model also features EZ-TURN™ Steering technology for effortless 180º turns. When you initiate a turn, the 2 axle shafts are free to drive independently and go wherever you guide the machine. This no-hassle maneuvering helps you focus on managing the airflow control levers to blow exactly where you want.
For a small and flat property, the cordless electric PULSE may be more than sufficient. But if you have a large property and/or heavy foliage, a walk-behind DR Leaf Blower is for you. When deciding between types, weigh factors like your acreage, volume of leaves, and level of hills. The goal is to minimize manual labor!