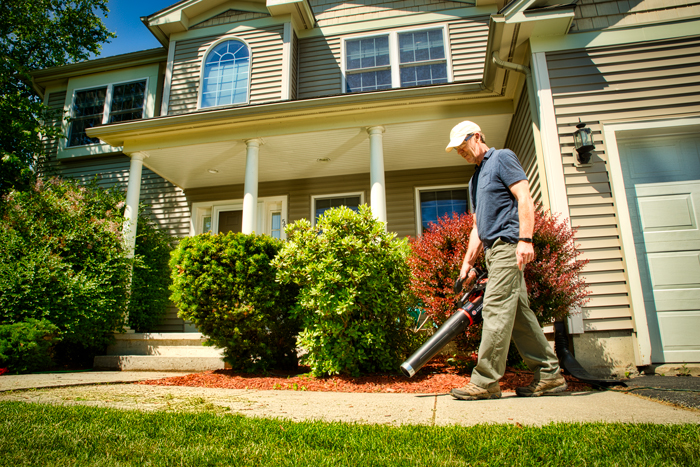 FAQ: Battery-Powered Leaf Blowers
What are the key differences between battery-powered and gas-powered leaf blowers?
Gas-powered leaf blowers are the traditional blowers that require buying gas and performing ongoing maintenance. They are powerful pieces of equipment but it's no secret that they're loud, heavy, and harmful to the environment. A common replacement for using gas is electricity, but battling with the extension cord on these can be a dealbreaker for many.
Battery-powered leaf blowers eliminate any struggles with extension cords, oil changes, and handling gas. Cordless electric leaf blowers are just as powerful as gas-powered blowers and the batteries last long enough to accomplish most leaf removal needs. Just pop in the battery, push start, and you're off!
Does CFM matter? What's the difference between blowers?
There are two key leaf blower specs: miles per hour (MPH) to measure velocity and cubic feet of air per minute (CFM) to measure volume. It's always safer to compare volume because it's the amount of air being moved - not just air speed – that controls how effective the blower is.
Battery-powered leaf blowers can match if not surpass many gas-powered leaf blowers in terms of CFM. The DR PULSE Leaf Blower moves from 250 up to 530 cubic feet of air per minute based on a variable speed.
Are battery-powered leaf blowers quieter?
The number one struggle with leaf blowers is the noise. Anyone with a gas-powered blower knows how much they can bother the neighbors. Many prefer a cordless electric leaf blower for its significantly decreased volume.
How long will a battery-powered leaf blower run for?
Most cordless electric leaf blowers average between 20-40 minutes of run time per charge. This is sufficient for most leaf removal projects, and you can always keep an extra one charged if you want to work for longer.
The DR PULSE Leaf Blower uses a 2.5 Ah battery that runs for up to 45 minutes or you can double this run time simply by upgrading to a larger 5.0 Ah battery. It will make the blower slightly heavier but allow you to clear a lot more leaves.
How heavy are battery-powered leaf blowers?
When it comes to using a hand-held leaf blower, every pound matters. Gas-powered leaf blowers average between 9-12 pounds before being filled with gas. Your hands will surely feel that weight!
Battery-powered leaf blowers are lightweight alternatives that average between 5-9 pounds (depending on battery size). At only 8.8 pounds including the battery, the DR PULSE is so lightweight that it can be used with only one hand.
Can I use my leaf blower's battery in other yard tools?
Some cordless electric tools are part of a set that share the same battery, so you can build your own tool collection and save money on batteries by purchasing just the "bare" equipment.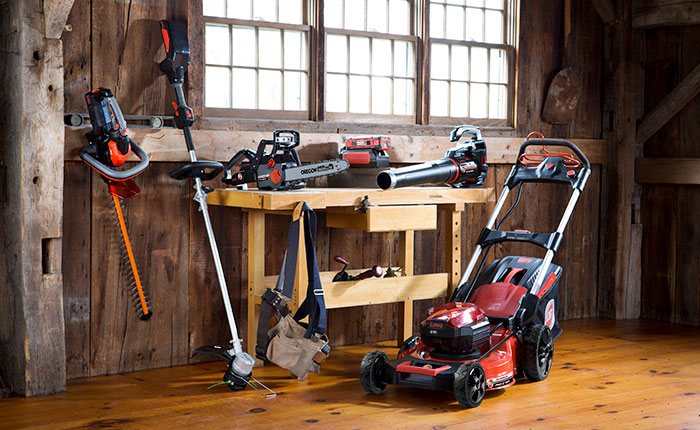 The cordless yard tools offered by DR Power Equipment use interchangeable 62-volt Lithium-Ion batteries that fit 10 tools. Just pop the battery out of your PULSE Leaf Blower and into a Trimmer Mower, Chainsaw, Snow Thrower, and more!
Is a handheld, battery-powered leaf blower good for any size job?
For a bigger property, which demands extended runtimes to get the job done, you might want to consider a more powerful gas-powered walk-behind leaf blower. Or you might consider a leaf and lawn vacuum instead. We will continue adding more leaf cleanup products too so check back with us soon. Sign up now for email updates and we will send all the newest product offerings and articles right to your inbox!
Last updated: 9/15/2022