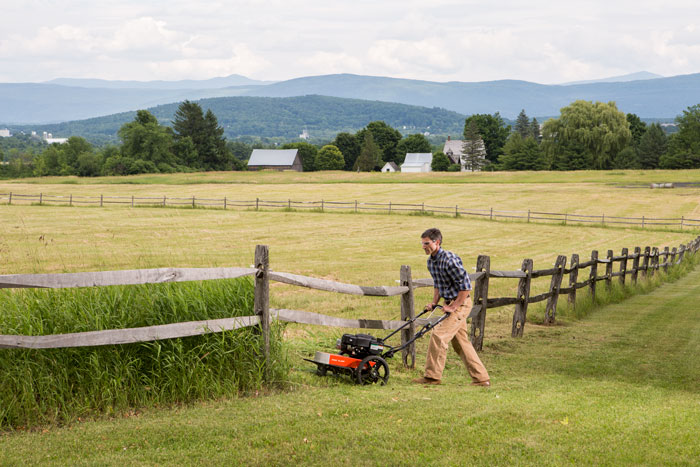 FAQ: Walk-Behind Trimmer Mowers
A string trimmer is the standard equipment for cutting tall grass and weeds in areas where you can't take a lawn mower. Frequently referred to as a weed whacker, these are hand-held tools that often lead to user fatigue. Anyone who has used a string trimmer for more than 15 minutes knows how hard they can be on your body.
A trimmer mower takes string trimmers to the next level by putting the entire system on rugged wheels. Also called a string mower, walk-behind string trimmer, or wheeled weed whacker, these machines solve any issues of operator fatigue. String trimmers' engines or electric motors must be small enough to be carried around, but trimmer mowers' wheels allow for much bigger and more powerful options. This can significantly decrease your time spent trimming!
Despite the similar design, trimmer mowers are much lighter weight and easier to maneuver than bladed lawn mowers. Trimmer mowers are perfect for any hard-to-reach spot like under fences, along property lines, or up inclines. Rough, uneven ground that would be challenging for a lawn mower isn't a problem for high-wheeled trimmer mowers, especially models that are self-propelled.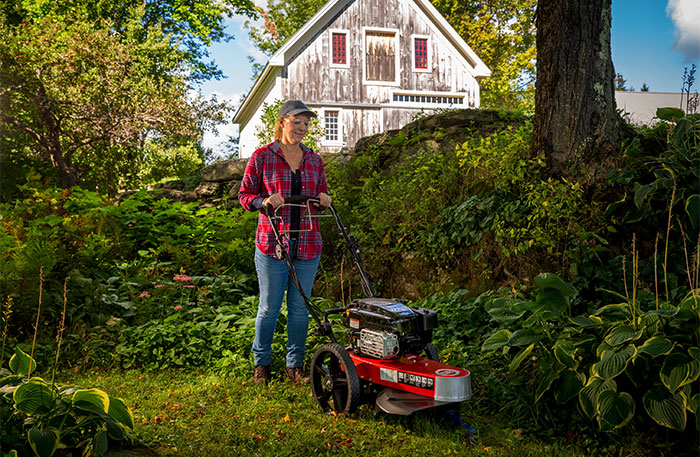 Can I use a Trimmer Mower to mow my lawn?
Trimmer Mowers aren't designed for this purpose and won't produce the same quality cut as a bladed mower. They are built for off-lawn areas that need to be trimmed but not manicured. Bladed lawn mowers use an enclosed deck to mulch accumulated materials and leave a groomed appearance behind.
Can I take a DR Trimmer Mower on hills and rocky terrain?
All DR Trimmer Mowers can be used on slopes up to 20°. DR's lightest models weigh under 60 pounds for easy maneuverability or you can upgrade to a self-propelled model for some extra power.
The trimmer's heavy-duty cord cuts through grass and weeds while sliding over the surface of rocks and obstacles. This allows you to mow up against almost anything without worrying about sparks or damage. Large resin wheels will easily ride over uneven ground and are designed for years of trouble-free use.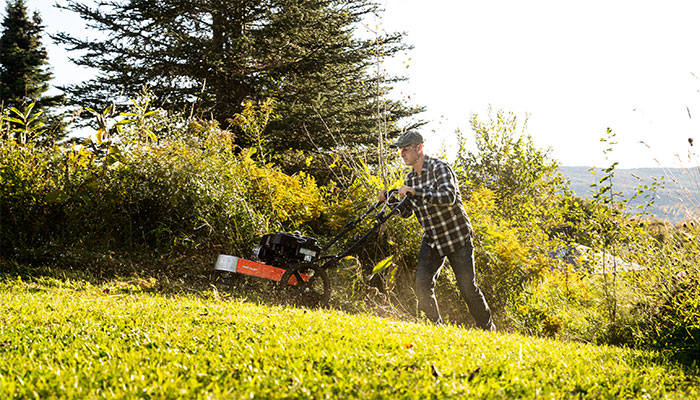 When is it necessary to upgrade to a self-propelled model?
DR Trimmer Mowers are built for enduring performance. All models are lightweight and very maneuverable even if they're not self-propelled. The key difference with self-propelled Trimmer Mowers is their variable-speed drive. This allows you walk at your own pace while the DR matches the speed. It's ideal for thick mowing conditions or on hills where you might need extra power without straining your body. It's also helpful for transporting it to your mowing site.
How do I prevent damaging my fences and trees?
These trimmer mowers give you total control, but one second of inattention can cut down a prized plant or hurt tree bark. If you're trimming around lots of trees, fence posts, garden beds, or your house's foundation, we recommend adding the DR TrimSafe Guard, which creates a safe perimeter wider than the cutting path. (This is compatible with all models except the PILOT and PULSE 62V.)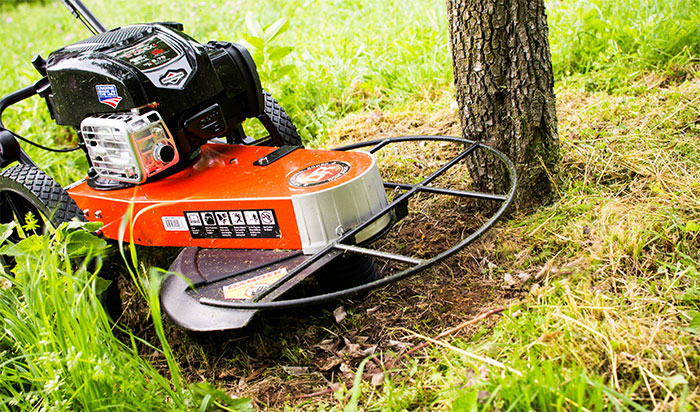 How strong is the trimmer cord?
DR offers 6 sizes of their super-duty Cutting Cords. The cords are a custom blend of polymers – engineered over 30 years of product testing – and are designed to handle any model's power. They last an average of 3-4 times longer than bargain cords, enabling you to cut heavy vegetation without changing lines.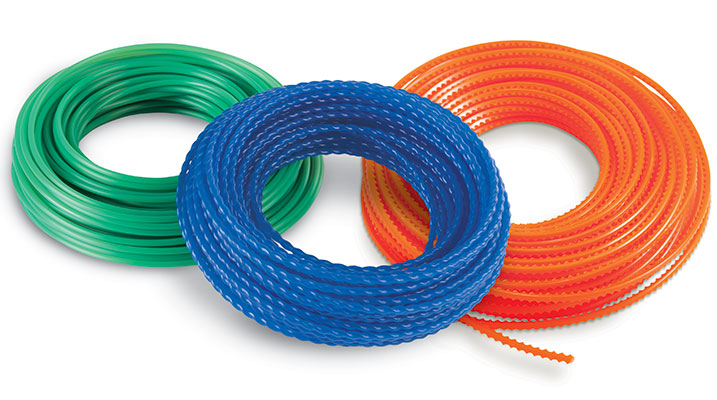 Can I add a blade onto a DR Trimmer Mower?
As tough as DR's industry-leading cord is, we all know there are materials no trimmer cord will cut. Adding a Beaver Blade to your DR Trimmer Mower can be a terrific time and money saver, as it transforms the Trimmer Mower into a lighter-weight Field and Brush Mower.
The DR Beaver Blade mounts close to the ground to cut heavy brush and saplings up to 3" thick. Its patented chainsaw-in-groove design cuts fast with minimal binding and is ideal for any property with a mixture of tall grass, weeds, and small trees. The Beaver Blade package comes with an Aluminum Mow-Ball® Support and sharpening file for quick touch-ups in the field.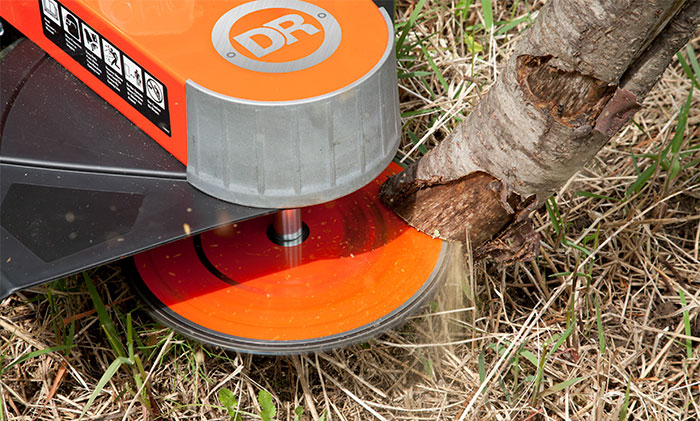 Is there a battery-powered Trimmer Mower?
DR Power Equipment invented the original gas-powered "trimmer on wheels" and they have since created the first battery-powered string mower. Their PULSE Trimmer Mowers can run for up to 30 minutes on a single charge and you can double that work time by keeping an extra battery on hand. DR's PULSE models use brushless motors, which are energy efficient and very quiet, so it won't bother your neighbors!
How close to the ground does a DR Trimmer Mower cut?
All DR models have several adjustable cutting heights ranging from 1.5" up to 4". You can switch between them by installing the trimmer cord at a different plate on the trimmer head. Each "notch" on the trimmer head cuts at a specific height.
Need More Information?
You'll find a wealth of information on our trimmer mower product pages. We will continue to add related products and accessories as they become available so check back soon. You can sign up here for new product alert emails.
Last updated: 7/13/2022