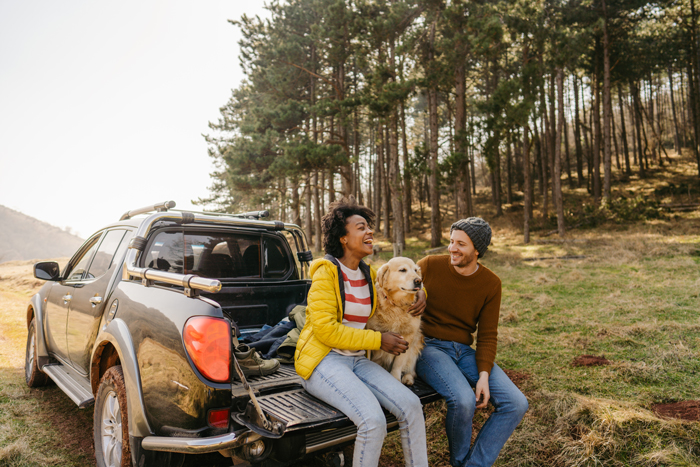 How to Organize Your Pickup Truck's Bed
Are you tired of hearing your loose cargo slam around your pickup's bed? Does it feel like items keep mysteriously disappearing in the chaos? If you're exhausted by constantly searching for everything you need, it's time to make a new plan. Luckily, there are many ways to organize your pickup truck bed that will help keep everything secured and within easy reach!
Assess the Mess
Are you interested in truck bed storage because you want to keep your new investment organized or because there's 10 years of junk thrown back there? Starting from scratch and guessing at your storage needs is a different approach than already having a bed of gear that needs organization.
If you've been battling with a messy truck, think about your habits to help guide your organization method. Which are the items you reach for the most and have the hardest time finding? Do you need to constantly shift things around just to fit some extra recreational gear? Having a clear understanding of how "bad" the situation is will help guide your improvements.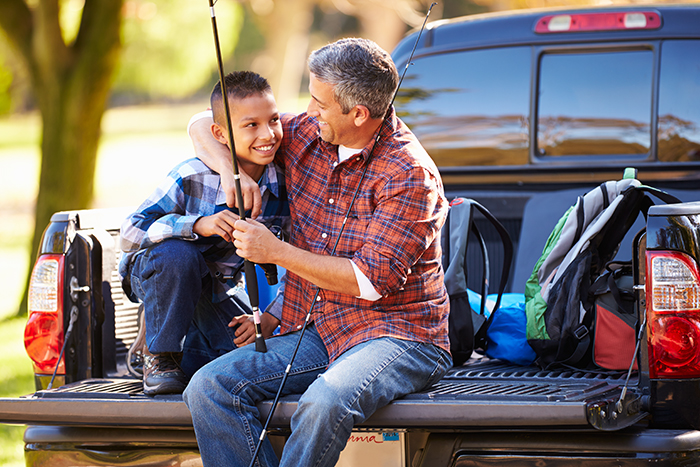 Determine Your Organization Goals
Do you dream of going on long camping and fishing trips? Or do you use your truck mostly for household projects and transporting the dirt bikes? Depending on the activities your family is involved in, you might need to consider a combination of several storage solutions.
Use this opportunity to identify any short- and long-term goals you have for your truck. It might be something simple like being able to unpack at the beach without spending an hour digging through everything. Or maybe you want to convert the truck into a mobile small engine repair shop. Whatever your passions are, there are truck storage options to help!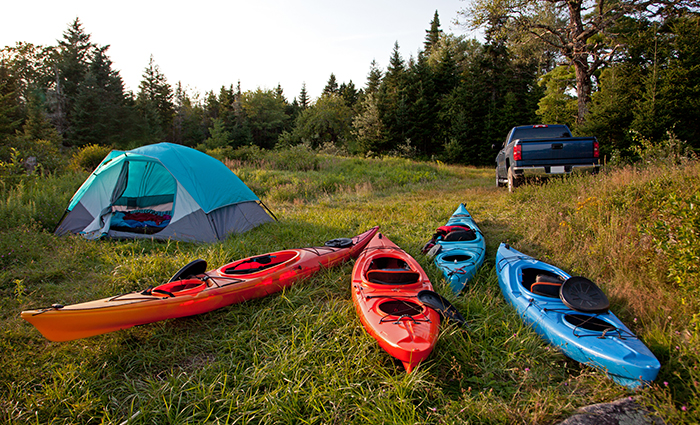 Decide What You Need to Lock Up
The key to owning a pickup truck is understanding how to protect your belongings against wandering hands. Investing in bed organization is the perfect time to reassess locking capabilities. If you don't have a full cover over the truck bed, decide how much of the bed should be open space vs. secure storage space. Having a locking organization method is especially important if you'll be transporting firearms or other potentially dangerous tools.
Pick a Storage Solution
Now it's time for the fun part – making a customized solution! There's a huge variety in pickup truck bed organization options for every budget and truck size.
Stabilizer bars and dividers are among the simplest methods to get organized. They connect to the sides of the bed and prevent boxes, containers, and other large items from sliding around. Bars are very versatile because you can also hang nets or cargo cases from them. These keep smaller objects like groceries, recreational equipment, and other loose gear contained.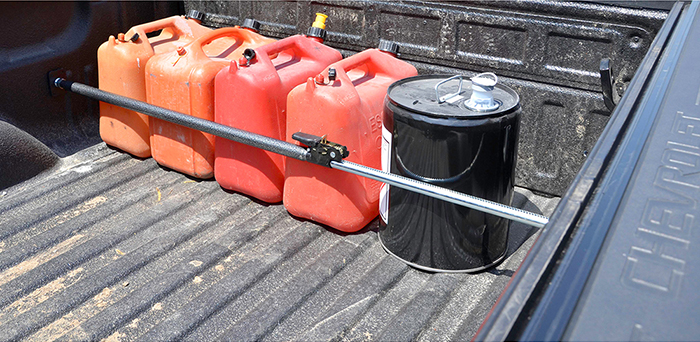 For larger storage needs, utilize a slide-out drawer system and/or floating toolbox system . These are ideal for organizing hand tools, fishing and hunting gear, or sporting equipment in easily accessible containers. Drawers that run the length of the bed can hold upwards of 2,000 pounds on top, allowing you to transport bulky items without blocking storage access. Alternatively, floating toolboxes rest on the bed's walls so you can store items underneath. Many toolboxes and drawer systems fit together so both can be used simultaneously!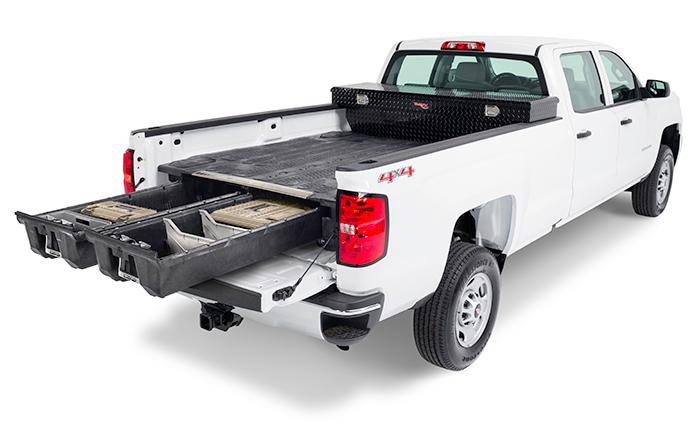 Lastly, a gun safe is crucial for anyone transporting firearms. There are tons of risks when guns are left unsecured, from kids playing with them to actual legal trouble when crossing state lines. Gun safes for trucks range from small lockable containers to full bed drawers.
Add Some Storage Accessories
Anything that goes in an uncovered bed needs to be fastened or contained in some way. Otherwise, items can slide around and cause damage. If you're leaving open, non-storage space in the bed for miscellaneous transporting needs, be sure to have some ratchet straps, bungees, or other tie-downs in the truck. Browsing our full selection of cargo management tools and accessories may give you some ideas. We will continue to add to our collection and provide more articles and how-to guides--if you sign up for email updates we will deliver all the latest news right to your inbox!
Last update: 9/7/2022