FAQ: DR Tow-Behind Leaf & Lawn Vacs
How much time will I save by using a DR Leaf and Lawn Vacuum?
DR Tow-Behind Leaf Vacuums work while you mow your lawn – something you're already doing – and sucks up leaves, grass clippings, and other debris without any additional effort. You can forget about raking, leaf blowing, bagging, and any other spine-twisting work. You shouldn't buy this product if you like back pain and want to spend double the time!
How does the DR Leaf Vac rank #1 in vacuum power?
These vacuums achieve maximum power with 3 key design features. DR starts by using the most powerful engines available on any consumer leaf vacuum. With as much as 11.7 HP, they are commercial-grade and built to last.
The massive Shark Teeth™ impeller creates immense suction as it shreds collected material to a fraction of its original size. Airflow is the key to successful suction, so the system is designed with an anti-clog airpath and uses an 8" diameter hose with a mesh collector top so air can escape while trapping debris.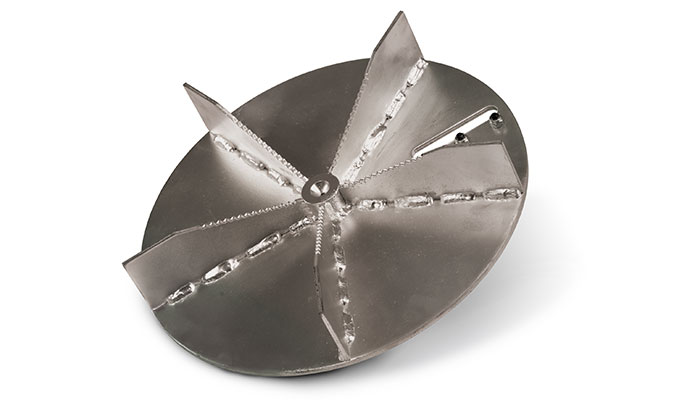 What materials can a DR Leaf Vac pick up?
The DR picks up any sort of lawn debris, including leaves, twigs, acorns, nuts, pine needles, pinecones...even all that birdseed you accidently spilled! When you attach it to your mower, you get 10 times the suction power of the mower alone.
Any vacuum will struggle with materials that are embedded in the turf (such as nuts that have been driven over) and wet, matted leaves. For best results, vacuum when conditions are dry. The most challenging conditions are found in the spring...but if you vacuum in the fall, you'll prevent the worst from happening!
Can I use this product year-round?
DR knows storage space can be tight, so this was designed for all seasons. Leaf collection is the main use, but this isn't called the Leaf and Lawn Vacuum for nothing! You can also attach it to your mower for high-capacity grass bagging.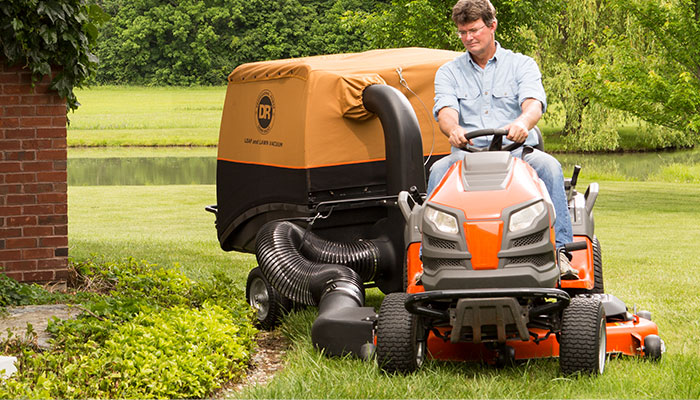 All DR Vacuums also convert to a heavy-duty utility or flatbed trailer. The PILOT 200 and PRO MAX450 models feature a steel flatbed that can transport concrete blocks, hay bales, topsoil, feed, and more. The PREMIER 240, PRO 330, and PRO XL330 convert to a utility trailer that can handle firewood, mulch, stone, or almost anything else.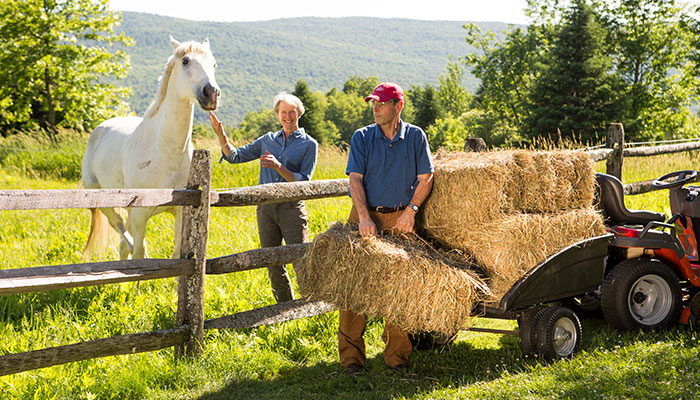 What is included with the DR Leaf and Lawn Vacuum?
All you need is your mower and a deck adapter. The DR Leaf and Lawn Vacuum system includes the single-point hitch, roll-away power unit, 2-4 large 14" wheels (depending on model), 8" diameter hose, steel impeller, and the most important piece: the detachable collector box on top of a rugged utility cart.
If you don't have a deck adapter, check out the Standard or Angled Boot Deck Adapters and watch our videos to help choose, cut, and install the adapter.
How does the machine break down for storage?
No! The entire breakdown process takes less than 5 minutes and requires no tools. The collector detaches and folds down to just 5 inches thick.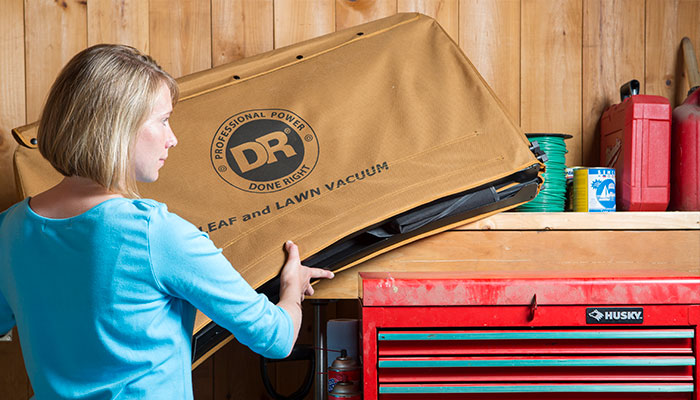 The power unit also detaches and can be rolled away. Lean the utility cart up against a wall for storage or use it all year for hauling cumbersome items.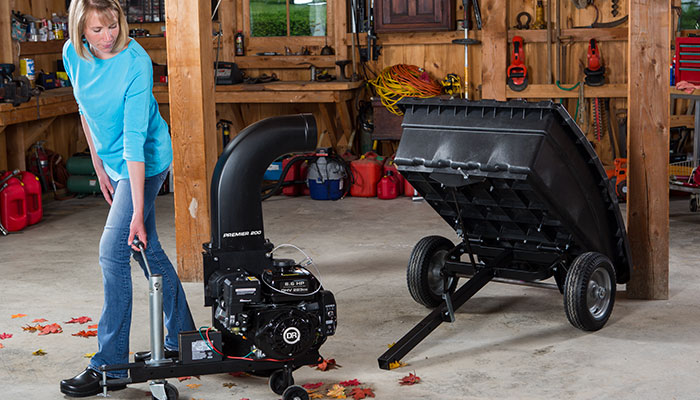 Is there an electric start option?
There are manual and electric start options for the PREMIER 200, PRO 330, PRO XL330 and PRO MAXmodels. The 9-amp battery recharges during use for instant starts.
What happens if I run over a stick?
That stick is toast. You can use the DR with anything you would drive your mower over, including small sticks and twigs. The steel impeller will shred almost anything you put in front of it. We don't recommend using this on large branches – for those, check out our options of DR Chippers and Chipper Shredders!
Will I need to still use a rake to unload the collector?
Unlike other lawn vacuums with messy Velcro and straps, the DR unloads with just 1 hand. Our PREMIER, PRO, and PRO XL models feature a clamshell design, so all you need to do is lift the handle and the bed will tilt and dump! After dumping, lower the collector and lock the cart with the click of a lever.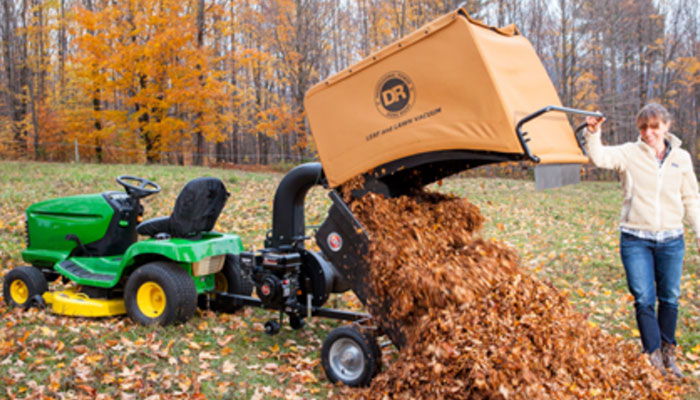 If you're worried the clamshell will be too heavy to lift, guess again. The power-assisted gas cylinders help lift the cart into the dump position, like the hatchback of a car. Even the PILOT model is super easy and ergonomic to dump.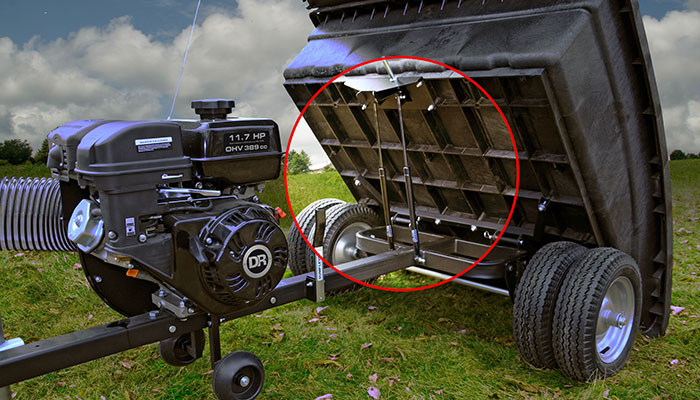 Which is better: a single-point or dual-point hitch?
The DR uses a single-point hitch, which is standard across most trailers and towed machines. Maneuvering with a single-point hitch gives you a small turning radius and little chance of side-swiping a building, tree, or your prized begonias!
Some people prefer a dual-point hitch, but DR's engineers found it to be less intuitive. The towed machine will always stay in line with your mower, forcing a much larger turning radius. While it's considered easier to use for beginners, it's generally not preferred for properties with obstacles or fancy landscapes.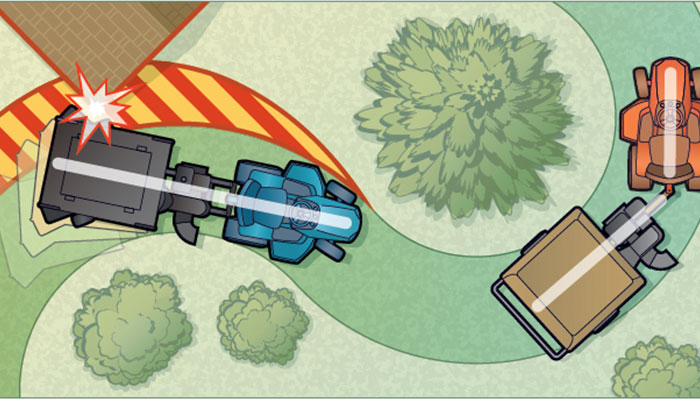 Should I wear a face mask while using this?
The DR Leaf and Lawn Vacuum was designed to trap dust and debris from flying out the vents. Other lawn vacuums shoot out all kinds of stuff you shouldn't breathe in, but the DR Vacuums have a covered mesh vent to trap the debris and direct dust out the back. You're welcome, lungs!
Do I need to use a right-hand discharge mower with this?
All DR Leaf and Lawn Vacuums require a right-hand discharge mower, not a left-hand discharge or zero-turn. If you have questions about the right DR product for your mower, talk to a Country Home Products Call Center representative.
Are there accessories to use with the DR Leaf and Lawn Vac?
Sometimes a mower can't fit everywhere you need to clean. We offer several lengths of Vacuum Hoses to help clean tight corners, flowerbeds, under fences, and any other hard-to-reach spot right from your Leaf and Lawn Vacuum.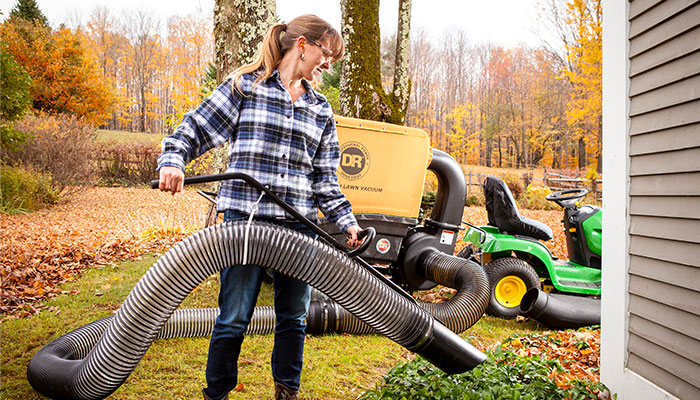 Use the handy Mulch Discharge Hose in conjunction with the Vacuum Hose to empty into the woods, over fences, or into a container. It's perfect for any time you need to unload to a place you can't drive to.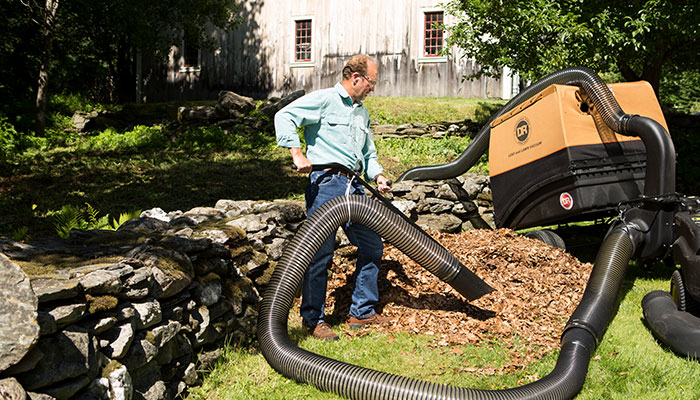 If you don't have a deck adapter already, consider adding the Standard or Angled Boot Deck Adapters. Be sure to watch our video tutorials for tips on choosing, cutting, and installing the deck adapter to your mower.
We also offer protective covers, maintenance kits, double wheel upgrades, trailer jack stands, gutter cleaner nozzles, and more!
Check Back with Us for More New Products and Articles!
Here at CHP we are committed to developing a complete marketplace for the country property owner so check back with us soon. Take a moment to sign up for email alerts and we will deliver all the latest product and project news right to your inbox!
Last updated: 8/29/2022