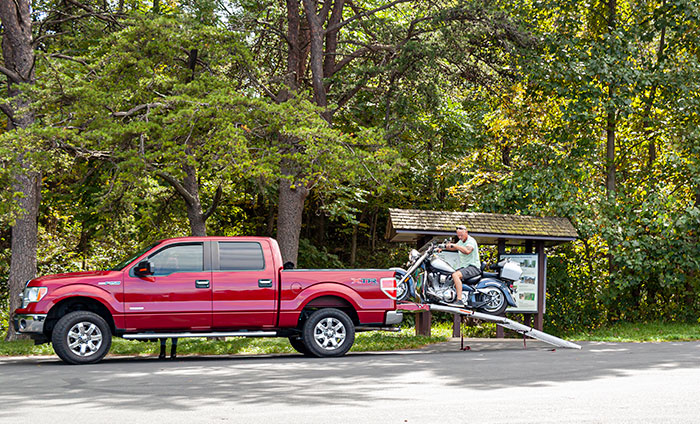 Take a Load Off! Best Ways to Move Bulky Gear
Maneuvering heavy gear can quickly take the fun out of any project or adventure. We've all tried to lug something that's way too heavy and our backs always end up paying the price. There are many ways to easily transport machinery, outdoor tools, or recreational gear that don't involve sore muscles. Whether you're bringing home heavy bags of mulch or packing for next weekend's motorcycle trip, invest in some equipment to make the job easier!
Different Types of Moving and Transporting Solutions
Loading ramps: A loading ramp might seem like something you only need with a U-Haul, but anyone with large machinery, recreational gear, or livestock can benefit from owning one. Folding ramps are the easiest to store, while non-folding ramps are the best for heavy equipment with low ground clearance. For more information, check out our loading ramps buying guide!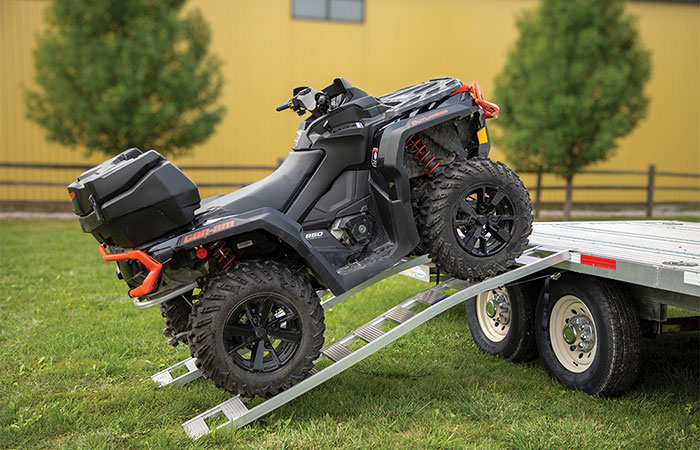 Wheeled solutions: Hand trucks, carts, and dollies are the most frequently used equipment to carry bulky objects. The terms are often used interchangeably but they have very different capabilities:
Hand trucks use a vertical design to move tall or heavy loads (like appliances) and stacked boxes. Their L-shape slides under heavy items and lifts by tilting backwards.
Carts have handlebars and solid bottoms to safely stack and move several items simultaneously. They are essentially bigger hand trucks with extra wheels that you don't have to lift.
Dollies are platforms on wheels with no sides, making them best for bulky loads that can't fit on a hand truck or cart. It's safest to move one item at a time when using a dolly.
There's a wide variety of models, so check out our buying guide for hand trucks, dollies, and carts to help you choose the tool that's right for you!
Cargo carriers and racks: If you're struggling to fit everything inside your vehicle, add a utility rack on the outside! A cargo carrier attaches to the back of your vehicle and some can hold upwards of 500 pounds. Cargo racks go on top of your vehicle and can support even more weight than cargo carriers.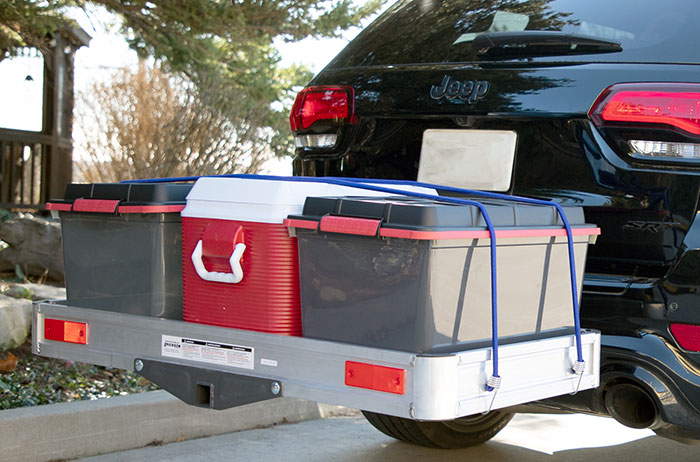 Pickup truck storage: Organizing your pickup truck's bed might seem like a never-ending puzzle, but without proper storage and protection, it's easy to damage both your gear and truck. There are a few different types of truck organizers that can help you safely transport your equipment:
Cargo bars and nets are the simplest tools to organize your truck or trailer. Bars or dividers connect to the sides of the bed and prevent boxes, containers, and other objects from shifting around. Cargo cases and nets attach to the bed walls or dividing bars and keep items in a designated area. Larger nets can be draped over lots of cargo in a truck or trailer.
Slide-out trays run the full length of the bed and create a lot of organization options. Store your hand tools, fishing and hunting gear, or sporting equipment in easily accessible drawers. Storage trays don't take up the full height of the bed and are sturdy enough to hold upwards of 2,000 pounds on top.
Toolbox systems keep work supplies organized. They come in many sizes (most with a low profile) and can lock into sides, rest on top of the frame, or fit snugly into the entire space. "Floating" toolbox systems are ideal for large storage needs because you can slide other items underneath.
Gun safes are crucial for transporting firearms. There's a long list of things that can go wrong when guns are left unsecured. Gun safes for trucks range from small locking holders to full bed drawers.
To get started on narrowing down the options, preruse our truck storage buying guide.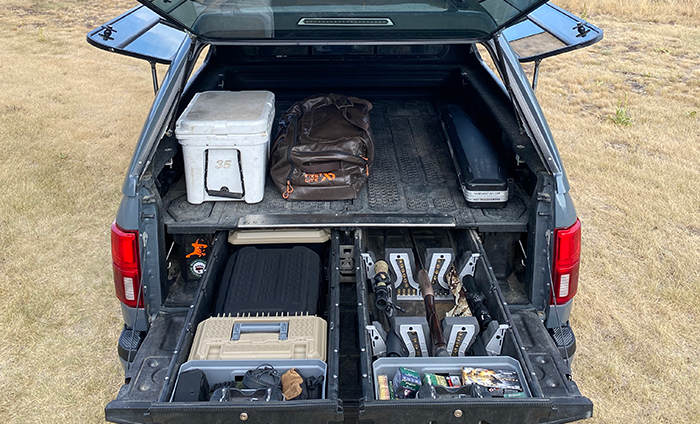 Tie-downs: A key part of cargo management is securing everything in place for transport. Nobody wants their stuff blown all over the highway! Consider your needs when picking between the following options:
Bungees absorb shock and are great for holding down a tarp or cover. They can also be used to stabilize items that may tend to rock or sway, but they should not be the main means of securing cargo for transport. Think of them as cargo moving accessories and not as primary tools.
Straps are stronger options for securing bulky cargo weighing hundreds to thousands of pounds. These use hooks or buckles to attach the gear to the vehicle and are tightened with either a ratchet or cam buckle. Some straps are compatible with E-track and X-track systems for stronger anchoring.
If you need some help selecting the right tie-down for your needs, read our buying guide about tie-downs .
What Are You Transporting and How Much Space Do You Need?
When picking between the above options, it's important to consider what you're trying to move, where it needs to go, and which vehicle you'll use to transport it. Taking your dirt bike from home to the racetrack might require a ramp and tie-downs, while moving large amounts of animal feed may call for a hand truck and cargo carrier. Depending on how frequently you're moving different equipment, you might even need more than one solution.
Visit Us Again!
Moving gear can be a slog but when you have the right approach and the right accessories it can be a whole lot easier. We will continue to add more products for cargo management so check back with us when the next job comes up. And we'll continue adding informative articles to help you do more with less. Sign up for email updates and we'll deliver all the latest new and product announcements right to your inbox!
Last updated: 7/29/2022