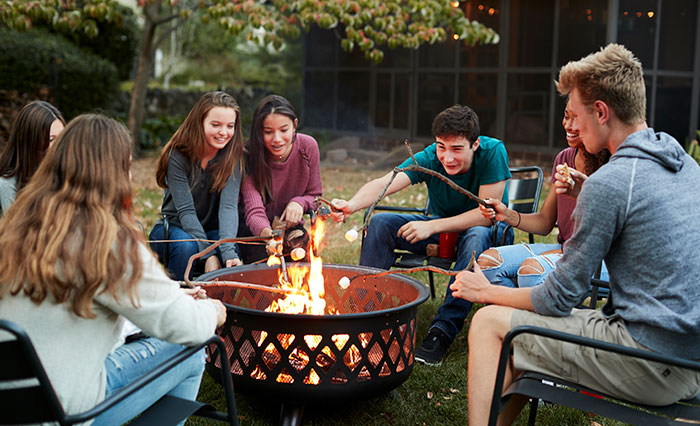 Bring the Heat by Adding a Fire Pit
Nothing says cozy quite like the crackling of an open fire. Is there anything better than gathering your family and friends around the backyard for s'mores and drinks? A fire pit is an awesome addition to any home and introduces tons of new activities for your family. Whether you're looking to totally revamp your patio or just have a small, relaxing nook, adding a fire pit is an easy and fun solution!
Identify Your Fire Pit Goals
Have you always wanted to make your own campsite in the backyard? Or maybe your porch needs to be spruced up and a warm fire would create a cozier ambiance. Start by determining your fire pit goals, including style and potential locations. If you know you'll want to grill over an open fire, for example, stick to wood-burning options.
Don't forget to factor in seasonality when thinking about your fire pit goals. If the fire pit is going in your backyard and you live in an area that gets lots of snow, you'll most likely need to store it somewhere during the colder months or pick up a fire pit cover. Make sure that the dimensions you choose will work for your storage system or consider adding a portable storage unit for seasonal use.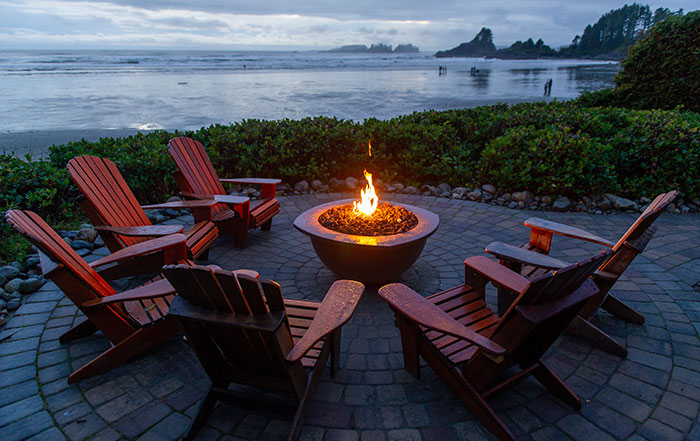 Determine the Best Location for a Fire Pit
You might already have the perfect spot in the yard for a fire pit or know there's plenty of room on the deck to add a touch of warmth. But if you're starting from scratch, think about the different locations that a fire pit would enhance. Maybe it's out by the pool so you can warm up after a quick dip or by the garden for true farm-to-table barbecues!
Here are some safety tips to keep in mind as you choose the best fire pit spot:
Pick a location far away from any low-hanging branches, bushes, or anything else that could catch fire. Fire pits shouldn't be closer than 20' to your home or other structures.
Fire pits can be placed on wooden decks and other solid surfaces, but it's crucial that you pick a deck-safe option and don't put it directly on the surface. Barriers such as pavers, steel heat shields, or fire pit pads are necessary to protect the porch from high heat.
Be extremely cautious about putting a fire pit on a covered porch, gazebo, pergola, or near other overhead structures. Many fire pits produce high heat and smoke, which can damage the structure over time and even start a fire.
Make sure there's enough room for outdoor furniture, tents, a wood rack, or any other accessories you might want. We recommend placing furniture at least 5' away from the fire pit.
For added convenience, you may consider putting the fire pit close to wherever you chop wood so you can slice, store, and use the wood all within one area of your property.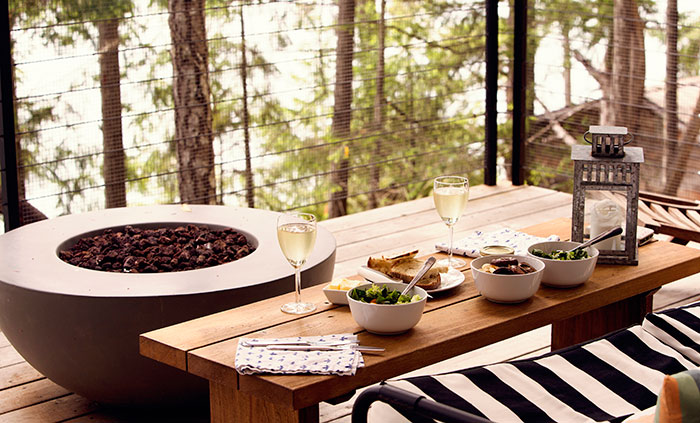 Understand Local Regulations and Permit Requirements
Most towns allow contained recreational fires like campfires and fire pits without a burn permit. But many homeowners' associations don't allow any type of fire within their neighborhoods, so if you live in a community with an HOA, check with them before purchasing. It's always a good idea to call your town office or city hall to make sure there aren't other fire pit restrictions before purchasing.
Even in areas where fire pits are allowed, there are probably still some in-use rules to keep in mind. Most towns and HOAs require that a fire be supervised at all times by an adult, which means if you're 20 feet away working on a project, you're violating fire safety regulations. Shifting winds can put your property and neighborhood in danger, so you'll need to be in a position to act quickly if the weather changes.
Every town also has rules about which materials are safe to burn. Household items like magazines might seem harmless, but burning glossy, colored materials will release excessive smoke and toxins from the ink. Burning the wrong foliage like poison oak or leafy branches can cause serious lung irritation. Many eco-friendly communities don't allow burning of any leaves or foliage. Put dead leaves and any other yard debris in a composter or chipper shredder to repurpose them into mulch!
If you have any questions about fire permits and safety, check with your local authorities to learn more and apply for anything relevant.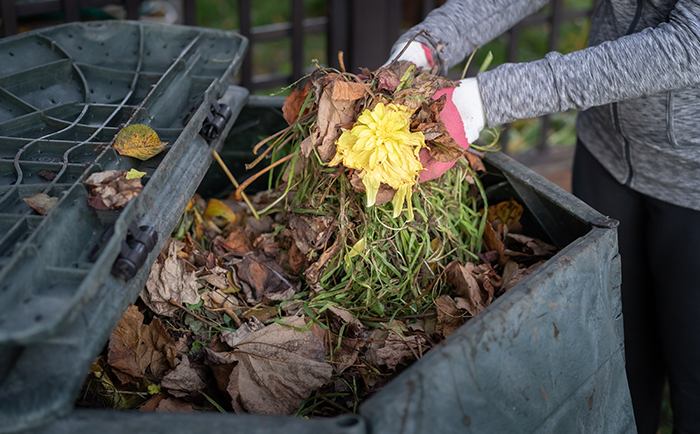 Choose a Fire Pit
There are many factors to consider when narrowing down your fire pit options, including size, material, style, price, and if it's safe for cooking food. For more detailed information, check out our buying guide to help you choose the right fire pit for your property.
The fire pits we offer are durable and budget-friendly options that can be installed quickly and used for many activities. Keep your goals in mind when picking between the different types of fire pits:
Free-standing fire pit: Ideal for multipurpose use, these rest above the ground on legs or other elevated supports. Standing fire pits come in either an open-flame style or enclosed with a spark screen for added protection. They are easy to set up or move around your property and are available in tons of designs to fit your home's aesthetic.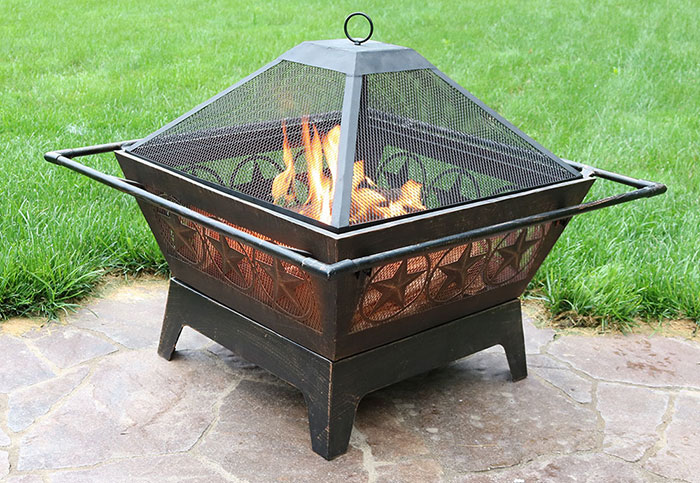 Fire ring: A simple and portable solution, fire rings or rims create a campfire experience using a safer, contained method. These can be inserted into the ground or placed right on a solid surface and are perfect for DIY fire pits with decorative stone. Fire rings come with or without a bottom, so make sure you factor in any additional materials needed to prevent the fire from spreading.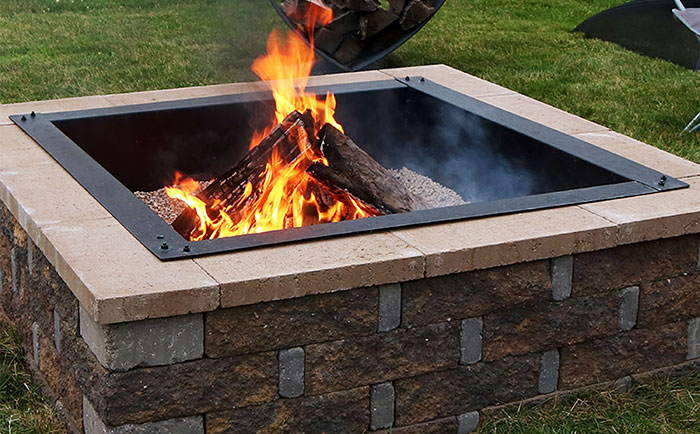 Fire pit grill: It's easy to assume that all fire pits are safe for cooking, but some aren't! Wood-burning fire pits are the best options, and many come with swiveling cooking grates so all you have to do is load it with food. When it's done grilling, just turn the grate away from the fire and let it cool while you relax.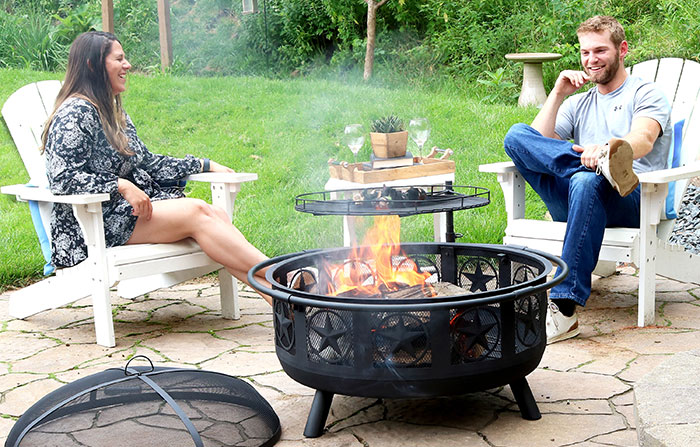 Chiminea: Invented hundreds of years ago as outdoor ovens, chimineas now make for excellent backyard fireplaces. These free-standing fire pits provide lots of heat while directing smoke up and away from anyone nearby. Chimineas are protected from wind and burn for longer than other types of fire pits, making them a great option when you need heat through the night without much stoking.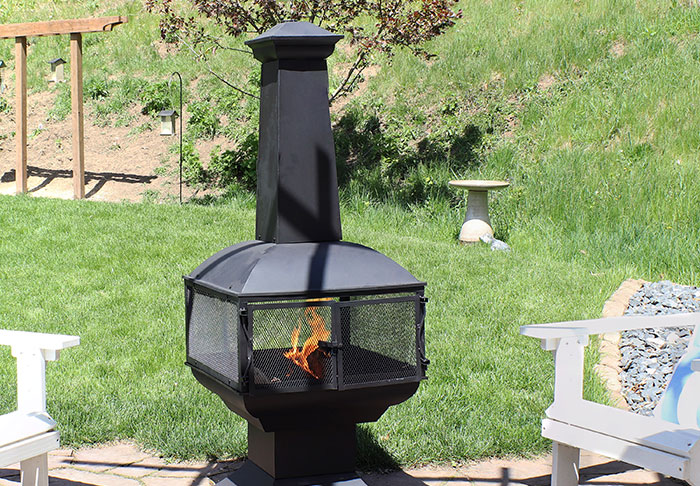 Prepare the Fire Pit Location
Once you've picked a fire pit, it's time to get roasting! Any solid surfaces the fire pit might go on – like a patio, porch, deck, or more – require some basic cleaning and maybe furniture reorganization. Before placing it on any solid surface, be sure to add a barrier such as pavers, steel heat shields, or fire pit pads to protect the wood from high heat. Never put a fire pit directly on a wooden surface.
If you'll be installing the fire pit on land that you maintain regularly, it shouldn't take much more than your normal routine to prepare the spot – just be sure to add a barrier before placing a fire pit on grass. But if you're trying to reclaim an unused area of your property, it will require some careful preparation and potentially the use of power equipment to clear the land.
To help decide how to proceed with a new spot, assess the following: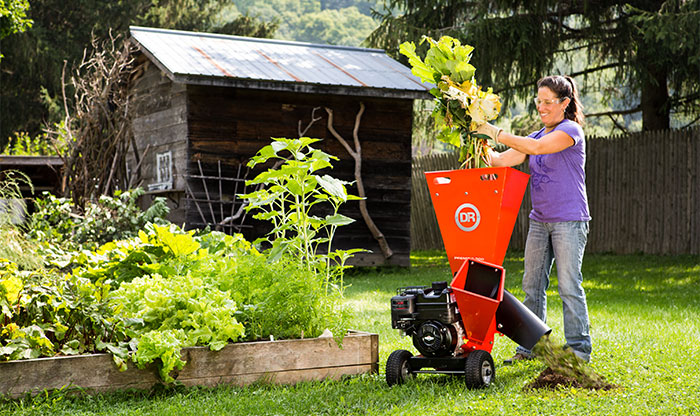 Install the Fire Pit
Carefully follow the instructions for setting up your fire pit. The tools you need will vary depending on model, but at a minimum, make sure you're wearing work gloves and closed-toe shoes for safety.
Some fire pits weigh a lot, and if the final destination is a hike from your driveway, you might need some support to move it. Consider a motorized Powerwagon, a garden cart, or a hand truck to help transport any bulky materials. These options are also great for moving large stones or other decorative elements you might add around the fire pit, as well as lots of firewood!
Add a Wood Rack, Cooking Grate, or Other Accessory
Having a fire pit only goes so far – it's how you use it that makes the memories! If your fire pit doesn't come with a grilling platform, add a cooking grate for fun outdoor meals. Keep firewood handy and protect seasoned logs with a durable firewood rack, and don't forget to include a firewood rack cover if it's going in an open area. You can also make your own quick firewood cover with a tarp and bungees.
Adding a fire pit often brings out the inner Paul Bunyan in all of us, so consider grabbing an electric wood splitter or trusty chainsaw if you feel tempted to start chopping your own firewood. Pre-cut, seasoned logs aren't cheap, and this is a great way to save some money in the long run!
Don't forget the most important piece: protecting the fire pit itself. A fire pit cover is the best way to block the elements and keep your investment in tip-top shape for years to come.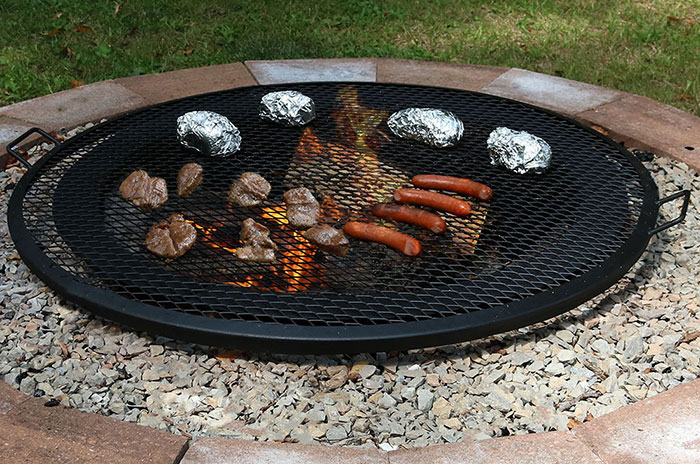 Check Back for More!
There are endless ways to enhance any space with a fire pit, and we will continue to expand our collection to bring you the best solutions. Sign up for email updates and we will deliver them to your inbox!
Last updated: 7/1/2022