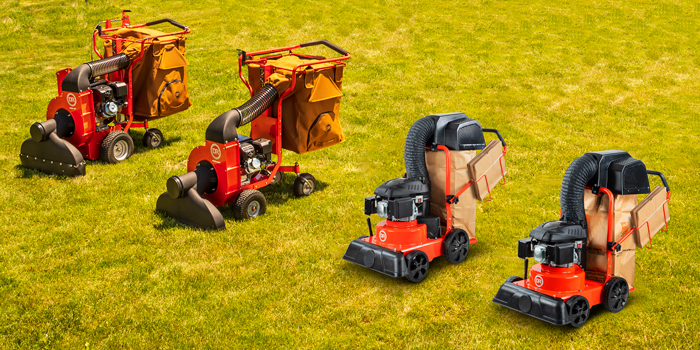 Choosing a Walk-Behind Leaf and Lawn Vacuum
You've finally admitted that raking and blowing leaves is brutal. You know there's a better way to clean your lawn and maybe you've been fighting it every year. But why keep torturing yourself? It's time to upgrade to a leaf vacuum! At Country Home Products we offer the full line of leaf vacuums from DR Power Equipment, the unrivaled leader in the field. If you own a lawn tractor, you should consider a Tow-Behind Leaf Vacuum. But for those who don't, a Walk-Behind Leaf Vacuum may be the perfect solution. The first step is to understand that there are two very different types of walk-behind leaf vacuum:
"Traditional" models that use a permanent, reusable collector: These machines, the DR PREMIER and PRO models, use heavy-duty canvas bags that can be filled and emptied multiple times. The collector bag detaches easily from its frame for unloading. When the bag is filled you will either need to carry it to the spot where you are dumping leaves or drive the machine to that spot. These traditional models entail more unloading labor than the Direct Bagging models, but they also have higher capacity (up to 2.5 times higher) so you can work longer between unloading stops.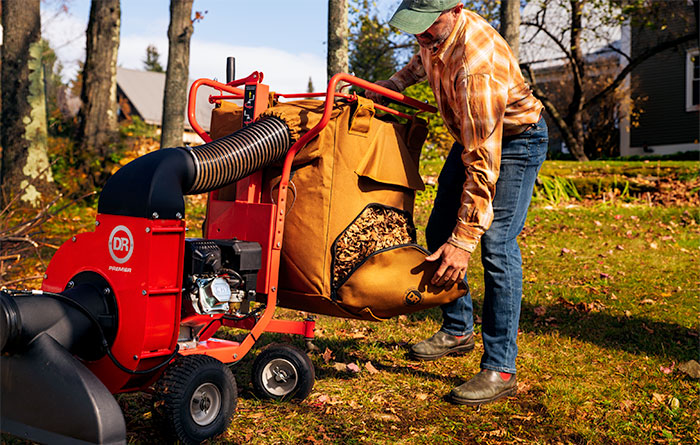 "Direct Bagging" models designed for use with disposable leaf bags: These machines, the DR PILOT XT models, are the newest innovation in leaf collection. They fill standard disposable leaf bags so they are ready for curbside pickup. They come with a leaf caddy for carrying extra bags so that, when one bag is filled, you can remove it and replace it with an empty bag. The filled bags can be moved to the curb for pickup, or—since leaf bags are biodegradable—they can simply be added to a compost pile. With the PILOT XT models you can simply leave the filled bags at various locations in your yard and collect them later.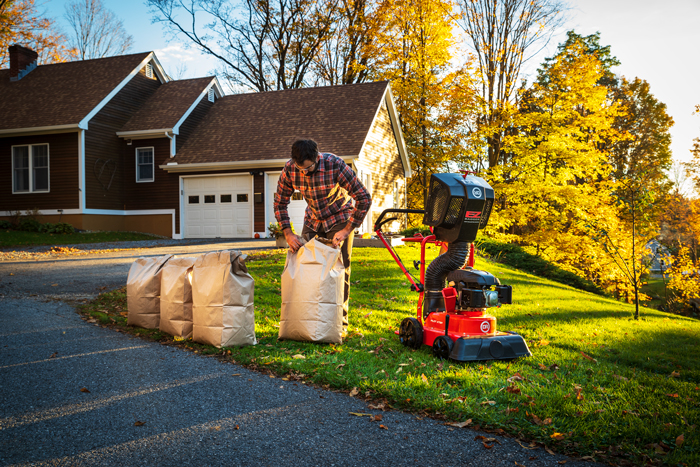 In the chart below, we've broken down the key differences: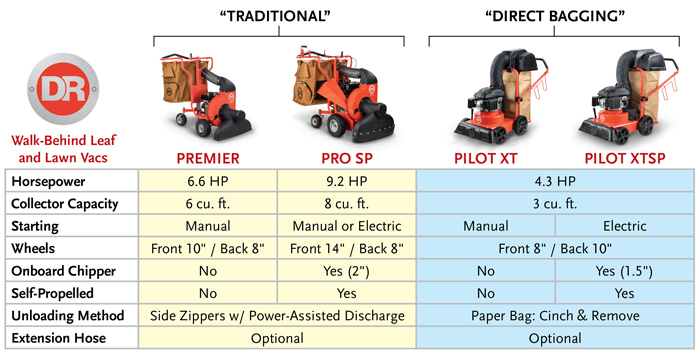 Choosing a Traditional Model
The PREMIER model is powered by a 6.6 HP engine and can collect 45 gallons (6 cu. ft.) of lawn debris. It gives you greater suction power and collector capacity than any other vacuum in this price range. Unloading leaf vacuums is usually a pain, which is why both the DR traditional models feature side zippers with power-assisted discharge. Just unzip a flap, start the engine, and let the impeller provide a blast of air to blow contents out quickly.
The PRO SP is DR's strongest traditional Walk-Behind Leaf Vacuum is ideal for medium-to-large properties or heavier lawn clean-up. The 9.2 HP engine provides a reservoir of power that enables you to process more leaves with less likelihood of bogging down.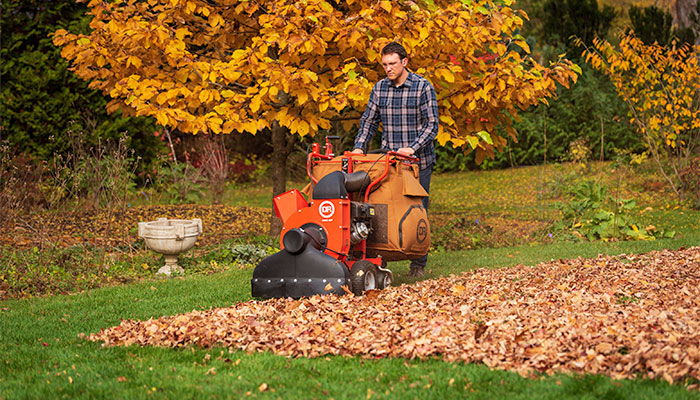 The PRO SP has a capacity of 60 gallons (8 cu. ft.) and the collector holds 33% more material than the PREMIER model. If you're dealing with a lot of foliage, this will save you loads of time driving back and forth to your dumping spot. The PRO model also comes with an onboard chipper to help you quickly dispose of branches up to 2" in diameter as you're vacuuming. For properties with tons of trees, this will certainly come in handy!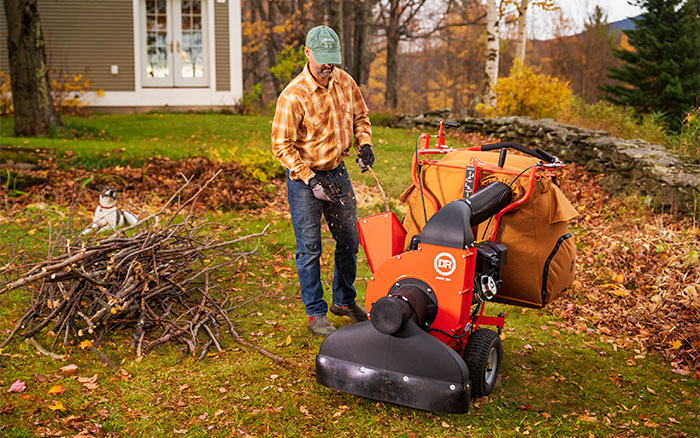 The key difference between the traditional models is the self-propulsion. Cleaning your entire lawn requires heavy-duty machinery, so these systems are not lightweight. Plus, with the extra capacity of the PRO's collector, the self-propulsion is needed to handle the weight of this model. If you plan on using your Leaf Vacuum on any slopes or just want some additional support, the PRO Self-Propelled model will give you the extra muscle needed!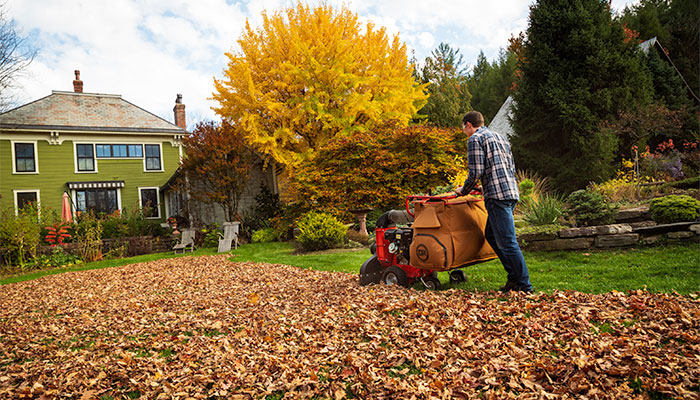 The self-propelled system includes 3 forward speeds and 1 reverse. The lever to switch between them is easily accessible from the operating position. The PRO model also features EZ-TURN™ Steering technology for effortless 180º turns. When you initiate a turn, the 2 axle shafts are free to drive independently and go wherever you guide the machine.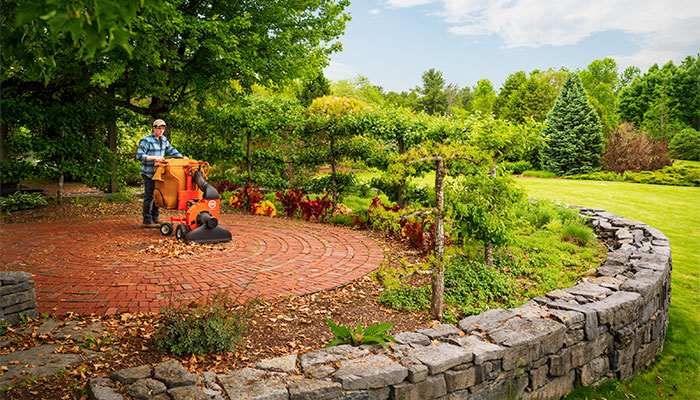 For a small and flat property, the PREMIER model with 60 pounds of collector space may be more than sufficient. But if you have any inclines or heavy foliage, the PRO SP is for you. When deciding between models, consider factors like your acreage, number of trees, and level of hills. The goal is to minimize manual labor and traipsing to your dump pile!
Choosing a Direct Bagging Model
Choosing between the PILOT XT and PILOT XTSP models boils down to two features and how important they are to you: Self-Propulsion: the PILOT XT is a push model and the PILOT XTSP is self-propelled. For flat yards, most users will not be overly taxed pushing the PILOT XT around, but if you have slopes or a lot of uneven terrain you should consider the PILOT XTSP for the ease of variable speed drive. Onboard Chipper: the PILOT XTSP is also equipped with a chipper that you can use to dispose of sticks and twigs up to 1.5" in diameter. Simply stop, feed the debris into the chipper, then proceed with leaf collection.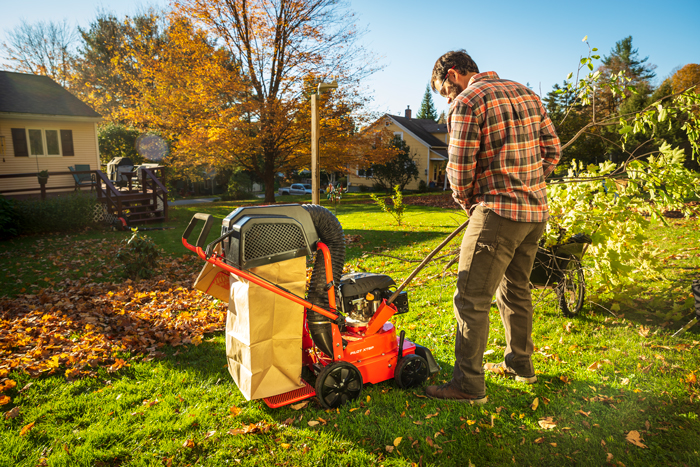 Check Back with Us for More Yard Cleanup News!
We will continue to grow our collection of products for taking care of your country property, and we regularly post articles and how-to guides to help you with your chores. So visit us again soon! Sign up now for email alerts and we will deliver all the latest news to your inbox.
Last updated: 8/26/2022