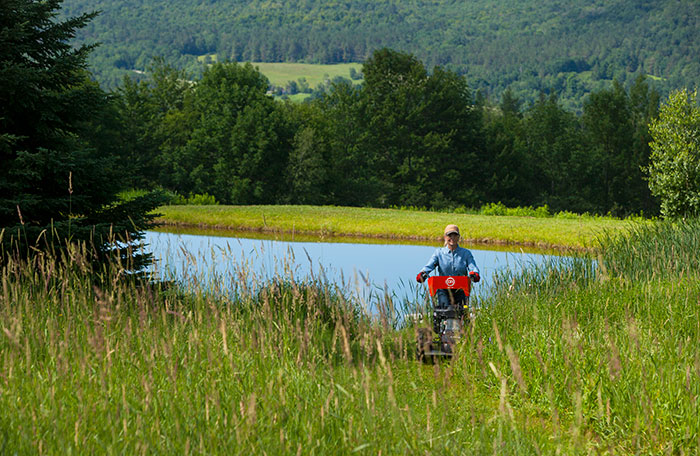 Clear Your Land and Reclaim Your Property
Sometimes the perfect spot for a fire pit, garden, campsite, chicken coop, or expanded lawn is buried under years of overgrown brush. It's easy to get intimidated – clearing thick weeds and branches can be a tough job. And the worst part is that this unwanted debris usually finds a sneaky way of growing back!
There are many tools that make quick work of removing field grass, weeds, brush, and stumps so you don't have to battle against them manually. It's time to reclaim your property!
Identify Your Land Clearing Goals
The first step in preparing to clear land is to determine your needs and goals. You might be reclaiming several areas of your property that have totally different requirements, so you may need a combination of products.
To help you get started on picking a land clearing solution, ask yourself the following questions:
What do you want to do with the land and what type of finished surface do you need? Creating a gravel trail through dense woods is a very different project than clearing tall grass for a recreational space.
Are there any structures, fences, trees, or other vegetation that you want to keep on the land? Identifying potential obstacles to work around will help you pick the right trimming tools and save you time in the long run.
If you're cutting down trees and other vegetation, how big are the stumps you'll be leaving behind? You'll likely want to remove these to avoid tripping. There are several different methods of stump removal depending on tree size.
How dense is the area? Will you need to cart away lots of rocks, fallen tree limbs, or other heavy materials? Save your back some stress by planning ahead on transporting bulky items.
Most Common Solutions for Clearing Land
Removing branches and trees: The most straightforward way to get branches and trees out of your designated area is to cut them down or trim them back. Hand tools like axes, hatchets, machetes, saws, and pruners are budget-friendly options for light needs. Consider using a powered tool such as a chainsaw or pole saw to remove thicker branches and trees.
For more information, head to our pruning tools FAQs or our guide for using an axe, hatchet, or maul.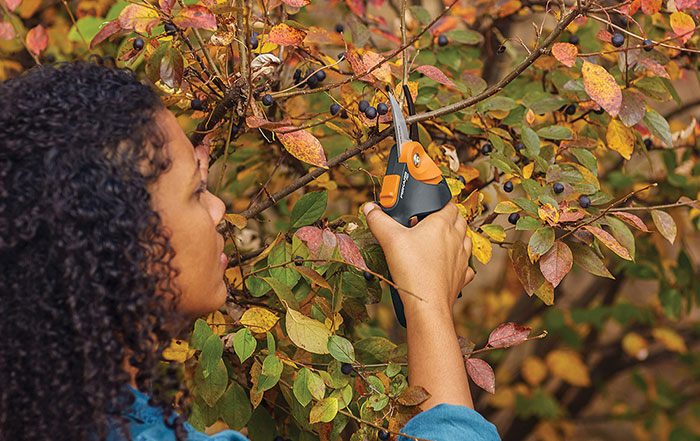 Trimming back thick grass: Overgrown grass that's too thick for a standard lawn mower can be quickly tamed by a Trimmer Mower. These beefed-up string trimmers use rugged wheels and powerful engines to easily navigate up hills, under fences, and along property lines.
To help you pick the best option for your property, check out our Trimmer Mower buying guide! They are available in walk-behind and tow-behind options for added convenience.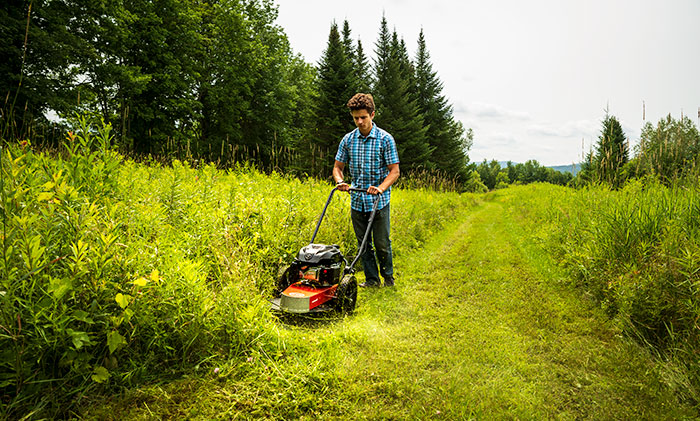 Cutting down brush and saplings: Anything too thick for a Trimmer Mower can be taken down with a Field and Brush Mower. These powerful machines use heavy-duty blades to cut through dense field grass, high weeds, and tough saplings up to 3" in diameter. This includes sage brush, buckthorn, bamboo, tumbleweed, berry thickets, honeysuckle, grapevines, you name it!.
To get started on narrowing down the options, read our Field and Brush Mower buying guide.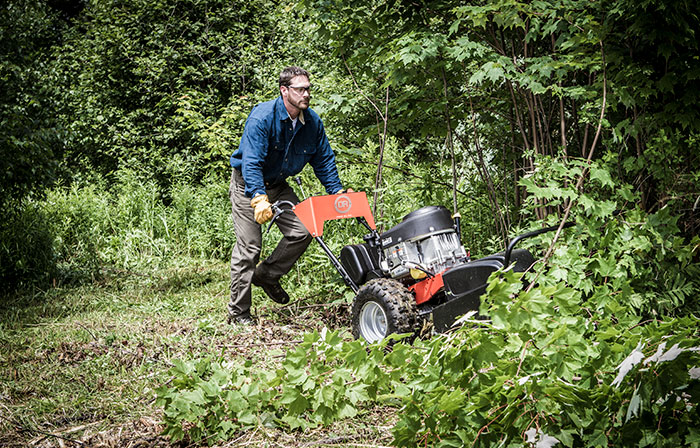 If you're tackling lots of land with only the occasional sapling, a Rotary Cutter is most likely your best bet. These attach to your tractor and give you a much wider cutting range for fast trimming. Most can only handle saplings up to 1" in diameter, so these are best for light brush needs.
Leveling land: Once you've trimmed back overgrown grass and brush, you might notice some uneven ground. It's important to smooth out any washboards or divots for future trails, gardens, or outdoor gathering spots.
A tiller should be used in areas where you need to loosen the earth. These are best for creating a new garden or reviving an existing one. They are available in walk-behind and tow-behind options.
If you need to level a gravel, dirt, or grassy area, use a tow-behind grader like a landscape rake, box blade, bucket rake, or Power Grader. These powerful machines remove deep ruts and smooth washed-out spots. You can also use these tools to quickly spread new materials, such as gravel on top of a dirt path.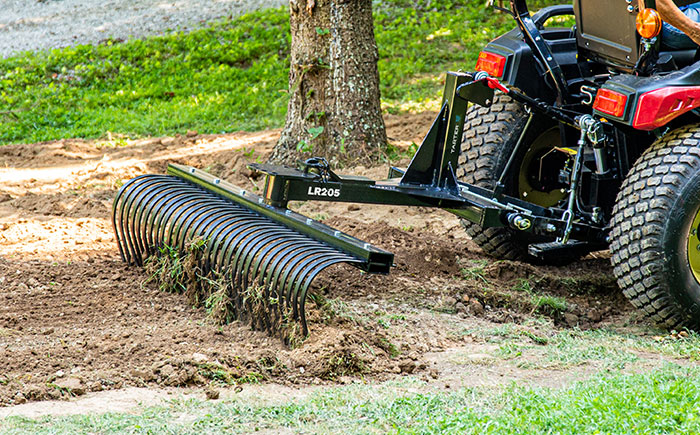 Removing obstacles in the ground: After using any type of mower or saw, you might be left with tree trucks, roots, and other tripping hazards in the ground. There are several methods for removing stumps that vary in difficulty. Most sapling trunks and other small stumps can be pulled up from the roots with a Brush Grubber. For larger tree stumps, consider upgrading to a Stump Grinder, which uses a pivoting cutting head to shave away the stump's surface.
Cleaning up yard debris: When clearing any amount of land, you'll most likely have some lawn clippings, leaves, twigs, and other debris to dispose of. For living or recently living wood, the best method of removal is to chip it. Chippers and Chipper Shredders turn branches, brush, and other yard materials into mulch to be reused. Chipper Shredders combine two machines into one with a chute for branches (to be chipped) and another for lighter debris (to be shredded).
After sending your yard debris through a Chipper/Shredder, you'll be left with nutrient-rich, organic material that can be repurposed in many ways:
Add it to landscaped areas, gardens, flower beds, and tree bases
Lay some on trails or paths to keep weeds at bay
Use it for livestock bedding – animals love to sleep on soft woodchips
Cover muddy spots on your driveway so you don't track it inside
Burn some in your smoker to make tasty meat!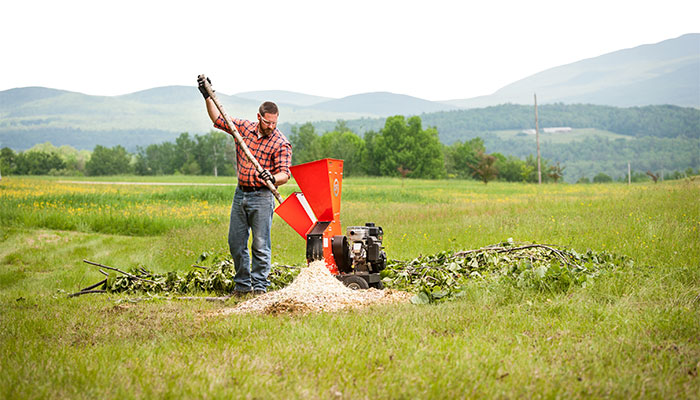 An option for removing dead wood and some types of foliage is to safely burn them using a Burn Cage. Be sure to carefully review the materials you intend to dispose of, as burning poison oak or leafy branches can cause lung damage. Many eco-friendly communities don't allow burning of any leaves or foliage, so check with your local authorities before using.
Popular Accessories to Improve your Process
Clearing land usually involves moving a lot of yard debris out of the way. Make this process quick and painless with a motorized Powerwagon or trailer to help haul bulky materials. These options are also great for transporting anything being used on the cleared land, such as a fire pit, firewood, potting soil, hay, animal feed, and more.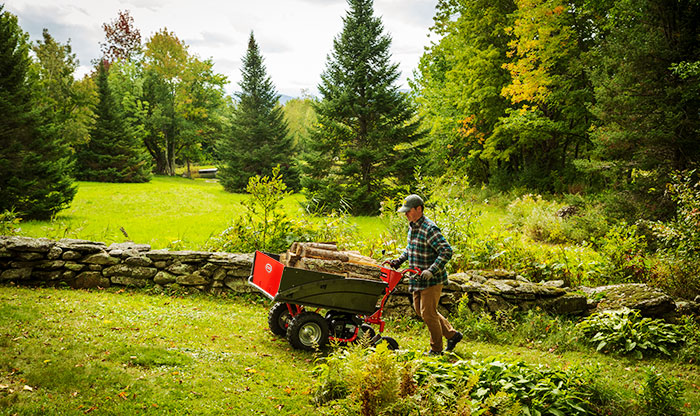 If you're removing trees or large branches, consider grabbing an electric wood splitter or trusty chainsaw to turn this debris into firewood. Pre-cut, seasoned logs aren't cheap, so this is a great way to save some money!
Using any type of power equipment to clear land comes with some risks, so it's crucial that you protect yourself while operating machinery. At a minimum, make sure you're wearing work gloves, safety glasses, and closed-toe shoes for safety.
Best Projects for Different Land Clearing Solutions
Cutting new trails: A walk in nature can cure almost anything. If you have some land to spare and want to add a personal form of recreation, building a trail is an excellent upgrade that can be used year-round. To create a new trail through a field or forest, you'll most likely need a Field and Brush Mower, hand pruners/loppers, and potentially a chainsaw. Level any uneven or washboard spots with a tow-behind grading attachment from your tractor or ATV.
To learn more about how to cut new trails through your property, check out our full project guide!
Making a garden or chicken coop: Many homeowners are taking greater control over their food sources and adding methods to live off their land. Creating a garden or chicken coop is an awesome way to have some fresh eats. A Trimmer Mower can help cut back any overgrown grass too thick for a lawn mower and a tiller or sod cutter will prepare the land for growing. Be sure to level any uneven land with a grading attachment so you don't have issues with run-off.
For more information, read our project guide about how to start an in-ground garden.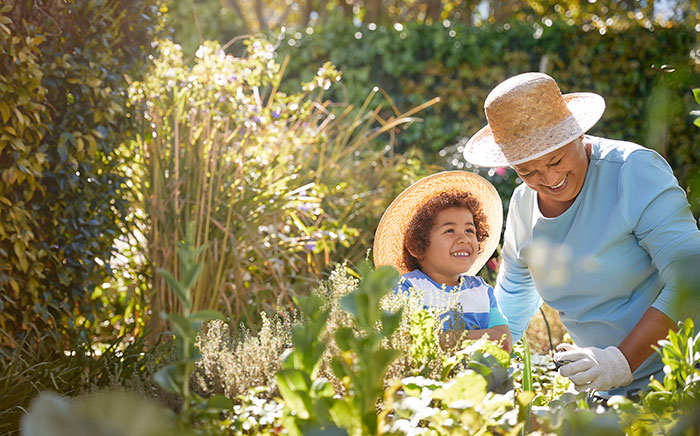 Creating an outdoor gathering space: Is there anything better than gathering with loved ones around the backyard for s'mores and drinks? Adding a fire pit, campsite, or other relaxation spot is always appreciated! Clear any overgrown land with a Trimmer Mower or Field and Brush Mower and remove any tripping hazards with a Stump Grinder. Fire pits in particular need to be placed on even ground, so be sure to level this land with a grading attachment.
Check out our project guide to learn more about how to add a fire pit to your backyard.
Adding outdoor storage: There's nothing that causes bigger household headaches than constantly running out of storage space. With a portable outdoor storage unit, you can move on from the days of battling clutter! Clear some land with a Trimmer Mower or Field and Brush Mower to add a simple storage structure and use a Stump Grinder to remove jagged sapling trunks that could puncture tires.
Our project guide on adding portable outdoor storage provides further information to help you get started.
There are many land clearing solutions for every property, and we will continue to expand our collection to bring you the best options. Sign up for email updates and we will deliver them to your inbox!
Last updated: 7/15/2022