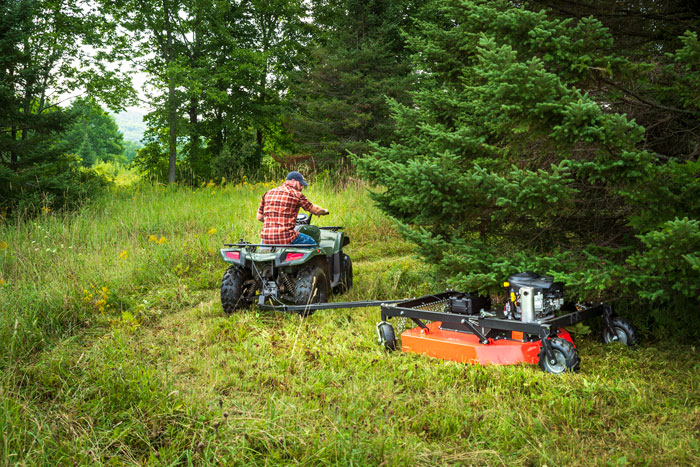 Choosing a Tow-Behind Rough-Cut Mower
Our best-selling self-propelled rough-cut mowers are compact workhorses that don't require a tow vehicle to use them with. To learn more, review our guide to choosing a self-propelled brush mower. However, if you have already decided that you want a rough-cut mower to use with a tractor or other tow vehicle (such as an ATV or UTV), read on!
Brush Mowers for ATV or UTV
Rough-cut mowing is a great task to pair with the go-anywhere ability of an ATV or UTV. While the towing set up may not afford quite as much versatility as a self-propelled mower when it comes to navigating very uneven or otherwise challenging terrain, it does allow you to take a seat and get the work done with a lot less physical effort. For open area mowing it is a fast and efficient way to clear your land of brush or overgrown grass and weeds.
We offer tow-behind field and brush mowers from DR Power Equipment. The chart below highlights the key differences among the available models.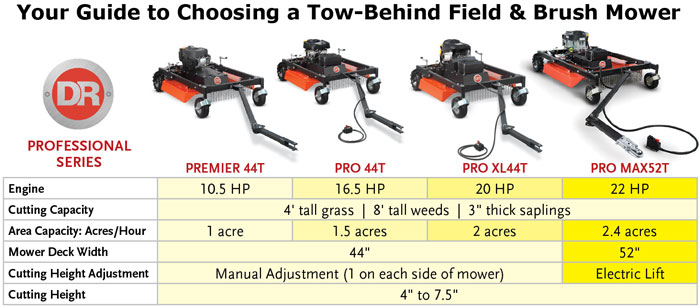 As the size of the engine increases, the speed at which you can work picks up accordingly. All models will cut and mulch similar materials when matched with the right ground speed. Since every rough-cut situation is different, it may require some experimentation (as well as on the fly adjustments) to optimize performance.
The top-of-the-line PRO MAX52T model, in addition to its maximum power and width, offers an electric deck lift that lets you adjust cutting height from your tow vehicle. The other 3 models have manual height adjustments that require you to stop, dismount, and raise each side of the mowing deck with a hand crank.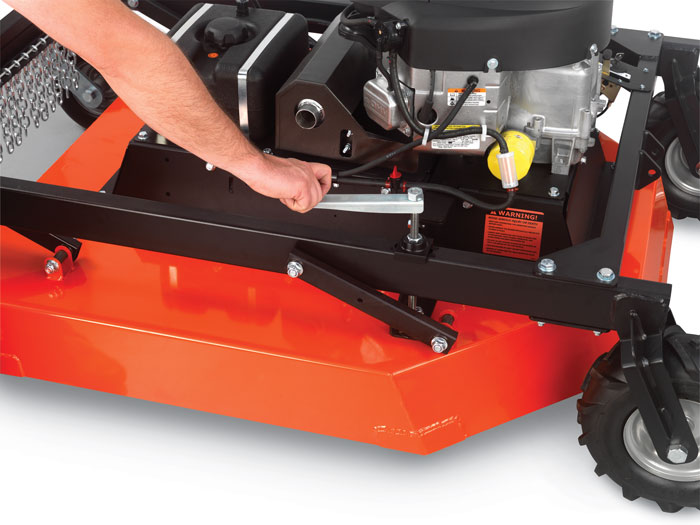 Brush Mowers for Tractor Owners
If you already own a compact or sub compact tractor, and the land you want to mow is easily accessible to it, a three-point hitch rotary cutter is a cost-effective and useful tool.
We offer rotary rough-cut mowers from Tarter that are easy to hook up and tough as nails. These units include PTO shafts to harness your tractor's engine power for mowing and you can raise and lower the mower with the 3-point hitch. Tarter rotary cutters are available in 4-foot, 5-foot and 6-foot cutting width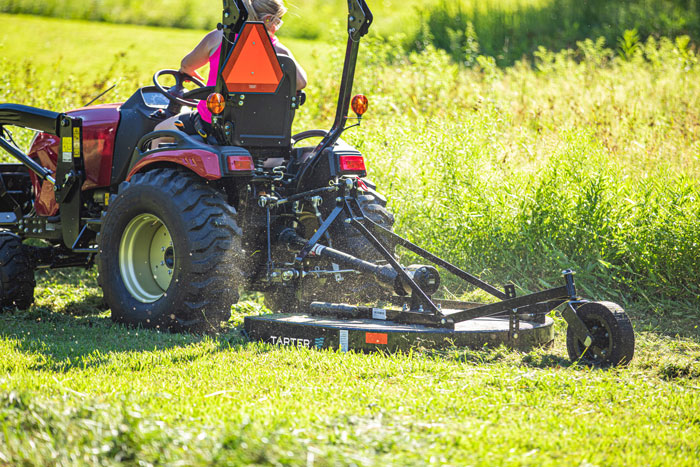 Cutting Along Fence Lines
If you have long fence lines that you want to keep clear of weeds and long grass, another tool to consider is the unique DR Tow-Behind Trimmer Mower, available in models designed for either Tractor or ATV.
These machines use the same heavy-duty trimmer head and ultra-thick trimming cord featured on DR's flagship Walk-Behind Trimmer Mowers. The difference is that the head is mounted on a spring-loaded mowing arm that deflects around fence posts to mow neatly around more than half of each post's circumference. Taking a second pass—on the other side of the fence—will complete the job and create perfectly clean fence lines. Neatly trimmed fence posts are aesthetically pleasing but, for those with electric fences, they are also very practical because long wet grass can short out an electric fence line.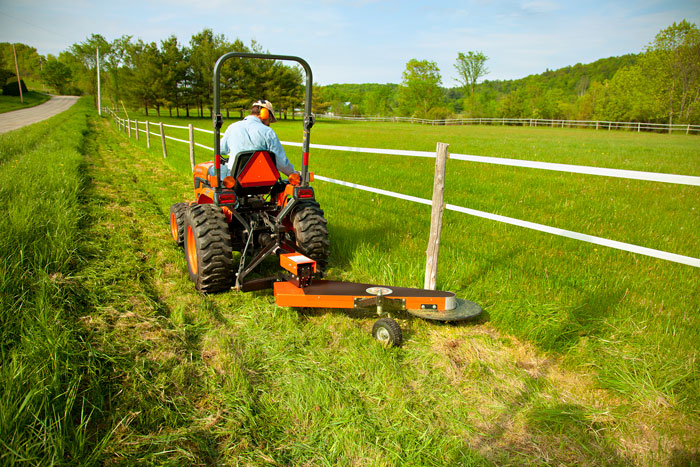 Aside from fences, you can use the tow-behind trimmer mower for cutting along roadsides, around ponds, or under shrubs and trees.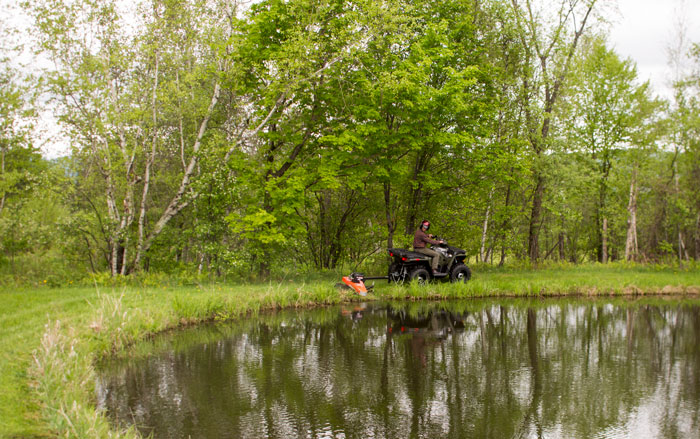 Stay Tuned for More Mowing Products!
As you can see, there are multiple solutions to your rough-cut mowing needs, and any of those covered here will give you the ability to take more ownership of your off-lawn areas. Use these products to cut trails, open up new views, or create perimeters to your lawn areas that you mow less often. We will continue to add more products for property management (and articles), so check back with us soon! And before you go, take a moment to Sign up for email updates and we will send all the latest product and content updates right to your inbox!
Last updated: 11/4/2022