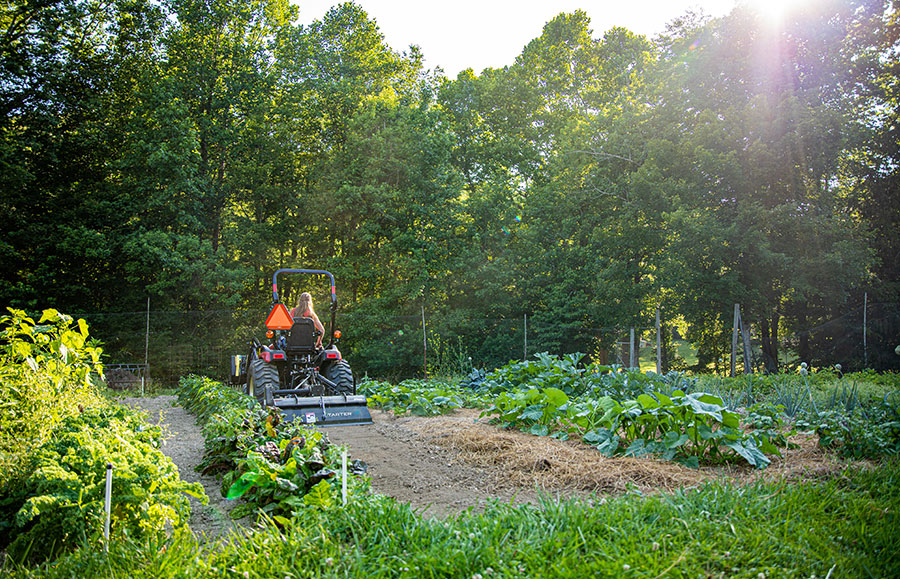 Choosing the Best Tractor Attachments for Your Property
Tractors can get a lot done on their own, but when paired with the right accessories, they turn any tough job into a quick task. There are many tools that make easy work of cutting back field grass, leveling a bumpy driveway, or moving heavy materials so you don't have to handle these projects manually. Whether you're a new homesteader or an experienced homeowner, there are tons of tractor attachments that can help you save time!
Different Types of Tractor Mounts
Understanding the methods for installing an attachment on your tractor is the first step in determining the best tools. There are three standard ways to mount something to your tractor:
Front mounts allow you to load materials from the front and are usually controlled hydraulically. These are very popular for bucket loader, snow blade, and pallet lift attachments. Some attachments even clamp onto a bucket loader.
Tow-behind hitches consist of either a pin hitch or ball hitch to pull anything using a ball coupler. These are most commonly used for attaching a tow-behind implement to a lawn mower or ATV/UTV.
Three-point hitches are a standard mount for compact, sub compact, and utility tractors. These are also used for towing an implement from behind and are extra useful because they can raise and lower the attachment. Similar to tow-behind attachments, some can be powered by your tractor's PTO. If you're shopping for a powered three-point hitch attachment, make sure it's compatible with your tractor's horsepower.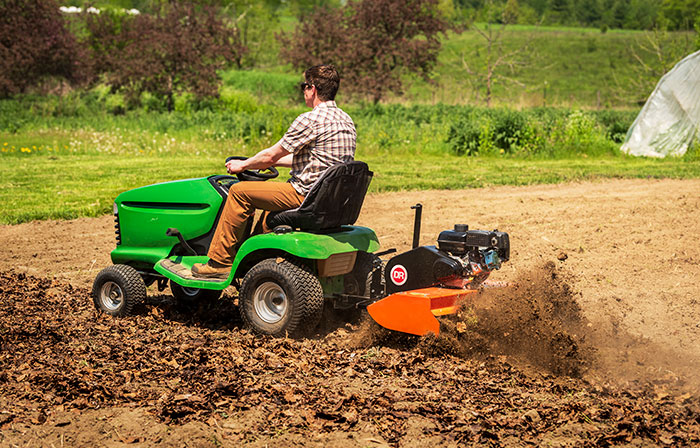 Which Tractor and Hitch Do You Have?
Lawn tractors usually come with a built-in pin hitch for attaching tow-behind implements. You can also add a ball hitch to tow anything using a ball coupler. Every lawn tractor is different, so check the towing capacity of your model to make sure it can handle any attachments you're considering.
Sub compact or compact tractors generally come with a category 1 three-point hitch. Sub compact or compact tractors can use tow-behind attachments with the right hitch receiver or three-point attachments. If your tractor is equipped with a quick hitch, make sure to check that the attachments you're considering are compatible. This can be an issue with attachments that run off your tractor's PTO.
Utility tractors either come with a category 2 three-point hitch or you can add one. These large tractors have enough horsepower to tackle pretty much any project and can be paired with the strongest, heaviest attachments.
Which Tractor Attachments Should You Consider?
Once you understand what equipment you're working with, you can start narrowing down the list of best attachments for your tractor! Here are some of the most popular types to help you get started:
Box blades are super versatile tools that can handle a number of projects. Any jobs that require leveling, grading, scraping, or breaking up tough ground can rely on a box blade. They can build paths, level land for a new barn, fix driveway washouts, and spread dirt or gravel wherever you need it.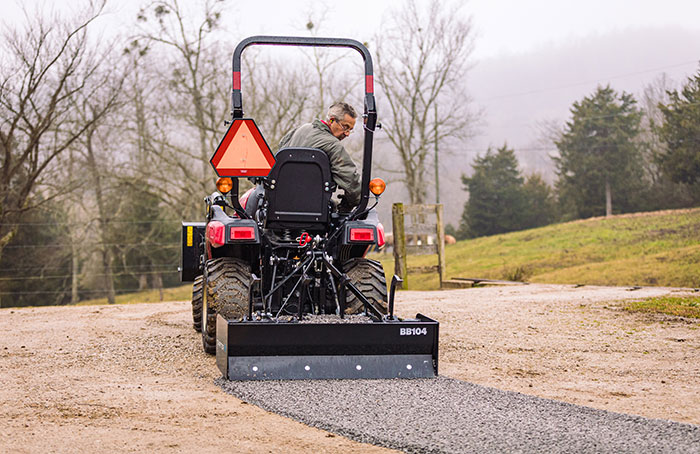 Land graders level uneven driveways, arenas, lawns, or gardens. These can fix gravel washboards or potholes on driveways and trails. Just attach the grader and let it take care of removing dips!
Grader blades are multi-season tools that can remove snow, grade the driveway, dig ditches, and smooth soil after tilling to prepare for planting. Many types of blades will pivot with the tractor and some can even be hydraulically controlled.
Landscape rakes use curved tines that scrape through grass, dirt, rocks, and soil. They rake the surface and remove roots, rocks, and other debris from your soil to leave a cleared layer for seeding. They can also spread mulch, soil, compost, and other organic materials throughout a garden or landscaped area.
Tillers break up hard earth to prepare an area for planting. They use curved forks or tines that are powered by the tractor's PTO and a shaft to aerate and refresh the soil. Tillers make the ground softer and more receptive to added vegetation, and also help control future weed growth. Some tow-behind rototillers are self-powered by attaching to a power source on your lawn tractor.
Disc harrows and drag harrows churn soil, chop growth and residue, and bury any vegetation in the soil. They are ideal for tilling soil, cutting down weeds, maintaining large food plots, and they can even help prevent fires.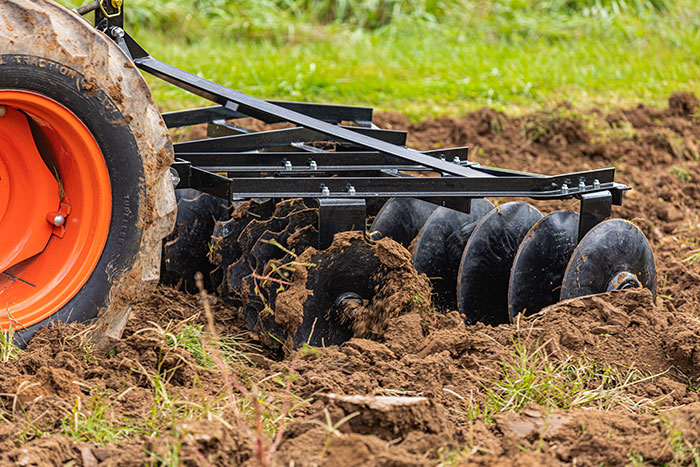 Finish mowers give mowed grass a professional look. These are used to maintain groomed landscaped areas. Finish mowers are intended for more even ground with shorter grass than a rotary cutter or brush mower would handle.
Rotary cutters, trimmer mowers, and brush mowers mow large pastures or uneven terrain. These are designed to handle thick, tall grass and small saplings, and they leave a rough cut rather than a polished lawn. They are fantastic tools to maintain fields, overgrown forest edges or property lines, and dense grass around ponds.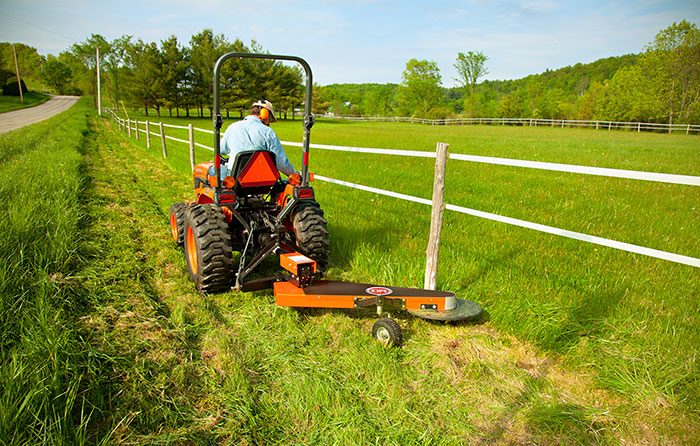 Fork attachments eliminate any manual labor of lifting and moving bulky items. Pallet fork implements are very popular and can move anything from stacked lumber to heavy pallets of animal feed, mulch, or topsoil.
Trailer hitches allow you to connect to anything needing a standard hitch. From moving hay bales and animal feed to bringing heavy bags of soil to the garden, trailers are really helpful tools! They can also be used to move heavy trailers around your property for other projects.
Boom poles save you from backbreaking work and help you transport almost anything. They're ideal for loading materials onto a trailer or moving heavy machinery to different locations. Boom poles can assist with any type of loading, lifting, or pulling.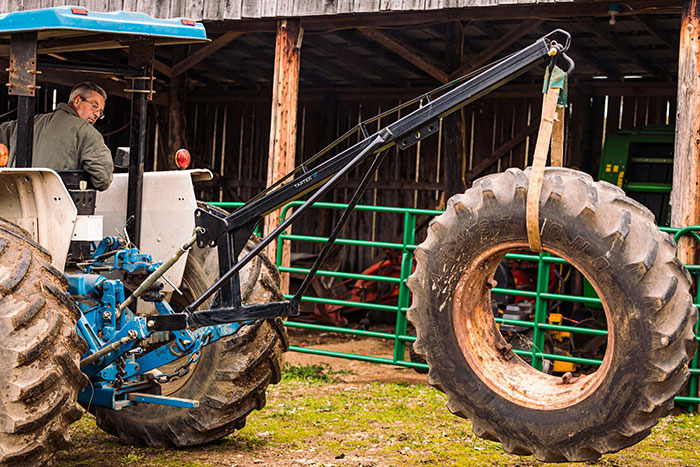 Snow pushers connect to the front of your tractor and move snow in one direction using a containment box. Snow pushers can handle a lot of snow, so they're ideal for clearing a large driveway or long walkway. But they can't angle or back drag, and usually can only push towards the pile.
Snow plows also attach to your tractor's front and usually use a sturdy blade to move snow. They can plow backward, forward, and other angles in between to level out snow. Unlike snow pushers, these keep the cutting edge on the ground and move snow at all times. Some blades can double as a grading blade and snow blade!
Hay forks and bale spears help move heavy hay bales around by either lifting them from below or by spearing them through the middle. They are valuable front-end or back-end attachments that quickly place hay exactly where you need it.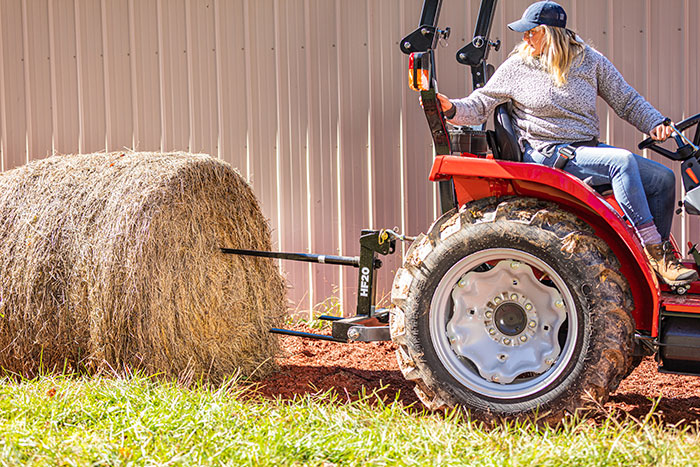 Spreaders make easy work of planting or fertilizing your lawn, garden, or food plot. Simply load a spreader with seeds or granular fertilizer/amendments to evenly and quickly distribute as you drive the tractor around your property. Spreaders can also be used for spreading ice-melt on your driveway during the winter.
PTO woodchippers turn branches and brush piles into mulch that you can reuse throughout your garden and landscaped areas. PTO chippers are self-feeding, making much more efficient use of your time and effort. Chippers can save you a lot of money in the long run if you buy mulch each season.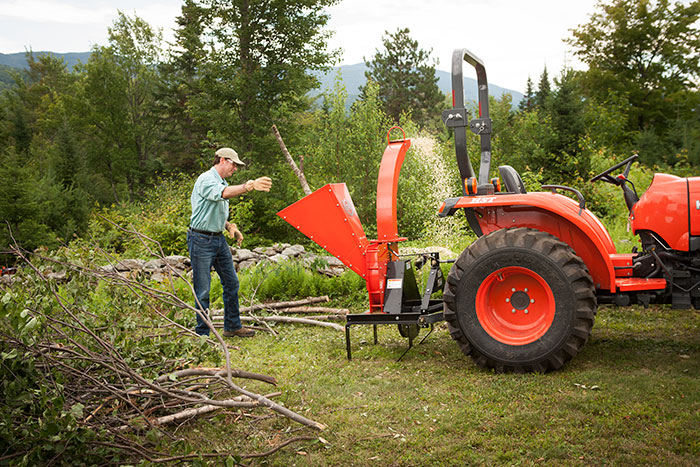 Log skids lift logs and felled trees off the ground while moving them and secure them close to the tractor. This process keeps the wood clean for milling, increases maneuverability through winding logging roads, and reduces damage to the forest floor.
Post hole diggers make putting up fences easy by drilling deep holes for you. These eliminate a ton of manual labor and are ideal for any type of fences or other posts for farms, ranches, or gardens. They are also great for planting trees, making holes for concrete, or digging shallow wells.
Wire unrollers let you run a fence line without needing a crew. These spools of fencing make unrolling wire a much neater job while you install or repair your fence.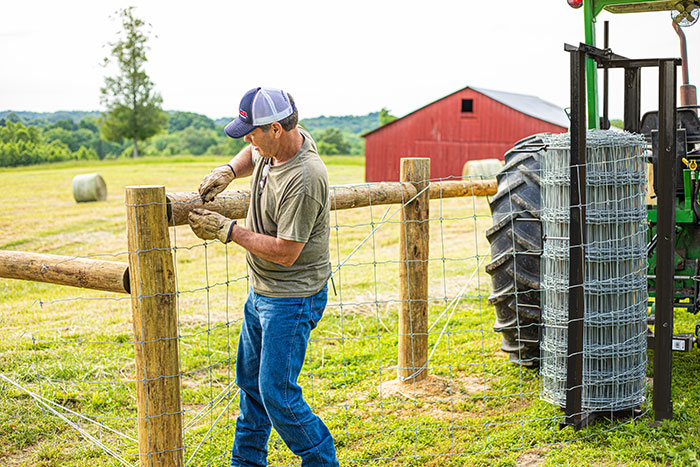 Check Back for More to Accessorize Your Tractor!
We will continue to expand our collection of products and how-to articles to help you outfit your tractor, so check back with us soon! Meanwhile, take a moment to sign up for email updates and we will deliver them to your inbox!
Last updated: 8/18/2022